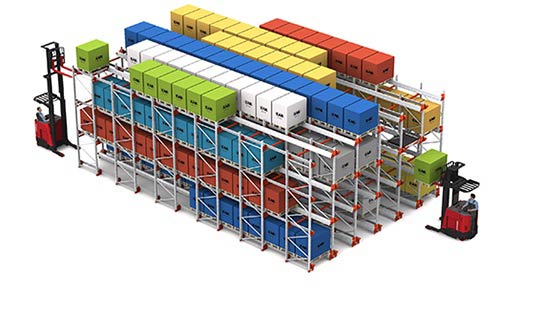 Warehouse costs are skyrocketing. Smart warehouse operators are squeezing every last dollar out of their facilities though increased density and automation technology.

Raymond West is the premiere warehouse automation supplier in San Bernardino County. To speak with an automation expert, give us a call today at 909-930-9399.
Up and down the West Coast, warehouse space is at a record setting premium. Online E-com operations have put tremendous pressure on inventory and as a result, rental costs in many areas have increased substantially year after year, particularly in LA County, Orange County and the Inland Empire.
As warehouse costs accelerate, it becomes increasingly important to make certain that you're using space as efficiently as possible. For sensible warehouse operations, that means leveraging greater density and automating as much as possible.
Luckily, high performance material handling technology has evolved rapidly over the last several years, giving you the tools you need to increase your density and efficiency like never before. Automation technology is quickly altering the elemental concepts of warehouse storage solutions.
Warehouse Automation
Automated storage and retrieval systems (AS/RS) are a game changer in the warehouse. Here are the primary reasons for investing in AS/RS systems:
Massive increases in efficiency. AS/RS systems slash employee costs, recover floor space, reduce inadvertent inventory damage, and increase throughput.
More products. Efficiency gains mean that organizations can add more SKUs and increase the output of their operations for better financial performance.
Lift truck savings. An automated warehouse system slashes lift truck travel distance and hours.
Advanced Facilitation. Automated solutions allow for intricate buffering and sequencing alternatives that can be synchronized with loading times and route options.
Quality assurance. AS/RS systems are incredibly precise and are a better choice for handling complex functions than human resources.
Enhanced safety. Less human intervention connotes fewer accidents.
Versatility. When it comes to order aggregation, assembly/enrichment, storage, replenishment and put-away, AS/RS systems are becoming more and more versatile.
Automated Storage and Retrieval System
What is AS/RS? There are several types of technologies that are considered to be AS/RS systems, including these:
Vertical lift modules
Horizontal carousels
Vertical carousels
Fixed aisle systems
Vertical Lift Modules
Like a vertical carousel, vertical lifts are vertically positioned systems that store bins in a tall metal column. However, a VLM has an extractor mechanism that travels up and down in the center of the column, retrieves individual bins and delivers them to the operator.
Horizontal Carousels
Horizontal carousels are similar in concept to that rotating rack your dry cleaner uses to locate and access your clothing items. They're typically employed for smaller sized products and they are a series of receptacles attached to a raised track. They are frequently paired with voice picking systems or pick-to-light systems.
Vertical Carousels
As one would expect, vertical carousels are vertically oriented, and are somewhat like a Ferris wheel with trays mounted to a circular drive system that spins on a perpendicular horizontal axis. Vertical carousels are typically concealed in an upright metal casing.
Fixed Aisle AS/RS
Fixed aisle systems are usually set up as two columns of racking with a narrow channel in between. The center of the aisle has a raised metal rail with an upright mast that travels along it. Connected to the upright is a vertically traveling carriage fitted with a load handling apparatus.
This upright and carrier device is known as the crane or SRM. Almost all systems use one crane per corridor, but more sophisticated systems may have more than one.
Categorically, there are a couple of classifications of fixed aisle systems. Unit-load systems are designed to manage large loads on pallets. Mini-load systems (often called a case-handling system or tote stacker) are smaller implementations that can handle cartons and smaller items.
Warehouse Solutions
We're here to help! If you 'd like assistance in evaluating warehouse automation options for your Southern California material handling operation, contact a specialist at Raymond West by calling 909-930-9399.
Our design group will work with you to assess on-site equipment design for your warehouse or distribution center. We can help you develop a business case including process, conditions, training, future needs, and combined cost.
We provide service and support from our locations throughout California, Nevada and Arizona. Whether you need new or used equipment, maintenance, parts, service or training, we supply a complete range of material handling products and services.