Reach Trucks | Orange County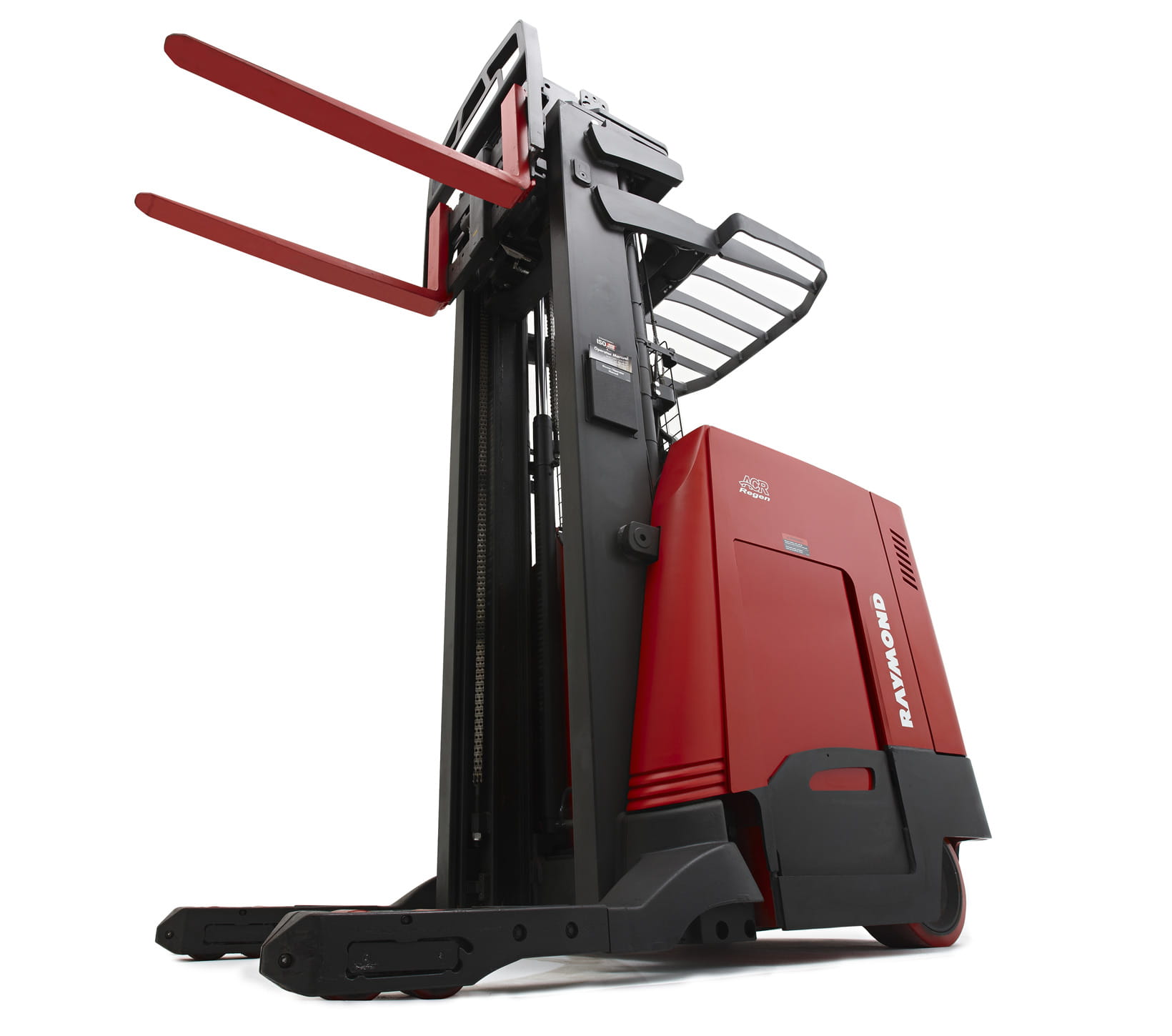 Raymond West is an Orange County supplier of electric reach trucks

We are backed by one of the largest service and parts operations in California.

Call us today at (714) 790-9300
Throughout Orange County, warehouse capacity is pricey and scarce. We offer a range of narrow aisle reach lift truck options intended for warehouses where space efficiency is crucial. The wheel base of a reach forklift is just like a standard lift truck, but the chassis is more compact, so that the turning radius is reduced and the vehicle can be operated in narrower aisle widths.
Reach forklifts are unique vehicles that are not useful for all warehouse operations. More specifically, ordinary dock jobs like loading and unloading trailers or case picking aren't the right application for a reach truck. They also can't be used for narrow aisle racking configurations that don't allow right angle stacking. However, for the majority of restricted aisle uses reach lift trucks are the best vehicles for the job.
Reach Lift Truck
Raymond's 7000 series delivers reach truck options for nearly any application:
The 24 volt Raymond 7200 Reach Fork Truck is engineered with smaller battery compartment dimensions, providing reduced energy expenditures and narrower aisle requirements.
The 36 volt Raymond 7300 Reach Fork Truck is engineered for reduced footprint, high throughput uses. With battery bays ranging from 14-21 inches, this truck is designed for flexibility and productivity.
The Raymond 7500 Universal Stance Reach Truck improves your selectivity and general efficiency. It's unobstructed view mast offers outstanding visibility when in use, and it's ideal for high rack scenarios.
Raymond's 7500 Dock Stance Reach Truck is great for loading dock areas and applications with minimal vertical heights and lower transport distances.
The Raymond 7700 Sit/Stand Reach Truck is ideal for extended transport ranges and it provides superior ergonomic support for drivers. The reach truck controls are configured with consistent use and the highest safety standards in mind.
Raymond's 7310 4-Directional Reach Truck puts an end to the requirement for 90 degree turns and is well suited for long load reqirements.
All 7000 series trucks have an optional pantograph option. Pantograph reach trucks employ a scissor system to push the forks forward. Pantographs are put to use for double deep racking designs where two pallets can be stored in each row.
Raymond is among the world's best reach forklift makers, and is one of the most trusted reach forklift brands in the material handling industry.
Reach Truck Rental
Raymond has a rental inventory with virtually unlimited selection. Our rental department provides top quality equipment for either short or extended term rental requirements. Our fleet of rental trucks is consistently updated with new equipment that is maintained to strict manufacturer's specifications. Every truck is refurbished by a Raymond Certified Technician and thoroughly tested by our team leader to ensure that it is ready for duty when it reaches your operation.
Used Reach Truck Options
Raymond provides several options for pre-owned reach trucks through our Raymond ReNewed program. Every used forklift is thoroughly assessed and restored to manufacturer requirements. For value minded clients, we offer our Value plan with a 30 day guarantee and at least 60% useful life remaining on wheels and tires. Our Performance plan extends the buy back guarantee to 60 days, offers a refurbished appearance and ensures at least 80% of useful life on the wheels and tires. Finally, our Premium plan features totally repainted forklifts with fresh tires and wheels and a 90 day warranty.
Reach Lift Rental, Leasing & Sales in Orange County
If you are considering the purchase of reach trucks, you can speak with a professional at Raymond West by calling (714) 790-9300. We are among the largest reach truck suppliers in the state, offering new and used reach trucks, along with service, repair and parts.
Raymond West Orange County
Serving Anaheim, Costa Mesa, Fullerton, Garden Grove, Orange, Santa Ana, Tustin and surrounding areas.
(714) 790-9300