Used Forklifts | Orange County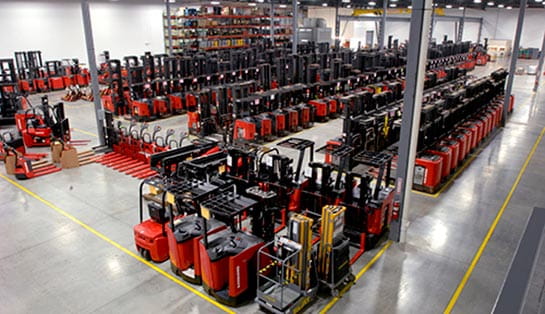 Raymond West is an Orange County supplier of used forklifts.

We are backed by one of the largest service and parts operations in California.

Call us today at (714) 790-9300
Are you considering the purchase of used forklifts? There are thousands of used forklifts for sale in Orange County and throughout California. Buying pre-owned forklifts can be a great decision and it most likely will save you a lot of cash. If you are not yet convinced about buying used forklifts, take into account a few of the advantages:
Used Forklifts in Orange County
When you buy brand new equipment, terms negotiation and vehicle delivery usually takes a while. The benefit of used lift truck sales is that they are usually close by, often close fast and you can take delivery sooner.
Pre-Owned Lift Truck Pricing
Similar to buying a pre-owned car, you'll pay less when you purchase used forklifts. A used forklift price discount depends greatly on the truck category and lift truck manufacturer, but you'll generally pay substantially less for pre-owned equipment. If you track down a pre-owned forklift for sale, the best practice is to compare prices on a couple of comparable forklifts in your city to confirm you're being offered a decent price.
Pre-Owned Lift Truck Values
Choosing pre-owned in lieu of brand new can often allow you to get much better forklifts than you could otherwise manage to buy. Used forklift prices for later models that are nearly the same as the newest on the market can be highly discounted, which means you can purchase state of the art equipment for a fraction of the price of new.
Used Forklift Dealers
When you buy from a preowned lift truck dealer that is also a distributor, you can get dealer certified, used lift trucks that are nearly equivalent to buying new. These preowned forklifts are fully examined, cleaned and mechanically restored by factory trained professionals and they often come with a warranty.
Acquiring trucks from a dealer also gives you access to their financing, service contracts, parts network and other benefits that are not available with a private party sale.
Additional Factors
Since you're now up to speed on some of the benefits of purchasing previously owned forklifts, you should consider a few additional variables to see if a previously owned lift truck plan is right for you:
Equipment Hours of Use: how much use will your lift trucks be getting? If you're using your equipment all day, every day, it may actually be more advantageous to lease your lift trucks or purchase them new, even if you increase your cost up front. Heavy utilization scenarios are more appropriate for new equipment, or lift trucks that will be maintained by another party.
Maintenance Ability: are you employing mechanics that can maintain your used lift trucks? When you have a technician on staff that can maintain and repair previously owned forklifts, it can be very economical to go the pre-owned route. In cases where you don't have qualified employees, you may want to sign up for a maintenance agreement.
Reputable Used Lift Truck Dealers: purchasing from a reputable, knowledgeable dealer is always advised. Dealers will frequently sell off-lease trucks that have been regularly and properly maintained. Private transactions, however, are almost always a risk—you have no way of knowing the true history of the forklifts or the manner in which they were serviced.
Lift Truck Safety: when buying a used lift truck, you should always be mindful of safety as your number one concern. Always order a used forklift inspection from an authorized technician.
Used Forklift Buyer Protection: previously owned forklifts purchased from dealerships many times are supplied with an initial warranty. If you can buy an extra warranty or service contract, you may want to evaluate the added expense vs the outlay of buying new equipment.
Used Forklifts For Sale in Orange County
If you'd like to buy a used forklift or get information on preowned forklifts for sale in Orange County or anywhere in Southern California or Las Vegas, you can speak with a professional at Raymond West by calling (714) 790-9300.