Warehouse Consulting | Orange County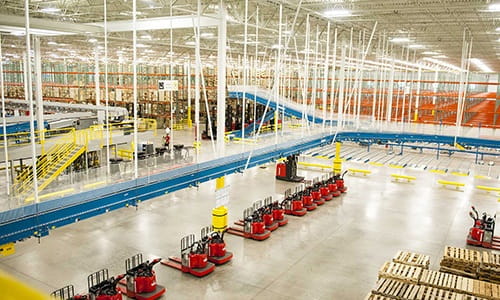 Raymond West is an Orange County warehouse consultant and equipment supplier.
We are backed by one of the best warehouse engineering teams in the West.
Call us today at (714) 790-9300
Raymond West offers turnkey warehouse consulting services. Whether you're building a new warehouse, relocating to a different facility or redesigning your existing location, we have a dedicated team of consultants to help your organization maximize productivity and efficiency in your storage operations.
Warehouse Design
Raymond West prides itself on full service solutions for warehouse operations and designs and specifies systems for automation, racking, fleet management, WMS, order picking and any other storage or distribution requirements. In addition to systems engineering, we also offer physical warehouse plans, including CAD drawings of racking and automation configurations.
Warehouse Racking Layout
Orange County storage and distribution real estate prices are at an all-time high, so it's vital to take advantage of storage density in every way possible. Our storage design team can devise tightly packed racking solutions, taking advantage of every inch of your building while maintaining an extremely productive and high throughput facility.
Warehouse Permitting
Interacting with county or city governments can sometimes be a complex and infuriating process, especially when it comes to compliance with seismic, fire sprinkler and other code requirements. Our team is experienced in dealing with local code enforcement divisions and can be a real asset in helping you plan and navigate through the permitting and inspection process.
Automation Engineering
Raymond's engineering team is second to none when it comes to warehouse automation. We design and build AS/RS solutions, conveyor systems, sophisticated order picking solutions, AGVs and much more.
Mezzanine Design
Leveraging the vertical space in your building with a mezzanine solution can be a smart and cost effective option versus new construction or relocation. Raymond's consulting team can devise a range of catwalks, mezzanine systems, stairs, landings, lifts and platforms. In addition, we offer fabrication and installation services for all types of mezzanines.
Warehouse Moves
Organizing and executing an industrial relocation can be an overwhelming and highly stressful undertaking. Before you start, sit down with Raymond's consulting group to discuss timing, logistics and project management.
Warehouse Racking Installation and Removal
If you're adding pallet racks, Raymond's installation crew can guarantee that the task is completed properly, on schedule and in accordance with all local code requirements. If you're removing or replacing racks, we can also assist with disassembly and disposition of your old racks.
Racking Inspection
Based on the guidelines of the Rack Manufacturers Institute, your racking should be thoroughly examined once a year at the very least. More frequent inspections are suggested, and are a must following a forklift impact or other event that could jeopardize the structural integrity of your racking system. Our team can conduct scheduled or unscheduled inspections, provide documentation and provide guidance on corrective action and repair.
Orange County Warehouse Consultants Near Me
To meet with a warehouse consultant, call Raymond West today at (714) 790-9300.
Raymond West
Orange County Service Area:
Anaheim, Costa Mesa, Fullerton, Garden Grove, Orange, Santa Ana, Tustin
Phone: (714) 790-9300