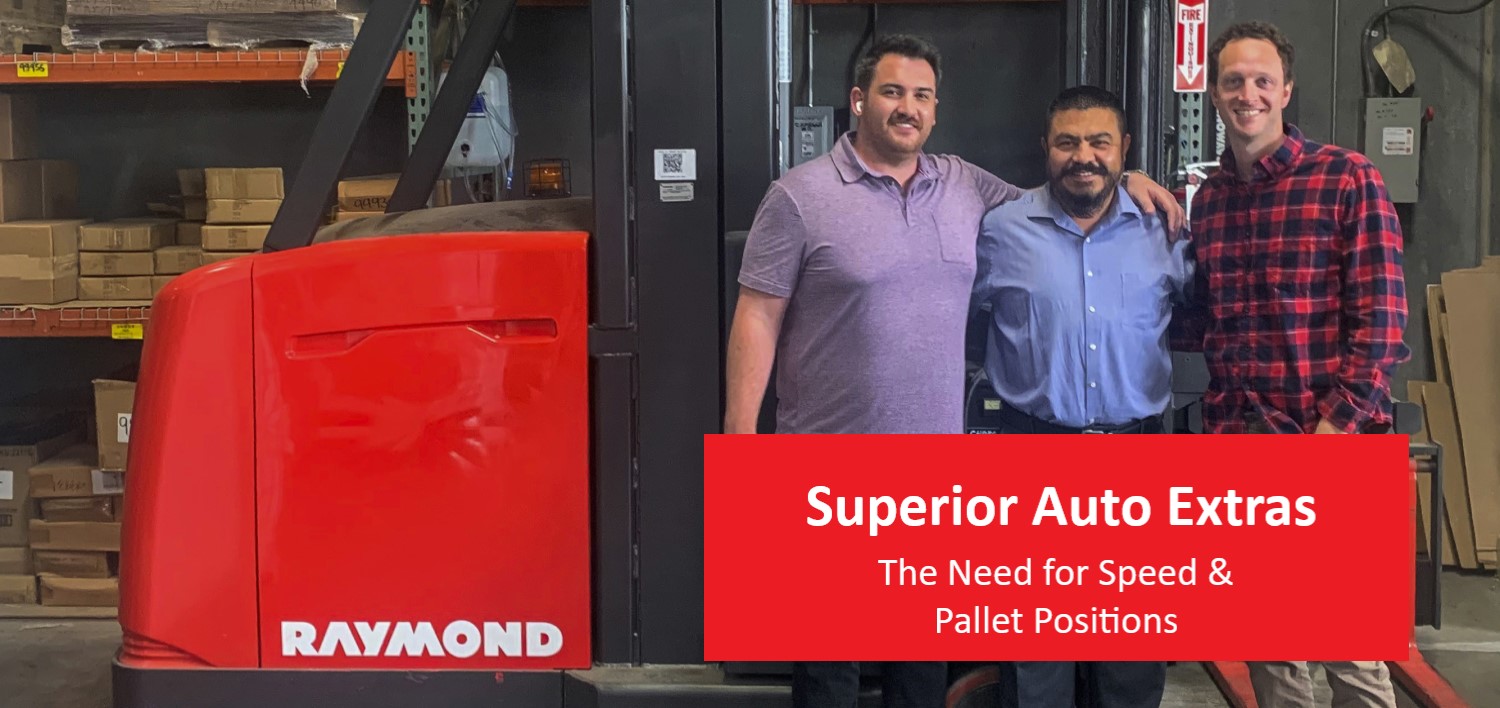 Founded in 1991 by Eddie Klapova and Gene Student, Superior Auto Extras has grown from a West Coast Operation to the nation's largest supplier of retail merchandise to car wash operators. With an all-inclusive selection of retail merchandise (air fresheners, automotive accessories and gift items), they now proudly provide products to customer in all 50 states. To keep pace with their continued growth, Superior Auto Extras turned to Raymond West Intralogistics Solutions for help in optimizing their operation.
---
CHALLENGE: FAST GROWTH / LIMITED SPACE AND TIME

Facing the challenge of limited space and a rapidly growing business, Superior Auto Extras needed solutions fast. In their region, new warehouse space was both expensive and difficult to find, so they turned to Raymond West for help in finding an immediate solution that would be economical and efficient.

Goal: Create more space and find more pallet storage in their existing facility.
---
SOLUTION: GO NARROW AND DEEP

Raymond West worked with Superior Auto Extras to assess their operation and facility layout and determine the best options to optimize the space. To achieve their goals they implemented narrow aisle and very narrow aisle concepts to increase capacity and pallet positions. Here are some of the solutions:

1 Add a Deep-Reach Truck and a Raymond ReNewed Swing-Reach Truck
2 Condense aisles to make space for additional aisles of rack storage
3 Add Intelliguide wire guidance system to automatically guide vehicles
4 Purchase a Raymond RJ50N Pallet Hand Pallet Truck with scale
5 Partner with Raymond West for ongoing scheduled maintenance


---
RESULT: STORAGE & PALLET SPACE INCREASED 30%

After implementing the solution presented by Raymond West, Superior Auto Extras was able to increase their storage and pallet spaces by 30%. Their deeper understanding of the narrow aisle concept is helping them prepare for their future move to a much larger facillity,

"We've been very happy with the results from our work with Raymond West thus far. We will have a year or two of experience with this material and philosophy, so that when we move to a new space, we know how to accomplish what we want and how to work with Raymond West to accomplish it" says Alex Student, VP of Sales at Superior Auto Extras.
---

Contact Us
Contact us to learn more about how we can be your partner in supply chain solutions.