Claim Credits For Operating Electric & Fuel Cell Forklift Trucks
Smart Charging Technologies LLC (SCT) specializes in energy management, helping businesses make better use of industrial equipment. Raymond West has partnered with SCT to assist in providing our customers with rebates through the Low Carbon Fuel Standard (LCFS) program at no cost.
What is LCFS and how do LCFS credits work?

The Low Carbon Fuel Standard (LCFS) is a program deigned to reduce greenhouse gas emissions and applies to fuels used for transportation (i.e. gasoline, diesel, and their alternatives). Regulated Parties (RPs) such as petroleum importers, refiners, and wholesalers purchase LCFS credits in order to meet their target Carbon Intensity (CI) limits. While some entities with a lower carbon intensity generate credits, others who have a higher carbon intensity generate deficits. When a fuel producer has deficits, they must have enough credits through generation or acquisition in order to maintain annual compliance with the standard.
By 2030, LCFS has a goal to reduce the carbon intensity of transportation fuel pool by 20%.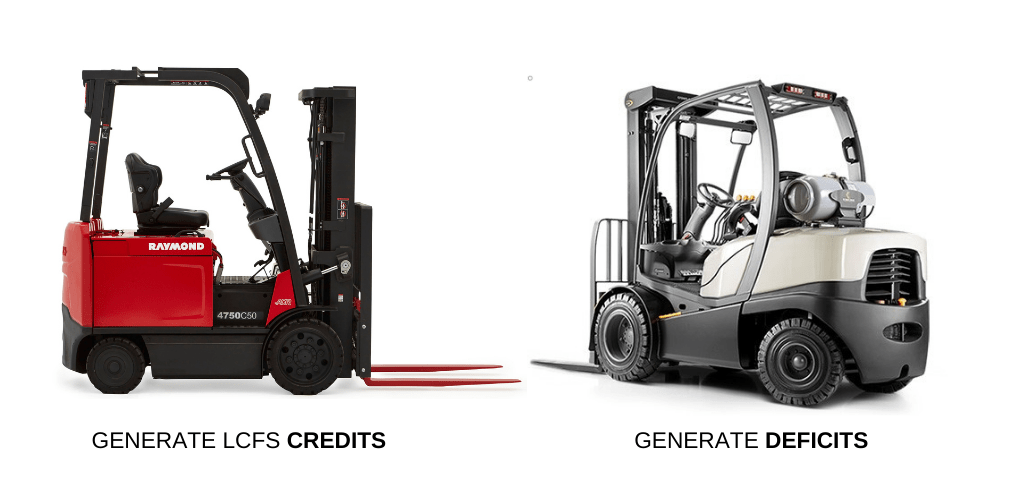 We are continuously improving operations and developing processes that create a more sustainable future for all of us. From our energy efficient lithium batteries to our full line of electric forklifts, Raymond offers what our competitors don't: sustainable initiatives. What does this mean for you? Well, not only are you contributing to limiting the amount of carbon intensity produced by using an electric forklift, but you may also be eligible to receive a rebate just for using our products at no added cost to you.
How does it work, you might ask. Very simple. Smart Charging Technologies manages this program so that you don't have to. By opting in, SCT will first determine if you qualify. If you don't, no harm! If you do, SCT will develop and implement a measurement and reporting tool for your company that will allow them to collect information on your forklift and material handling equipment. Once this is complete, SCT will register your company with LCFS and from there, they will create environmental attributes, generate credits, aggregate credits, sell credits and provide you with a check each quarter.
You have absolutely nothing to lose but can potentially gain extra funds in your pocket!
*Program is currently only available in California and Oregon*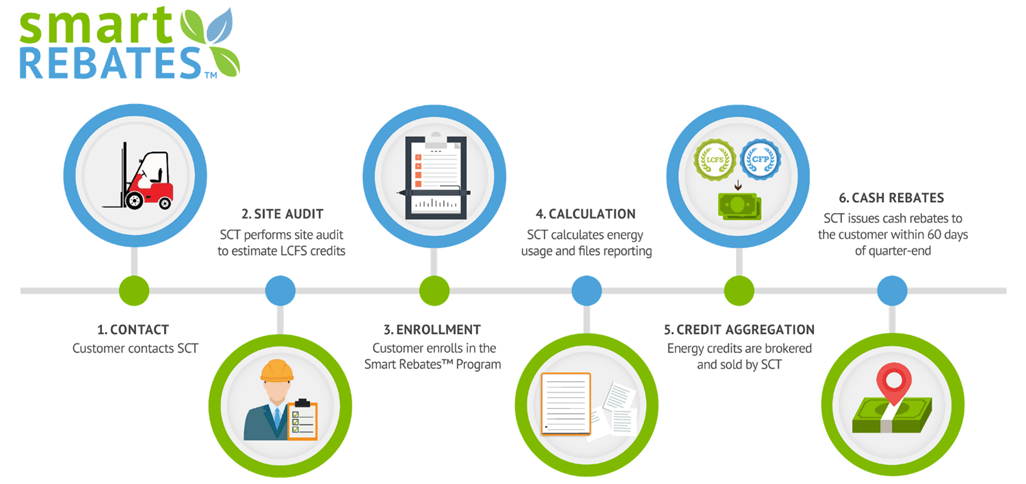 Contact Us
If you want to take part in this program, reach out today!
Please fix the following errors and resubmit.