Pallet Truck Options - Los Angeles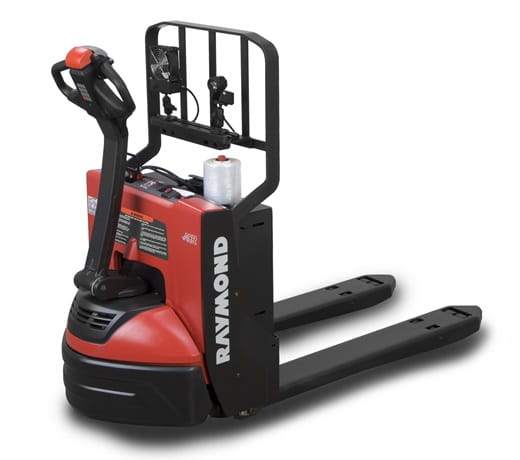 There are dozens of types of pallet trucks that can be used for almost any application and scenario you can imagine. Need a pallet jack for sterile or corrosive environments? Raymond makes stainless steel pallet jacks for just that purpose. Have custom or non-standard pallet sizes? Raymond offers extra wide, narrow or long fork configurations.
Based in Santa Fe Springs, Raymond West is one of the largest pallet jack distributors in California serving customers throughout the Los Angeles market.
From warehouses in Torrance and Carson to distribution centers in Rancho Dominguez and South Gate, Raymond serves customers all over L.A. County and the rest of Southern California.

Here are just a few of the specialized use pallet trucks they provide:
Stainless Steel Pallet Trucks
Raymond's SS45 stainless steel pallet jack is designed for corrosive environments like marine applications or industries that have hygienic requirements like pharmaceuticals. Constructed entirely of stainless steel and other non-corroding materials, Raymond's SS45 stainless pallet jack is built for long life and reliability under tough conditions.
Heavy Duty Pallet Trucks
Maneuverability and durability make Raymond manual pallet jacks the best choice for your material handling requirements. Raymond's LCS80 heavy duty pallet jack features an 8,000 pound load capacity, making it the perfect choice for heavy duty applications.
Light Duty Pallet Trucks
the Altra Lift light duty pallet jack from Raymond is a great choice for budget constrained, lightweight applications. Tubular pushrods and self-lubricating bushings make for dependable performance and quick, easy maintenance. Delivery trucks, stock rooms or low volume loading docks are the perfect applications for this manual pallet jack.
Galvanized Pallet Trucks
Raymond's LCF55 hand pallet jack is galvanized to prevent corrosion. LCF55 galvanized pallet jacks are ideal for freezer and cold storage solutions where condensation and moisture are a problem.
4 Way Pallet Trucks
Raymond's LCU4W and LCM4W 4-way pallet jacks allow the user to access 4-way pallets from any side to maximize density in trailers and warehouses. This 4-way pallet jack design has fork dimensions that are sized to fit into the side openings of four-way pallets.
Portable Pallet Trucks
The Raymond RJ50N offers basic, durable construction and is perfect for mobile applications. These workhorse manual pallet trucks are frequently used on delivery trucks, where they offer the perfect combination of maneuverability, portability and durability for on-the go businesses.
Narrow Pallet Trucks
Raymond's LCS55 hand pallet trucks can be customized and are ideal for narrow pallet jack applications. You can choose the frame width, fork length, and capacity. The reinforced fork design provides the durability and stability needed to handle custom length skids and pallets and has a capacity of up to 5,500 pounds.
Wide Pallet Trucks
The LCS55 Unique Size Series from Raymond offers superior flexibility and allows you to customize for wide pallet jack applications. You can choose the fork length, capacity and frame width to suit your unique handling needs.
Long Pallet Trucks
if you have custom length pallets and skids, the LCS55 from Raymond allows you to customize your fork length, frame width and capacity for long pallet jack applications. The reinforced steel design on this long fork pallet jack allows capacity of up to 5,500 pounds evenly distributed.
Low Profile Pallet Trucks
For low clearance skids or pallets, Raymond makes low profile hand pallet trucks. Raymond's LCM50 and LCU50 low profile pallet jacks have a 5,000 lb load capacity.
High Lift Pallet Trucks
The RG30 skid lift from Raymond provides convenience, ease of use and ergonomic load positioning. This high lift pallet jack is available in manual (RG30M) and electric (RG30E) versions.
Start Assist Pallet Trucks
Raymond's PST23 features Power-Start-Technology that allows the truck to overcome inertial resistance . This power start-assist pallet jack reduces strain on the operator without the use of motors or batteries.
Specialty Pallet Jacks in Los Angeles
If you'd like assistance in selecting pallet trucks, you can speak with a professional at Raymond West by calling 562-944-8067.
If you're anywhere in Southern California or Las Vegas, you can find us at these locations:
Los Angeles, CA
9939 Norwalk Blvd
Santa Fe Springs, California 90670
Phone: 562-944-8067
Ontario, CA
4602 E Brickell St.
Ontario, California 91761
Phone: 909-930-9399
San Diego, CA
12310 World Trade Dr
Ste 111
San Diego, California 92128
Phone: 858-679-1800
You May Also Like: