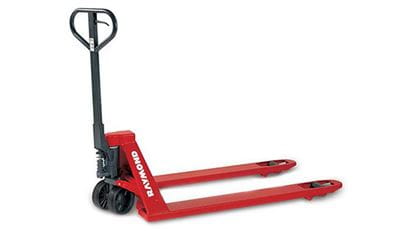 Raymond West is an Oxnard supplier of new and used electric and manual pallet jacks.

We are backed by one of the largest service and parts operations in Southern California.

Call us today at (805) 667-0888
Anytime you are contemplating the purchase of pallet trucks, it's necessary to analyze the positive points and a few of the disadvantages of different kinds of pallet handling equipment.
Naturally, the basic function of a pallet truck is to position pallets around a storage facility, industrial operation or some other operation where pallets must be transported.
Having said that, depending upon the scale of your operation, the tonnage of pallets that will be transported, the consistency of use, and various other considerations, you will probably want to get a more thorough knowledge of which pallet trucks perform best in which environments.
The following feature is a review of pallet jack categories, features, limits and types of applications.
Manual Pallet Jacks
Manual pallet jacks have been used since 1918 and haven't changed much since that period. They are composed of a steel framework, a fork and a hydraulic component that's activated by pumping the handle in an up and down motion.
The operator of a hand pallet jack settles the forks under the pallet, lifts the pallet away from the floor and wheels the pallet to a chosen location, guiding the jack with the tiller.
Scenarios where lift elevation is not important can be a good use for a manual pallet jack, including grocery store aisles, warehouse back rooms and similar. In contrast to a lift truck, manual pallet trucks are also reasonably transportable and will fit in the back of a cargo van or truck for delivering products. The load capacity of the majority of non-motorized pallet jacks is about 5500 pounds.
Manual pallet jacks are perfect for periodic use situations across limited ranges. Hand pallet jacks are not the best selection for transporting payloads across longer distances, steep gradients or rough surfaces. Workers must manually pull or push the pallet jack which is quite often physically tiring after a while.
Walkie Pallet Trucks
Although approximately double the size of non-powered pallet trucks, walkies are nonetheless fairly small in scale and they are exceptionally maneuverable.
Walkie pallet jacks are propelled by on-board battery packs. The battery supplies an electrical assist for operating and raising the forks. The worker no longer has to activate the tiller to raise the load, nor do they have to pull the payload across the warehouse.
Even so, they are still referred to as "walkies", due to the fact that the operator does still have to walk at the rear of or beside them.
A walkie pallet jack's highest speed is moderate in comparison with rider jacks, given that the operator must keep up with it instead of riding on it. This is effectively a little bit of an inherent "safety feature", since minimized speeds also limit the significance of collisions.
The weight capability of most walkie pallet trucks is anywhere between 4500-6000 pounds.
Despite the fact that they're more convenient than non-motorized pallet trucks, walkies need to be recharged regularly, because they are battery powered. In addition, walkies demand more upkeep than non-motorized pallet trucks due to the fact that there are far more moving pieces and points of possible electrical problems.
The major applications for walkie pallet jacks are staging areas, loading docks and short to mid-length runs.
Rider Pallet Trucks
Rider pallet jacks function like walkies, although they have a basic riding platform for the operator. There are minimal controls on rider jacks so they are relatively simple to operate and necessitate minimal training.
Operators can climb on the platform as an alternative to just keeping pace behind or beside the jack. This means that rider jacks are a much better solution for moving loads over greater distances versus manual or walkie pallet jacks. They are most suitable for regular movement over greater distances and they are used frequently in large warehouses and manufacturing enterprises.
The travelling platform is suited for quick trips, but not ideal for drivers that make use of them all day long because they're relatively small and require the operator to position themselves in an unnatural stance.
Rider jacks are heavier than manual or walkie pallet jacks, so collisions can cause fairly severe injury and property harm. Rider pallet trucks offer minimal defense for the driver vs other alternatives like center riders.
Center Riders
Center riders are reminiscent of rider pallet trucks, but they're safer for the driver and deliver a more comfortable experience. The driver can stand fully forward or backward as opposed to just sideways.
Furthermore, there is reduced risk for the driver because they are shielded by the machine body on two sides, although they are still subjected to the somewhat unlikely danger of the lifting machinery.
Center riders are harder to turn than rider pallet jacks and they're best suited for applications where the driver drives mainly in a direct path.
Center riders are often put to work in general manufacturing, distribution center and beverage uses.
Where To Rent Or Buy Pallet Trucks In Oxnard, California
If you'd like to talk to a representative about pallet jacks, please get in touch with Raymond West, an Oxnard material handling equipment supplier serving the South Central Coast and Ventura County, including: Camarillo, Thousand Oaks, Moorpark, Newbury Park, Ventura, Santa Paula, Westlake Village and Simi Valley.
Oxnard, CA
4744 Telephone Rd
Ventura, CA 93003
(805) 667-0888
7:00 AM - 5:00 PM
Monday - Friday