Warehouse Consulting | Oxnard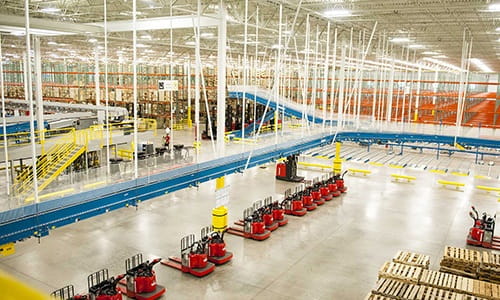 Raymond West is an Oxnard warehouse consultant and equipment supplier.
We are backed by one of the best warehouse engineering teams in the West.
Call us today at (805) 667-0888
Raymond West offers turnkey warehouse consulting services. Whether you're building brand new warehouse space, moving to a different building or reconfiguring your existing location, we have a team of consultants dedicated to helping you maximize your warehouse investment through efficiency and productivity gains.
Warehouse Design
Raymond West specializes in turnkey solutions for material handling operations and designs and specifies systems for racking, automation, WMS, fleet management, order picking and any other storage or distribution requirements. In addition to systems engineering, we also offer physical warehouse plans, including CAD drawings of racking and automation configurations.
Warehouse Racking Layout
Oxnard industrial space costs are at an all-time premium, so it's a good idea to maximize storage density by every means at your disposal. Our storage engineering group can devise tightly packed racking solutions, leveraging every cubic foot in your building while maintaining an exceptionally productive and high throughput operation.
Warehouse Permitting
Dealing with county or city regulators can sometimes be a complex and frustrating process, particularly when considering conformance to fire sprinkler, seismic and other code requirements. Our team is proficient in dealing with local governments and can be invaluable in helping you plan and navigate through the permitting and inspection process.
Automation Engineering
When it comes to warehouse automation, Raymond West offers one of the best engineering teams in the Western US. We design and set up AS/RS solutions, conveyor systems, sophisticated order picking solutions, AGVs and much more.
Mezzanine Design
Leveraging all the cubic space in your building with a mezzanine system can be an intelligent and cost effective alternative to moving or building out new space. Raymond's consulting group can design a range of catwalks, mezzanine systems, stairs, landings, lifts and platforms. We also offer fabrication and installation services for any type of industrial platform or mezzanine.
Warehouse Moves
Organizing and implementing a warehouse move can be an enormous and highly stressful project. If you're planning a relocation, sit down with Raymond's warehouse consulting group to map out logistics, timing and project management.
Warehouse Racking Installation and Removal
When you add racking, Raymond's installation crew can guarantee that the task is completed correctly, on-time and in accordance with all local regulations. If you're removing or replacing racks, we can also help with tear-down and disposal or sale of your old racks.
Racking Inspection
According to the Rack Manufacturers Institute, pallet racks should be thoroughly examined on an annual basis at a minimum. Quarterly or semi-annual inspections are advisable, and are a requirement following a forklift impact or other event that could impair the safety of your racks. Raymond West can manage scheduled or unscheduled inspections, submit documentation and advise on remediation and repair.
Oxnard Warehouse Consultants Near Me
To get in touch with a warehouse consultant, call Raymond West today at (805) 667-0888.
Raymond West
Ventura County Service Area:
Camarillo, Thousand Oaks, Moorpark, Newbury Park, Ventura, Santa Paula, Simi Valley
Phone: (805) 667-0888
You May Also Like: