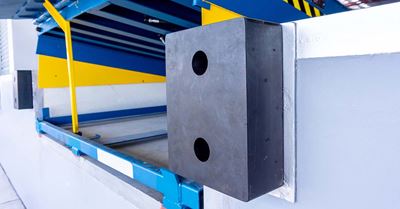 Raymond West supplies new and replacement dock bumpers.

We are among the largest suppliers of loading dock equipment in the state.

Call us today at
Loading dock bumpers can help you safeguard your dock area, your dock equipment and trailers. Every product that passes through your warehouse or manufacturing plant goes through the dock, so it's critical to protect it and keep every bay in good working order.
Types of Dock Bumpers
Generally, dock bumpers are installed so that a trailer or truck "bumps" against them rather than against your structure. This safeguards your building, your dock equipment and the truck or trailer that makes use of your loading dock.
There are numerous categories of dock bumpers, and choosing the correct bumper can be an important decision, depending upon the workload of your dock operation. Installing overly-lightweight dock bumpers can sometimes lead to premature failure, while using dock bumpers that are too heavy will be unproductive and could actually lead to difficulties when docking trucks and trailers.
The kind of dock bumpers you pick will be dictated by the approach, average trailer or vehicle height, daily volume and several other variables. For facilities where trucks or trailers are likely to move up and down during loading operations, bumpers may be installed in either a vertical or horizontal orientation.
Molded Bumpers (Light Duty): Bumpers formed from molded rubber can supply defense for light duty loading docks. What's more, they may be applied inside a facility to protect walls, doorways and other building elements from forklifts and other material handling equipment.
Molded rubber is prone to chipping and gouging with heavy use and is not as wear resistant as other types of bumpers. If your loading dock doesn't receive a lot of traffic, they may be a viable option for your business.
Laminated Bumpers (Medium Duty): Laminated bumpers have superior shock absorption capacity because they have more substantial pads. They are made from strips of used truck tires that have been cut to size and sandwiched between steel plates.
They have a medium capacity for wear resistance and are adaptable when it comes to height, length and overall thickness. They are often applied in operations set up with pit-style dock levelers or edge-of-dock levelers, since they allow enduring defense for high traffic loading docks.
Steel Faced Bumpers (Heavy Duty): Steel faced bumpers are configured with a sliding section of steel that covers a common laminate bumper, preventing undue abrasion of the layered pads. The durable metal permits trailers to brush against the bumpers without degrading the rubber. Steel bumpers offer exceptional durability, and usually last much longer than uncovered laminate bumpers.
When Should Dock Bumpers Be Replaced?
While dock bumpers are designed to hold up against repeated impact, they do deteriorate after sustained use and should be replaced every so often. There are a few telltale signs that your dock bumpers should be refreshed.
When you see pad erosion of more than 50%, it's time for replacement. Worn pads do not offer enough impact absorption capacity to defend your dock. Overly worn pads will ultimately wear down to the metal brackets that hold them in place, and this may cause unnecessary damage to both brackets and trailers.
Apart from regular wear, you should look for further damage like splitting laminates, cracking, warped or rusting brackets and other obvious defects. Scheduled bumper inspections are a practice, just as you would systematically inspect your levelers and other dock equipment.
Truck Dock Bumpers Near Me
For dock bumper questions, inspection or replacement, talk to a loading dock equipment professional at Raymond West today.
Raymond West's Phoenix facility serves the entire Phoenix Metro area, including Phoenix, Tempe, Mesa, Gilbert, Chandler, Scottsdale, Glendale, Goodyear, Tolleson, Peoria and all surrounding areas.
Raymond West | Phoenix Material Handling Equipment Supplier
2659 E Magnolia St
Phoenix, AZ 85034
(602) 275-2228