Forklift Attachments | Portland, OR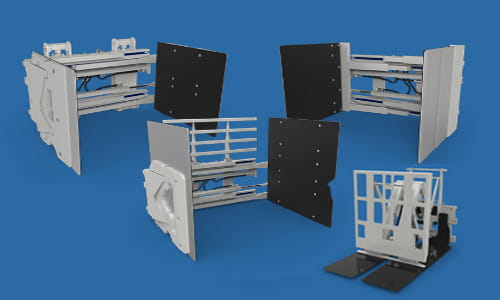 Raymond West is a Portland area supplier of forklift attachments and accessories.

We are backed by one of the largest service and parts operations in the Pacific Northwest.

Call us today at (800) 675-2500
Lift Trucks can be put to use for far more applications than simply moving and lifting pallets. With the appropriate accessories, lift trucks can be employed for a number of other applications throughout your operation.
There are also highly specialized attachments for hard to manage items like forgings and castings, 55 gallon drums, steel coil and other oversized or awkward products. Although a lot of attachments are widely used and well known, others are not. Here is a synopsis of a handful of the more typical attachments on the market:
Forklift Clamp Attachment
There are varying types of clamp attachments designed for different tasks. Chief among them are:
Carton Clamp:
Carton clamps are often used to move large rectangular or square items that aren't set on a pallet like appliances and electronics. They are also a good option for processing fragile products when outfitted with an automatic pressure sensing system.
Paper Roll Clamp:
Paper roll clamps are often used in industries like paper manufacturing, newspaper printing and tissue production. They can adjust to most different sizes of paper rolls, and can be ordered with automatic pressure controls and varying gripper pads that inhibit damage to the paper.
Forklift Jib Attachment
Lift jibs allow for adaptable lifting of bulky, long items, such as bar stock, pipes and tubes. There are even lift jibs for exceptionally awkward and heavy products like stone slabs. The forklift lift jib slides onto both forks and is fastened to the lift truck with a safety chain. Adaptable hooks are mounted along the jib, allowing the operator to move items of assorted lengths and sizes.
Forklift Attachments To Move Trailers
Trailer mover attachments offer a practical method of ferrying towable trailers around a building without connecting a tow vehicle. The attachment has a typical ball trailer hitch and a safety chain. Once the trailer is attached, it can be maneuvered easily and in more restricted spaces than with most tow vehicles.
Forklift Drum Attachment
Drum handlers are engineered to grip the outside of a drum cylinder and make it much easier to handle heavy steel, fiber or plastic drums. Most are configured to manage one or two drums simultaneously.
Forklift Extensions
Extensions allow you to manage larger or non-uniformly shaped loads with better stability. The operator simply slides the forks into the extensions and secures them in place, giving the truck extended forks to manage bulky loads.
Fork Positioners
Positioners are very common. They enable forks to be moved closer or further away from each other hydraulically. This enables rapid and more efficient processing of variably sized pallets and objects.
Push Pull Forklift Attachment
These attachments (sometimes called Slipsheet Forklift Attachments) are used for processing loads that use slip sheets in lieu of pallets. They are frequently used for bagged goods like grains or cement, and food products like packaged food, dairy and fruit. Slipsheets are used in place of pallets, conserving space and getting rid of the expense of pallets.
Forklift Attachments Near Me
Many industries use attachments that are unique to their specific requirements. For more information on what attachments are available for your particular forklift, talk to a material handling expert at Raymond West today!
Raymond's Portland service operation includes all of Western Oregon and Southwest Washington, including Portland, Beaverton, Tigard, Hillsboro, Forest Grove, Sherwood, Tualatin, Wilsonville, Oregon City, Gladstone, Clackamas, Milwaukie, Happy Valley, Gresham, Troutdale, Woodburn, Salem, Vancouver, Ridgefield, Longview, Kelso and surrounding areas.
Raymond West | Portland Forklift Dealer
3148 NE 181st Ave
Portland, OR 97230
(800) 675-2500