Forklift Battery Supply | Portland, OR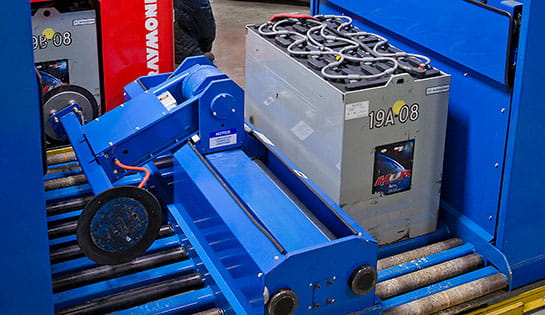 Raymond West is a Portland supplier of new and used forklift batteries, chargers and handling equipment.

We are backed by one of the largest service and parts operations in the Pacific Northwest.

Call us today at (800) 675-2500.
Energy efficiency guidelines and "green" technology embracement are generating extraordinary demand in the worldwide battery business.
Although this rise in interest is inspiring new development and research in power storage technology, lead acid batteries are still the go-to technology for the majority of industrial use scenarios, including fork lifts.
Though lead acid battery varieties possess somewhat lower energy density than a number of the more advanced types of batteries, they manage to keep a steady voltage as they discharge, they can perform over a wide range of temperatures and they may be dependably charged/ emptied over hundreds of cycles.
The rise in world wide battery orders has also brought about steep cost growth over the last decade. Muchhigher battery prices mean that boosting your lift truck battery longevity can have a considerable effect on your profitability.
Service and upkeep of batteries has a direct influence on their useful hours of service, so a minimal purchase of high quality battery handling accessories can yield substantial cost reductions in the long term.
Raymond West features a full product line of battery handling tools from premier brand names:
Battery Chargers
We provide both new and pre-owned commercial battery chargers for all sorts of operations from single shift, standard use facilities to 24 x 7, maximum use enterprises. Ask about our charger and battery rental and lease plans.
Battery Carriages & Carts
Lift truck battery transfer carriages make it possible for employees to safely extract and change out forklift batteries that are designed for side-extraction. Raymondprovides electric powered options for heavy use operations and manual control options for smaller volume applications.
Battery Extractors
Fork lift battery extractors are indispensable devices for any material handling business that needs constant battery change-outs.
Battery Stands
Conserve space and protect your battery investment with charger stands and battery stands. We offer a full collection of products and can customize solutions for your individual needs.
Battery Hoist
Raymond provides a assortment of battery hoist options depending on battery sizes, frequentness of use and warehouse arrangement.
Battery Beam
Raymond provides battery hoisting beams featuring insulated composition and flexible hook positions. Beams offer an efficient andtime-saving way to manage bulky industrial fork lift batteries.
Battery Crane
Our gantry crane products are perfect for up and down battery removal uses. We supply a range of beam spans, capacities and heights.
Battery Wash Equipment
Battery cleansing stations minimize terminal and cable corrosion, stretch the useful life of batteries, minimize fork lift electrical issues, and assist in compliance with environmental requlations.
Battery Watering Systems
We offer total battery watering systems together with individual components, from tanks and deionization appliances to watering guns and valves.
Battery Room
Battery rooms must be installed with appropriate venting, proper flooring, wash facilities, safety gear plus all needed battery handling devices. Our experts can help to design your facility and supply all battery handling systems for your operation.
Forklift Battery Near Me
If you'd like to speak with a Raymond representative about lift truck batteries or power systems, please get in touch with Raymond West.
Raymond's Portland service operation includes all of Western Oregon and Southwest Washington, including Portland, Beaverton, Tigard, Hillsboro, Forest Grove, Sherwood, Tualatin, Wilsonville, Oregon City, Gladstone, Clackamas, Milwaukie, Happy Valley, Gresham, Troutdale, Woodburn, Salem, Vancouver, Ridgefield, Longview, Kelso and surrounding areas.
Raymond West | Portland Forklift Dealer
3148 NE 181st Ave
Portland, OR 97230
(800) 675-2500