Pallet Jacks | Portland, OR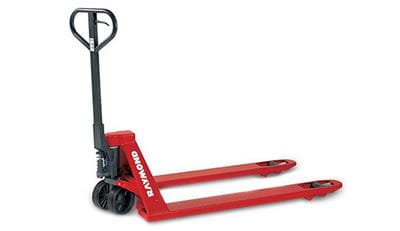 Raymond West is a Portland area supplier of new and used electric and manual pallet jacks.

We are backed by one of the largest service and parts operations in the Pacific Northwest.

Call us today at (800) 675-2500
If you're thinking about the purchase of pallet trucks, it's essential to consider the advantages and conversely, a few of the drawbacks of different styles of pallet jacks.
Obviously, the main use of a pallet truck is to move pallets around a distribution center, manufacturing facility or other business where pallets have to be transferred.
That being said, based on the size of your enterprise, the weight of pallets that will be moved, the rate of utilization, and other considerations, you may wish to get a better awareness of which pallet jacks perform best in which environments.
The following information is a review of pallet truck options, characteristics, restrictions and types of applications.
Manual Pallet Jacks
Non-motorized pallet jacks have been in existence since 1918 and haven't been improved much since that period. They are comprised of a steel chassis, a fork and a hydraulic pump that's mobilized by pumping the handle in an up and down motion.
The operator of a hand pallet truck settles the forks below the pallet, pumps the pallet above the floor and wheels the pallet to a chosen spot, guiding the equipment with the "tiller" or handle.
Scenarios where lift height is not important may be a good application for a non-motorized pallet jack, including retail aisles, warehouse loading docks and related uses. In contrast to a forklift, manual jacks are also moderately mobile and will fit in the back of a vehicle for delivering goods. The load limit of the majority of manual pallet jacks is about 5500 pounds.
Hand pallet trucks are suitable for intermittent use situations across limited ranges. Hand pallet jacks are not the most efficient option for transferring payloads across more lengthy lengths, steep gradients or coarse terrain. Users need to physically maneuver the equipment which is quite often physically draining after a short period.
Walkie Pallet Trucks
Regardless of the fact that they're about double the scale of manual pallet jacks, walkies are nevertheless reasonably small in size and they're extremely maneuverable.
Walkie pallet trucks are electrified by on-board battery units. The battery supplies a powered assist for driving and lifting the forks. The worker no longer has to activate the tiller to raise the pallet, nor do they have to pull the payload across the warehouse.
Nevertheless, they are still referred to as "walkies", given that the worker does still have to walk in back of or alongside them.
A walkie pallet jack's max speed is moderate as compared to rider jacks, because the driver must keep up with the truck rather than riding on it. This is actually a little bit of a built in "safety feature", since minimized speeds also limit the significance of collisions.
The weight capacity of many walkie pallet trucks is between 4500-6000 lbs.
Despite the fact that they're more convenient than non-powered pallet jacks, walkies must be charged routinely, considering that they are battery based. They also need more servicing than manual pallet jacks given that there are more moving pieces and points of possible electrical problems.
The primary uses for walkie pallet jacks are trailers, dock plates and brief to moderate length runs.
Rider Pallet Jacks
Rider pallet trucks are like walkies, apart from the fact that they come with a basic user platform for the driver. There are few controls on rider jacks so they're relatively simple to control and need very little operator training.
Operators can step on the platform as an alternative to just walking beside or behind the pallet truck. This means that rider jacks are a much faster choice for advancing loads over greater distances vs walkie or hand pallet trucks. They are perfect for regular movement over greater ranges and they're used frequently in large warehouse complexes and industrial operations.
The operator platform is appropriate for shorter spans, but not ideal for drivers that handle them all day long because they are rather minimal and cause the user to position themselves in a sideways stance.
Rider pallet trucks are much heavier than manual or walkie pallet jacks, so crashes can trigger rather significant trauma and property destruction. Rider pallet jacks afford little shielding for the driver vs other choices such as center riders.
Center Riders
Center riders resemble rider pallet trucks, but they are safer for the driver and furnish a more comfortable drive. The operator can stand totally forward or backward as opposed to just sideways.
Furthermore, there is less risk for the operator since they're insulated by the machine frame on two sides, although they're still exposed to the somewhat unlikely danger of the lifting system.
Center riders are harder to turn than rider pallet jacks and they're used mostly for operations where the controller travels mostly in a straight path.
Center riders are commonly employed in general factory operations, warehouse and beverage uses.
Pallet Jack Near Me
Speak with a Raymond West material handling expert about your application today. We stock all types of pallet trucks for a variety of uses.
Raymond's Portland service operation includes all of Western Oregon and Southwest Washington, including Portland, Beaverton, Tigard, Hillsboro, Forest Grove, Sherwood, Tualatin, Wilsonville, Oregon City, Gladstone, Clackamas, Milwaukie, Happy Valley, Gresham, Troutdale, Woodburn, Salem, Vancouver, Ridgefield, Longview, Kelso and surrounding areas.
Raymond West | Portland Forklift Dealer
3148 NE 181st Ave
Portland, OR 97230
(800) 675-2500