Used Forklifts | Portland, OR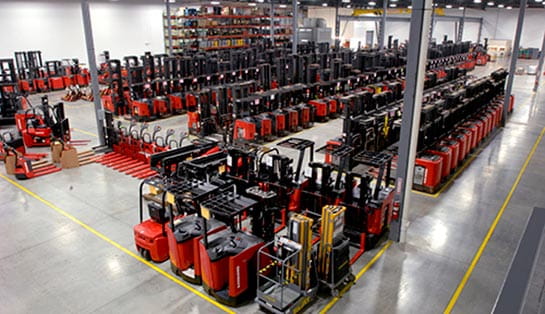 Raymond West is a Portland area supplier of used forklifts.

We are backed by one of the largest service and parts operations in the Pacific Northwest.

Call us today at (800) 675-2500.
Are you about to buy used forklifts? There are hundreds of used lift trucks available here in town and throughout the state. Purchasing gently used fork trucks is usually a sound strategy and it may save you a fair amount of money. If you're not yet convinced about purchasing used equipment, consider a few of the advantages:
When you buy brand new equipment, loan setup and vehicle delivery usually takes a while. One great advantage to used lift truck sales is that they are nearby, tend to close fast and you can take delivery sooner.
Used Forklift Pricing
Similar to purchasing a pre-owned car, you will often spend less when you buy previously owned lift trucks. Pre-owned lift truck pricing discounts depend very much on the truck variety and lift truck manufacturer, but you'll generally pay substantially less for used fork trucks. When you find a pre-owned forklift for sale, it's a good idea to check prices on two comparable vehicles in your city to make sure you're being offered a fair deal.
Pre-Owned Forklift Values
Buying used forklifts has the added advantage of allowing you to get better equipment than you could normally afford to buy new. Used forklift prices for newer models that are very similar to the newest available can be greatly discounted, which means you can purchase state of the art equipment for quite a bit less than the cost of buying brand new equipment.
Used Forklift Dealers
When purchasing from a preowned lift truck dealer that acts as a distributor, you can get dealer certified, preowned lift trucks that are nearly equivalent to purchasing brand new. These used forklifts are fully examined, refreshed and refurbisheded by factory trained specialists and they often come with a warranty.
Buying from a dealer also gives you access to their service contracts, lease programs, parts program and other benefits that are not available with a private party transaction.
Other Considerations
Since you're now up to speed on some of the advantages of purchasing preowned lift trucks, you may want to evaluate a few additional variables to see if a previously owned forklift approach is appropriate for your operation:
Forklift Hours of Use: how much will you be using your forklifts? If your new forklifts will be used all day, every day, it could likely be more advantageous to lease your forklifts or purchase them new, even if you increase your cost up front. Heavy utilization scenarios are more suitable for new equipment, or lift trucks that come with a maintenance warranty.
Maintenance Ability: do you have in-house resources that can maintain your preowned forklifts? In cases where you have an expert on your team that can fix and service preowned forklifts, it can be very economical to go the pre-owned route. In cases where you don't have qualified employees, you should probably opt into a service contract.
Reputable Used Forklift Dealers: purchasing from a well known, knowledgeable dealer is always advised. Authorized sellers will frequently unload off-lease equipment that has been consistently and correctly serviced. Private transactions, in contrast, are generally a gamble—you have no way of knowing the true history of the equipment or how it was maintained.
Lift Truck Safety: if you're buying used equipment, you should always be mindful of safety as your primary concern. For every transaction you should schedule a used forklift inspection from a qualified mechanic.
Preowned Forklift Warranty: preowned lift trucks bought from dealerships often have a temporary warranty. When you can buy an additional warranty or service contract, you can calculate the additional expense vs the outlay of buying new forklifts.
Used Forklift Near Me
If you'd like to buy a used lift truck or get information on used forklifts for sale, talk to an expert at Raymond West today.
Raymond's Portland service operation includes all of Western Oregon and Southwest Washington, including Portland, Beaverton, Tigard, Hillsboro, Forest Grove, Sherwood, Tualatin, Wilsonville, Oregon City, Gladstone, Clackamas, Milwaukie, Happy Valley, Gresham, Troutdale, Woodburn, Salem, Vancouver, Ridgefield, Longview, Kelso and surrounding areas.
Raymond West | Portland Forklift Dealer
3148 NE 181st Ave
Portland, OR 97230
(800) 675-2500