Forklift Rental | Portland, OR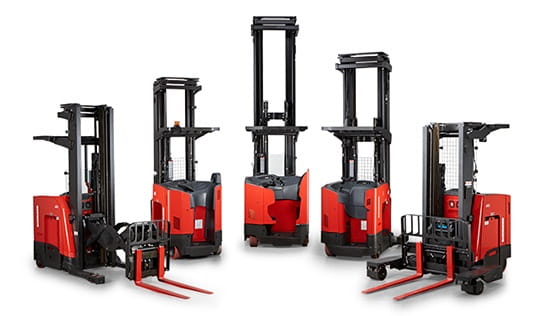 Raymond West is a Portland supplier of forklift and other material handling equipment rentals.

We are backed by one of the largest service and parts operations in the Pacific Northwest.

Call us today at (800) 675-2500

Raymond West offers a complete range of forklift rental options, along with any other equipment rentals you'll require for your warehouse location. Whether you're in need of an entire fleet or one fork truck, Raymond is the company to call. We provide the best services and products in the material handling equipment industry at affordable rates. In addition to equipment rental, we offer complete product support, including service, delivery, parts, maintenance and operator safety training. Raymond has locations throughout the West and offers new and used equipment sales and rentals.
Counterbalanced Forklift Rental
Raymond West supplies a full line of electric forklift rentals and is one of the largest electric forklift fleet dealers in the Western United States. Whether you are looking for stand-up or sit-down forklifts, we have options to meet all customer requirements for warehouse cushion tire applications. Raymond forklift trucks afford superior visibility, unparalleled ergonomics and incomparable efficiency, making them the highest performance counterbalanced forklifts in the industry.
Raymond 's 4150 Stand Up vehicles: great for rough dock applications, an AC drive provides endurance and exceptional power.
Raymond's new 4250 Stand Up: open view mast offers an unimpeded line of sight for the operator, load capacity of up to 5,000 lbs.
Raymond 4460 Sit Down vehicles: ideal for a large range of uses and well suited for attachments and specialty racks.
Raymond 4750 Sit Down: this truck supplies exceptional operative comfort and efficiency and is best in class when it comes to capabilities and design.
Reach Truck Rental
Raymond supplies reach forklift rentals for almost every use. The 4-D reach truck puts an end to the requirement for right angle turns and is great for long load handling, while the deep-reach forklift truck can boost storage capacity by up to 40% with double deep pallet configuration. When you need to rent reach trucks, Raymond has more of a selection than almostany dealer in the region.
Raymond's 7500 model forklifts offer a universal-stance option for high rack uses and an unimpeded view, as well as a side-stance choice for dock-to-stock and shorter heights.
The new Raymond 7530 has the highest industry lift height at 542 inches, and can support 2,000 lbs at a height of 505 inches.
The 7700 delivers both sit-down and stand-up maneuverability and is ideal for prolonged on site traversal time and all day use.
Turret Truck Rental
Raymond is among the top producers of turret trucks and is one of the most trusted brands in forklifts. We provide many options in our swing reach product line, including:
The 9600 Swing-Reach Truck: this truck offers case picking and high-level pallet handling equipment in narrow aisle setups. It has a maximum lift height of 33 ft.
Raymond's new 9700 Turret Truck: the 9700 offers lift heights of up to 43 feet, faster speeds and large load capacity, making it the most suitable option for special heavy-duty VNA applications.
Raymond 9800 Swing Reach: this jointed truck has even greater lifting capacity and offers industrial load handling of up to fifty ft.
Transtacker: the TRT transtacker truck has both alternating and direct power options, providing for every day, 24x7 utilization. Additionally, it offers a maximum 4,000 pound load capacity and heights up to 59 feet.
Pallet Jack Rental
Rent electric pallet jacks from Raymond and you'll have a vast array of product options. Choose from riders, walkies, or walkie-riders. Our walkie straddle stacker is perfect for retail backrooms, while our walkie counterbalanced stacker line delivers versatile performance for trailers and racks.
Order Picker Rental
Orderpicker forklift rental selections from Raymond include our value driven 5200 unit, our versatile 5400 designed for high-use warehouses, and our extended reach 5500 order picker capable of fork elevated heights of 30 ft. Our top of the line 5600 orderpicker is great for special high level picking uses, and our furniture order picker is perfect for large pallet-less applications like furniture warehouses.
Aerial Lifts
Raymond's scissor lift rental choices include our SpinGo unit, a great alternative to push ladders and push work platforms. If you need to rent a scissor lift with greater capabilities, our Sprint aerial lift option offers a drivable, elevated work surface and an adaptable load tray.
For industrial applications where workers are high in the air, safety should always be the primary concern, especially when working with a rental product. The SpinGo and Sprint lifts are extremely safe alternatives.
Should You Buy or Rent Forklifts?
Can't decide whether to purchase or rent your equipment? A Raymond customer service representative will help you factor your number of locations, rental term, turnover time, expected parts and maintenance costs, training costs and other variables to come up with the perfect terms for acquiring your equipment.
Forklift Rental Near Me
Please call us today or contact us online to request a free quote, and let us help you find the right material handling products, services and solutions for your company! Whether you're looking for rental equipment, sales, parts, training, service or on site management, we will work with you to find the ideal material handling solution for your needs. Request a quote today!
Raymond's Portland service operation includes all of Western Oregon and Southwest Washington, including Portland, Beaverton, Tigard, Hillsboro, Forest Grove, Sherwood, Tualatin, Wilsonville, Oregon City, Gladstone, Clackamas, Milwaukie, Happy Valley, Gresham, Troutdale, Woodburn, Salem, Vancouver, Ridgefield, Longview, Kelso and surrounding areas.
Raymond West | Portland Forklift Rental Service
3148 NE 181st Ave
Portland, OR 97230
(800) 675-2500