Pallet Racks | Portland, OR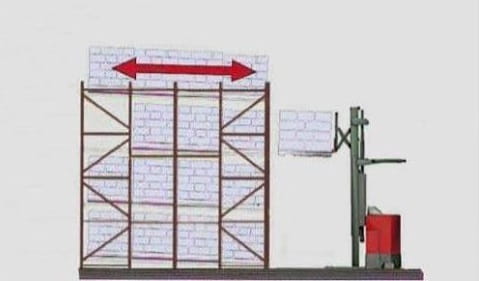 Raymond West is a Portland area supplier of new and used pallet racking.

We are backed by one of the largest service and parts operations in the Pacific Northwest.

Call us today at (800) 675-2500
Raymond West provides material handling products and services to all types of customers all over the Western United States, including industrial shelving system and warehouse storage design, delivery, installation, parts and service. As one of the largest material handling companies in the state, we have the expertise and resources that others do not.
Pallet Racking & Industrial Shelving
Raymond offers a full suite of quality racking, shelving and mezzanine options, including both used and new equipment. Raymond offers attractive terms, in addition to services like engineering, installation, project management and customer safety inspection. If you need a hand with warehouse storage, we can help!
Cantilever Rack
Cantilever rack is typically utilized for storage of oversized, bulky or longer products like PVC, carpet roll, lumber, and sheet metal. Cantilever racking uses structural arms secured to a beam at only one end. Products are stored perpendicular to the arms, giving lift trucks free access from the front of the racks.
Carton Flow
Carton flow racks are skate wheel gravity-powered rack equipment perfect for applications with many different SKUs. This variety of racking uses ramped shelving with a loading aisle on the high side access and a retrieval lane on the low side, allowing a FIFO product inventory cycle. Inclinded shelves also increase visibility, allowing better fulfillment precision. Carton flow equipment is well suited for piece or split case picking.
Drive In Rack
Drive-in racking is primarily used for high density industrial operations where large quantities of identical items are grouped and stored collectively. Drive-in pallet racking is ideal for uses where entire bays of pallets get relocated simultaneously. Bays are ordinarily a column of four pallet. Drive-in racks are configured with overhead beams so that lift trucks can be guided in and out. Pallets sit on parallel tracks installed on the uprights on both sides of the bay.
These racking systems enable the lift truck operator to travel up to four pallet lengths into the bay, deposit the product in the right spot and then reverse out.
Because these types of racks are loaded from the front, management of inventory is in a "first-in/last-out" order.
Pallet Flow Rack
Pallet flow racks are equipment with canted platforms, faced with skate-wheels or roller conveyors. Pallets are filled from a lane on the backside of the racking structure and they slide down the declining platform as previously added pallets are retrieved from the front.
This variety of storage rack is a "first in / first out" system and is perfect for a large stock of heavy inventory and inconsistent dimensions of pallets. They are oftentimes utilized in the beverage industry.
Push Back Rack
Push back rack systems are high density designs that use warehouse space efficiently, supporting up to 3,000 pounds in two to six foot deep bays. All pallets are loaded and unloaded from the front of the equipment, enabling extremely dense storage within your warehouse.
Push back racks are a "last in/first out" category of setup. As new products are added to the front, the goods in the rear of them move up an incline via carts on steel rails. The opposite occurs as goods are removed.
Selective Rack
Selective racking is the most extensively utilized type of storage today. These systems are made up of load beams fastened to uprights with bolts or teardrop connectors. Selective rack is constructed from either roll formed or structural steel, with the former typically being not as costly and more adaptable.
Standard selective rack implementations are typically designed as "single deep", meaning they have only one length of bays per row measuring 96" x 42". Double deep racking options have rows the same height, but two times as wide, meaning they can store two pallets per bay. Double deep setups are loaded from the front, making them a "first in/last out" configuration.
Depending on your load capacity and application, you may also wish to select different styles of pallet rack decking and accessories. Pick from standard wire decking, solid steel or slotted/perforated steel depending on your specific use.
Boltless Shelving
Along with pallet racking, we offer a complete line of boltless shelving in light, medium and heavy duty options. This style of shelves is ideal for light industrial or shop use, shipping facilities, paper records, parts and dozens of other purposes that need lighter weight support.
Customers can order decks as standard particle board, wire or solid metal decking. No nuts, bolts or additional small parts are necessary for setup of this product, so installation is a simple project. Add accessories like side panels, work tables, post caps, tie plates or footplates.
Pallet Racking Near Me
With branches throughout the West, Raymond's team of engineering experts has the organizational resources to provide the best quality equipment and warehouse design service in the industry. When it comes to quality, service, selection and safety, there is no better choice than Raymond. Contact us for a quote!
Raymond's Portland service operation includes all of Western Oregon and Southwest Washington, including Portland, Beaverton, Tigard, Hillsboro, Forest Grove, Sherwood, Tualatin, Wilsonville, Oregon City, Gladstone, Clackamas, Milwaukie, Happy Valley, Gresham, Troutdale, Woodburn, Salem, Vancouver, Ridgefield, Longview, Kelso and surrounding areas.
Raymond West | Portland Material Handling Equipment Supplier
3148 NE 181st Ave
Portland, OR 97230
(800) 675-2500