Warehouse Mezzanine Systems | Portland, OR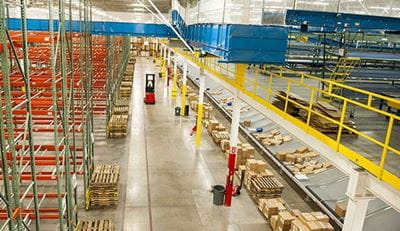 Raymond West is a Portland area supplier of new and used warehouse mezzanine systems.

We are backed by one of the largest installation and service operations in the Pacific Northwest.

Call us today at (800) 675-2500.
With today's out of control warehouse expenses, leveraging greater use of your existing facilities is crucial.
In larger West Coast cities, some enterprises are are not able to find new warehouse capacity because vacancies are so minimal.
Maximizing the use of the vertical space in a warehouse by installing an elevated steel platform, or mezzanine, can easily increase storage and production efficiency. You can effectively use all of the space in your warehouse up to the ceiling while still using the floor area underneath the mezzanine decking for your everyday use.
For operations that outgrow their production, warehouse or distribution facilities, moving can be an extremely expensive and inconvenient proposition. An inexpensive and minimally disruptive alternative is to use industrial mezzanines to maximize the utilization of cubic space.
Warehouse mezzanines can be suitable for most types of businesses, from small warehouses to massive distribution centers. Whether you opt for basic, prefabricated mezzanines or custom designed, multi-story steel mezzanines, the right system can easily enhance efficiency and generate a rapid ROI.
Prefab Mezzanine Systems
Mezzanine warehouse systems can be a great choice for maximizing storage density, but they can also serve as an excellent vantage position to track safety practices and warehouse performance.
Industrial platform configurations can take many forms, and common systems serve multiple functions. Many times configurations are designed with mezzanine office modules, allowing offices, breakrooms and conference rooms instead of just storage.
The majority of mezzanine configurations provide easy setup and teardown. In many instances there is no need for structural modification of the building. As business requirements change, so can your mezzanine system-they are easy to tweak and reconfigure.
Mezzanine storage areas can be accessed with mezzanine stairs, and products can be loaded and unloaded via gates suitable for forklift access. In addition, some designs employ mezzanine lift solutions or vertical reciprocating conveyors (VRC) to maneuver products on and off the platform.
Industrial Mezzanine Choices
Freestanding: a structural or freestanding warehouse mezzanine system maximizes floor space and offers uncomplicated assembly and disassembly. Structural solutions are appropriate for part and product storage.
Rack Supported: rack supported, or "catwalk" mezzanine alternatives make it possible for extra storage zones above pallet racking configurations. Rack supported alternatives generally use multiple gates for loading and unloading pallets within the racking system.
Shelf supported: shelving supported platforms are perfect solutions for expanding storage of smaller items above shelving structures. Although not as versatile as rack-supported or freestanding alternatives, shelf supported configurations can be inexpensive and easy to install.
New and Used Mezzanine Systems
Whether you need a new or used mezzanine, we offer options for all sizes and types of companies. Call a material handling expert at Raymond today!
Raymond's Portland service operation includes all of Western Oregon and Southwest Washington, including Portland, Beaverton, Tigard, Hillsboro, Forest Grove, Sherwood, Tualatin, Wilsonville, Oregon City, Gladstone, Clackamas, Milwaukie, Happy Valley, Gresham, Troutdale, Woodburn, Salem, Vancouver, Ridgefield, Longview, Kelso and surrounding areas.
Raymond West | Portland Material Handling Equipment Supplier
3148 NE 181st Ave
Portland, OR 97230
(800) 675-2500