Covid 19 Warehouse Safety Products | Portland, OR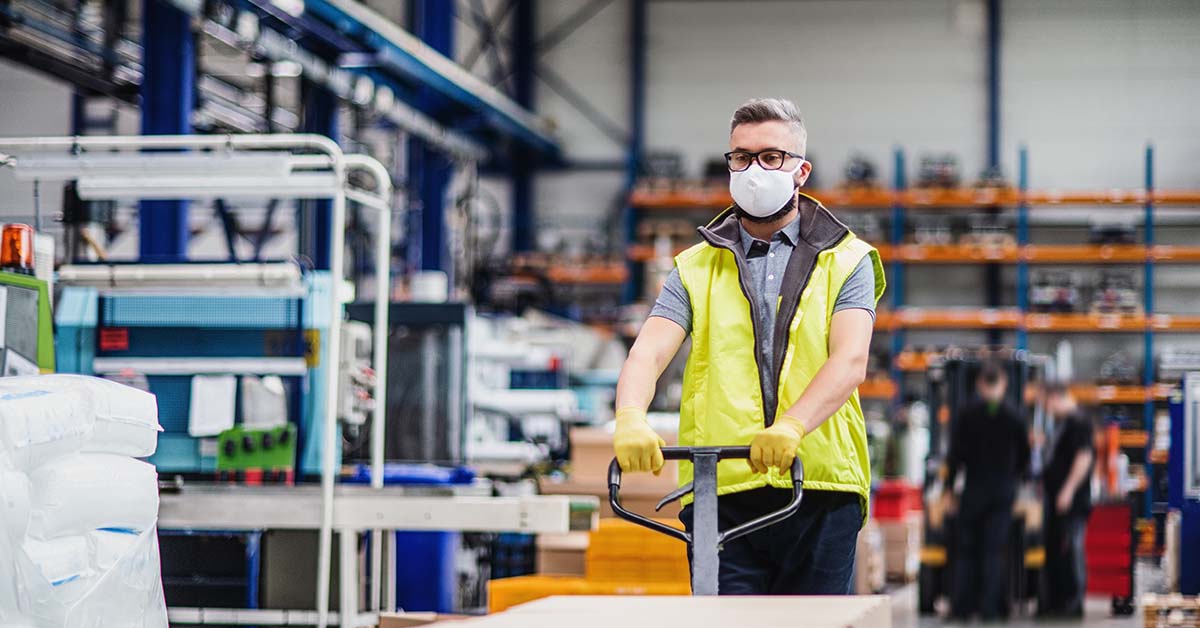 Raymond West is a Portland material handling equipment company, offering a full range of warehouse safety products for Covid 19.

We are backed by one of the largest service and parts operations in the Pacific Northwest.

Call us today at (800) 675-2500.
If you manage a warehouse, distribution center of manufacturing facility, worker health protection is now a leading concern. The transmission of Covid 19 within your operation can mean loss of capacity, loss of morale and even loss of life for your team members. While there are lots of strategies that can possibly be used to avoid the spread of contagion within your operation, there are two that can be applied by practically any enterprise:
Evaluate the wellness of your workers on a daily basis before they enter your building through basic temperature screening.
Ensure that all team members wear masks every time they are in close proximity to other personnel.
These two practices, added together with other tactics like staggered arrival and break times, personal distancing and others can make a significant reduction in the spread of Covid.
Covid Entrance Screening
When your people show up for their day, the last thing you want to do is have them assemble and wait while everyone gets their temperature assessed individually. It's not only a misuse of time, it can introduce an added threat by allowing unscreened workers in close vicinity for long periods of time while they wait in line.
The alternative is to have a temperature screening kiosk that can quickly scan a wide range of employees all at once as they pass. Although there are many temperature scanning appliances on the market, very few can effectively deal with high traffic applications. Raymond Handling Solutions offers a state-of-the-art solution from Dahua, a global leader in sophisticated thermal scanning systems.
The Dahua Technology system can assess the unique temperatures of up to 30 employees at the same time, while coupling that information with sophisticated face encoding technology that recognizes the presence or absence of a mask on each individual.
Employee Temperature Monitoring
Although a freestanding camera unit is a outstanding answer for entry points to your location, what about keeping track of workers throughout the day? It's quite likely that an worker could develop a fever in the middle of their shift, and by tracking thermal data over the workday you can boost worker protection while reducing the likelihood of a disastrous Covid surge.
Dahua USA features wall mounted thermal camera systems that can passively monitor for body temperature anomalies during the workday. If an worker does present a higher than ordinary reading, they may be asked to undergo an extra precautionary screening.
As your employees go about their day, it's easy to forget to use a mask. Camera systems from Dahua can identify mask-use conformity and alert supervisors to non-compliance events. As an included perk, a camera solution can help your employees avert disputes concerning mask use and help everyone feel secure.
Thermal Scanning Equipment Near Me
Raymond West offers a full variety of warehouse safety options for its customers in Portland, including workforce health and safety monitoring tools from Dahua. If you would like to learn more about thermal scanning, mask use monitoring or other safety program, contact one of our warehouse safety experts today!
Raymond's Portland service operation includes all of Western Oregon and Southwest Washington, including Portland, Beaverton, Tigard, Hillsboro, Forest Grove, Sherwood, Tualatin, Wilsonville, Oregon City, Gladstone, Clackamas, Milwaukie, Happy Valley, Gresham, Troutdale, Woodburn, Salem, Vancouver, Ridgefield, Longview, Kelso and surrounding areas.
Raymond West | Portland Material Handling Equipment Supplier
3148 NE 181st Ave
Portland, OR 97230
(800) 675-2500