Utility Vehicles | Portland, OR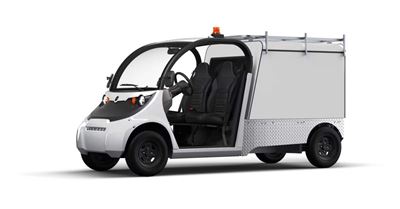 Raymond West offers a full range of utility vehicles and carts for all industries and uses.

We are backed by one of the largest service and parts operations in the Pacific Northwest.

Call us today at (800) 675-2500.
Raymond West offers a wide variety of electric utility vehicles for educational, industrial, commercial and municipal uses. Whether you're looking for electric utility vehicles or street legal electric carts we have options from some of the industry's top names, like Polaris, Taylor Dunn and Columbia.
GEM Car
Polaris GEM cars can be applied to industries and uses, from commercial shuttles and tour operations, to agriculture and construction, to low cost personal transportation. Polaris GEM cars feature low operating costs, environmentally friendly vehicles and excellent safety options in a stylish and comfortable package.
Polaris GEM cars are highly customizable, and can be upgraded with a huge variety of optional components. Select different rear carrier options, from flatbeds to fully enclosed boxes and add accessories like tie downs or a box lift.
Polaris GEM vehicles that are engineered for hauling can manage payloads of nearly 1,400 pounds and have a 1,250 lb towing potential. These GEM models come equipped with either a 7 HP or 8.7 HP power plant and allow one or two riders.
Street Legal Golf Cars
If you need to transport people across an industrial site, campus, airport, resort or other large property, electric passenger transport vehicles are an efficient and low cost opportunity. We offer options for two to six passenger electric carts that can be legally driven on public streets.
Small electric vehicles can be much less expensive than using ordinary gas fueled vehicles. They are a safe, efficient, low maintenance choice for transporting personnel across your facility. Whether you have a small industrial complex or a sprawling resort, lightweight electric vehicles can speed up your operation, reduce costs and improve efficiency.
Worried about The wellbeing of your clients and employees? Carts can be outfitted with heaters, poly enclosures, cup holders, sound systems, and far more. Safety is also a top concern, and vehicles can be outfitted with full windows and doors, seatbelts, and even divider systems to prevent the spread of Covid 19.
Electric Cart
Beyond passenger and general electric utility vehicles, we feature a wide variety of electric carts, including burden carriers and trailers, electric trams, stockchasers and tow tractors. We feature commercial vehicles from Taylor Dunn for uses ranging from airport baggage handling and passenger transport to property maintenance.
For industrial uses, Taylor Dunn supplies industry best tow tractor options with a towing capacity of nearly 120,000 lbs and a turning radius of 70 inches. In addition, they supply industrial carts that can be equipped with load barriers, secure locking compartments and multiple load decks.
Utility Vehicle Dealer Near Me
Questions about electric utility vehicles? Give us a call today. Our electric utility vehicle experts can help you determine the ideal vehicles for your application, as well as provide information on maintenance requirements, operating costs, lease and financing options and more.
Raymond's Portland service operation includes all of Western Oregon and Southwest Washington, including Portland, Beaverton, Tigard, Hillsboro, Forest Grove, Sherwood, Tualatin, Wilsonville, Oregon City, Gladstone, Clackamas, Milwaukie, Happy Valley, Gresham, Troutdale, Woodburn, Salem, Vancouver, Ridgefield, Longview, Kelso and surrounding areas.
Raymond West | Portland Material Handling Equipment Supplier
3148 NE 181st Ave
Portland, OR 97230
(800) 675-2500