Robotic Palletizers | Portland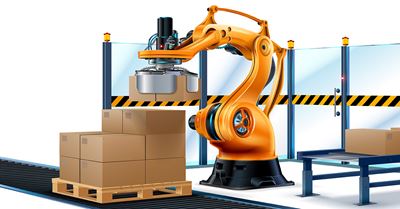 Raymond West supplies warehouse automation equipment such as robotic palletizers.

We are among the largest suppliers of warehouse automation equipment in the state.

Call us today at (800) 675-2500.
Robotic palletizers are becoming increasingly common in storage facilities as an option to enhance productivity, reduce labor costs, and improve safety. The robotic palletizers are designed to do the strenuous and repetitive job of loading and unloading pallets, allowing human workers to concentrate on more valuable areas.
Faster Processing
One of the key benefits of automated palletizers is their capacity to work consistently and accurately at impressive speeds. The systems are able to manage a large amount of items in a brief length of time, minimizing the time necessary to pack and discharge pallets. Robotic palletizers can also be programmed to handle a broad variety of goods, including totes, containers, and irregularly shaped items. Such capability makes them a flexible solution for warehouses dealing with a variety of products.
Robotic Palletizers Improve Safety
An additional benefit of robotic palletizers is their capacity to lessen labor spending. They can run continuously without pauses or rest time. They can also be programmed to perform jobs that can require heavy lifting or include hazardous materials. This helps reduce the risk of accidents in the workspace, boosting safety for human staff members.
Higher Accuracy
Besides their productivity and cost-saving benefits, these systems can improve the accuracy of warehouse operations by placing products accurately on pallets, minimizing the chance of errors and product damage. They can also be set to follow specific palletizing patterns, making sure that goods are organized suitably and prepared for shipping.
Flexibility And Scalability
Another advantage of employing robotic palletizers is their flexibility and scalability. These automated systems can be easily integrated into warehouse operations and can be adjusted quickly to handle changing product lines or demand. They can also be scaled up or down to meet the varying needs of the storehouse, providing an adaptable option that grows and changes with the business.
Rapid ROI
In spite of these advantages, it should be noted that implementing a robotic palletizing system does require a significant upfront investment. Nevertheless, these systems can speedily pay for themselves through the lowered labor costs and the heightened productivity they deliver. In addition, the extended benefits of enhanced safety and precision can further expand on the collective profitability.
Talk To A Warehouse Robotics Expert
Robotic palletizers present a variety of benefits for warehouses aiming to increase efficiency, boost safety, and decrease labor costs. These robotic systems are able to efficiently handle a extensive range of products at fast speeds, improving precision and minimizing errors. They can also be effectively integrated into existing procedures and scaled to meet altering requirements, making them a versatile and relatively inexpensive solution for storage centers of all scales. To discover more regarding palletizers and various warehouse automation options, get in touch with a specialist at Raymond West right away.
Raymond's Portland service operation includes all of Western Oregon and Southwest Washington, including Portland, Beaverton, Tigard, Hillsboro, Forest Grove, Sherwood, Tualatin, Wilsonville, Oregon City, Gladstone, Clackamas, Milwaukie, Happy Valley, Gresham, Troutdale, Woodburn, Salem, Vancouver, Ridgefield, Longview, Kelso and surrounding areas.
Raymond West | Portland Material Handling Equipment Supplier
3148 NE 181st Ave
Portland, OR 97230
(800) 675-2500