Forklift Battery Supply | Riverside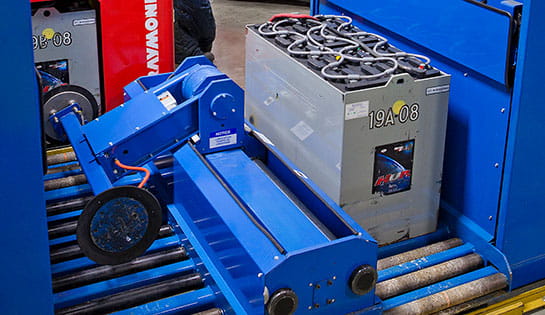 Raymond West is a Riverside supplier of new and used forklift batteries, chargers and handling equipment.

We are backed by one of the largest service and parts operations in Southern California.

Call us today at (951) 384-2444
Power economy guidelines and "green" solutions compliance are generating extraordinary interest in the worldwide electric battery business.
Although this surge in interest is fostering new R & D in power storage innovation, lead acid technology is still the first technology for almost all commercial use scenarios, including lift trucks.
Although lead acid battery varieties possess somewhat less power density than a number of the more modern kinds of batteries, they have the ability to keep a steady voltage as they are depleted, they can perform across a vast range of temperature levels and they may be dependably recharged/ emptied over countless cycles.
The expansion in worldwide battery purchases has also initiated marked cost growth over the last decade. Much higher battery prices suggest that expanding your fork lift battery longevity can easily have a consequential influence on your profits.
Service and repair of batteries has a clear impact on their life expectancy, so a limited purchase of premium battery handling accessories can yield material cost reductions in the longer term.
Raymond West provides a comprehensive product line of battery handling materials from leading brand names:
Battery Extractors
Fork lift battery extractors are vital tools for any material handling enterprise that involves recurring battery extraction and replacement.
Battery Stands
Battery Chargers
Raymond provides both new and pre-owned commercial battery chargers for all sorts of uses from single shift, standard use facilities to 24 x 7 x 365, intensive use businesses. Inquire about our charger and battery lease and rental plans.
Battery Hoist
Raymond supplies an assortment of battery hoist choices according to battery measurements, frequentness of utilization and facility setup.
Battery Carriages & Carts
Lift truck battery transfer carts make it possible for workers to securely extract and change out fork lift batteries that are set up for side-removal. We provide electric powered solutions for heavy use operations and non-powered choices for less use-intensive applications.
Conserve space and preserve your battery stock with charger and battery stands. Raymond offers a comprehensive collection of products and can tailor systems for your particular demands.
Battery Crane
Raymond's gantry crane choices are excellent for up and down battery removal purposes. We supply a range of beam spreads, capacities and heights.
Battery Beam
We provide battery hoisting beams including insulated design and variable hook locations. Beams offer a productive and hassle-free way to take care of bulky industrial lift truck batteries.
Battery Wash Equipment
Battery cleansing facilities lower terminal and conductor oxidation, prolong the useful life of batteries, cut down on fork lift electrical power issues, and support in compliance with environmental guidelines.
Battery Watering Systems
We supply total battery watering solutions in addition to elements, from containers and deionization appliances to watering valves and guns.
Battery Room
Battery areas must be furnished with appropriate air flow, proper flooring surfaces, wash facilities, essential safety gear plus all essential battery handling devices. Our experts can help to lay out your facility and furnish all battery handling systems for your location.
Forklift Batteries in Riverside, California
If you'd like to speak with a Raymond representative about lift truck batteries or power systems, please get in touch with Raymond West, a Riverside forklift dealer serving South San Bernardino and Riverside County, including: Riverside, Redlands, Colton, Rialto, Bloomington, Moreno Valley, Hemet, Perris, Lake Elsinore, Menifee and the Coachella Valley.
6185 Magnolia Ave
Riverside, CA 92506
(951) 384-2444
7:00 AM - 5:00 PM
Monday - Friday