Forklift Certification Riverside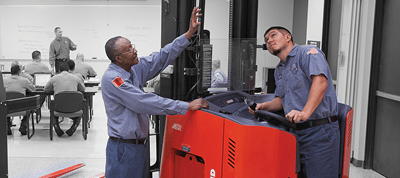 Having highly trained forklift operators increases your productivity and reduces accidents and facility/product damage.

For the best corporate training programs in the business, call Raymond West at (951) 384-2444
Raymond West offers a comprehensive lineup of lift truck corporate education choices for your business, including pedestrian, operator and technician classes. We offer one of the most comprehensive training programs in Riverside and can provide both onsite and online options.

OSHA Forklift Certification
Pursuant to section 1910.178(i)(6) of OSHA's Powered Industrial Trucks standard, any worker that operates a lift truck or powered pallet jack must be completely educated, tested and certified in order to operate that specific equipment. Moreover, those workers must be recertified every 3 years, or in the event of an accident, job deficiency or equipment change.

Forklift Operator Training
Finding and training a good team can be a challenge, particularly in the material handling industry which has faced a shortage of qualified employment candidates for many years. Quality training programs can go a long way toward improving recruitment, retention and morale. Safety on the Move ®, Raymond's renowned forklift operator training program, has supported countless organizations in their effort to protect their employees, forklifts, and products since its introduction.

When you coach your lift truck operators in the correct manner you can expand your productivity and efficiency throughout every workday. Operators that are highly knowledgeable about their equipment are inclined to take more interest in maintaining it properly. Highly competent forklift operators also have less frequent safety incidents, resulting in less damage to your facilities, equipment, racking and product.

Pedestrian Training
In any warehouse environment, every worker needs to be cautious at all times, not just the forklift operators. To that end, Raymond has developed a lift truck pedestrian course that will keep your employees on their toes. Our Steps To Safety ™: Pedestrian Safety in a Material Handling Environment program allows organizations to teach pedestrians how to take accountability in active forklift operations to maintain safety conscious and productive surroundings. In this training, pedestrians learn to be aware of their surroundings, visual signaling, and the best ways to prevent injuries and safety incidents.

The Steps To Safety program is the result of repeated requests for help from Raymond customers for a corporate training package that dealt specifically with pedestrians. Steps To Safety encourages employees to apply the principles detailed in the course to specific business environments and material handling processes.

The program can be used as a supplement to Raymond's lift truck operator training program, Safety On The Move or as a separate training. Classes can be facilitated by a local Raymond Solutions and Support Center expert or by an accredited trainer within your company.

Virtual Reality Forklift Simulator
In addition to courses, Raymond offers a first-of-its-kind Virtual Reality Simulator, featuring industry leading VR technology to help you cultivate more competent, efficient lift truck operators.

The simulator puts trainees on an actual Raymond forklift in a very convincing virtual warehouse. Using VR devices, operators can get instant responses while experiencing convincing "real world" scenarios.

Forklift Technician Training
Apart from pedestrian and operator courses, we offer ongoing courses for your team of forklift technicians. These courses will keep your technical experts up to speed on the latest tools, technologies, and repair and maintenance procedures. Customer Technician Courses can be set up at your location, your local Raymond Solutions and Support Center or Raymond HQ in Greene, NY.

Forklift Certification Near Me
To get more information about forklift training options for your organization, get in touch with your local Raymond West expert now.

Raymond West Riverside
Service Area: Redlands, Colton, Rialto, Bloomington, Moreno Valley, Hemet, Perris, Lake Elsinore, Menifee, Coachella Valley and surrounding
(951) 384-2444