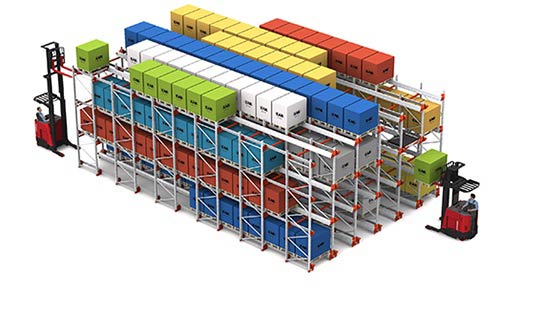 Warehouse costs are skyrocketing. Smart warehouse operators are squeezing every last dollar out of their facilities though increased density and automation technology.

Raymond West is the premiere warehouse automation supplier in Riverside County. To speak with an automation expert, give us a call today at (951) 384-2444.
In Southern California, warehouse space is fetching a record setting premium. Online E-com operations have greatly reduced warehouse inventory and as a result, rental costs throughout the region have skyrocketed in recent years, particularly in Los Angeles, the Inland Empire and Orange County.
As storage costs accelerate, it becomes increasingly important to make sure that you're using space in the most efficient manner possible. For sensible warehouse managers, that means increasing density and automating as much as possible.
Fortunately, high performance material handling technology has advanced rapidly in recent years, allowing you the opportunity to increase your efficiency and density by extraordinary margins. Storage tech is swiftly changing the elemental concepts of warehouse storage solutions.
Warehouse Automation
Automated storage and retrieval systems (AS/RS) are an economical force of nature in the warehouse. A few of the top concepts behind implementing AS/RS systems:
Massive increases in efficiency. AS/RS systems slash employee costs, liberate floor space, lessen accidental inventory breakage, and increase productivity.
Increased Capacity. Efficiency gains mean that businesses have the ability to increase the number of stock items and increase the volume of existing operations for better financial performance.
Forklift savings. An automated warehouse system slashes lift truck travel distance and hours.
Advanced Facilitation. Automated solutions provide compound buffering and sequencing alternatives that can be coordinated with shipping times and lane options.
Quality control. AS/RS systems are extremely reliable and are a better choice for handling detail oriented functions than human resources.
Improved safety. Less human intervention means fewer safety incidents.
Adaptability. When it comes to order aggregation, assembly/enrichment, storage, put-away and replenishment, AS/RS systems are increasingly flexible solutions that can automate almost any warehouse process.
Automated Storage and Retrieval System
What is AS/RS? There are various technologies that are classified as AS/RS systems, including these:
Vertical lift modules
Horizontal carousels
Vertical carousels
Fixed aisle systems
Vertical Lift Modules
Like a vertical carousel, vertical lift modules are vertically positioned systems that store bins in an upright metal column. Unlike a carousel, a VLM has an extractor system that advances upward and downward in the center of the column, retrieves discrete trays and presents them to the operator.
Horizontal Carousels
Horizontal carousels are kind of like that rotating rack your dry cleaner uses to store and retrieve your clothes. These carousels are generally used for smaller sized products and they are a series of bins mounted on an elevated rail. Many times they are paired with pick-to-light systems or voice picking systems.
Vertical Carousels
Vertical carousels are vertically oriented, and are somewhat like a Ferris wheel with storage platforms fastened to a revolving system that spins on a perpendicular horizontal axis. They are generally housed in an upright metal column.
Fixed Aisle AS/RS
Fixed aisle systems are usually set up as two columns of racking with a narrow lane in between. The center of the aisle has an elevated metal rail with an upright mast that maneuvers its length. Attached to the upright is a vertically traveling carriage equipped with a load handling mechanism.
This upright and carriage is referred to as the crane or SRM. The majority of systems use a single crane per aisle, but more sophisticated systems may have several.
Generally speaking, there are two varieties of fixed aisle systems. Unit-load systems are designed to handle large loads on pallets. Mini-load systems (often referred to as a case-handling machine or tote stacker) are smaller implementations that can handle cartons and smaller items.
Warehouse Solutions
Talk to an expert! If you 'd like support in assessing warehouse automation options for your Southern California material handling operation, contact a technical expert at Raymond West by calling (951) 384-2444.
Our engineering group will work with you to assess on-site equipment design for your warehouse or distribution center. We'll help you build a business case including process, conditions, future requirements, training and combined cost.
We provide service and support from our locations throughout California, Nevada and Arizona. Whether you need new or used equipment, maintenance, parts, service or training, we supply a complete range of material handling products and services.