Warehouse Consulting | Riverside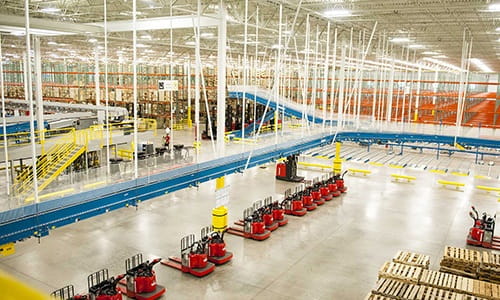 Raymond West is a Riverside warehouse consultant and equipment supplier.
We are backed by one of the best warehouse engineering teams in the West.
Call us today at (951) 384-2444
Raymond West offers turnkey warehouse consulting services. Whether you're building a new warehouse, moving to an alternate building or re-engineering your existing space, we have a team of consultants dedicated to helping you maximize productivity and efficiency in your storage operations.
Warehouse Design
Raymond West specializes in full service solutions for industrial operations and can design and source systems for automation, racking, fleet management, WMS, order picking and any other storage or distribution requirements. Together with systems engineering, we also offer physical warehouse plans, including CAD design of automation and racking configurations.
Warehouse Racking Layout
Riverside industrial real estate prices are at an all-time peak, so it's important to take advantage of storage density in any way you can. Our storage engineering team can configure tightly packed racking solutions, taking advantage of every cubic foot in your building while still allowing an extremely productive and high volume facility.
Warehouse Permitting
Engaging with county or city regulators can sometimes be a complicated and baffling process, particularly when it comes to compliance with seismic, fire sprinkler and other code requirements. Our permitting group is experienced in managing local inspectors and can be a real asset in helping you plan and navigate through the permitting and inspection process.
Automation Engineering
Raymond West features one of the top warehouse automation engineering teams in the West. We design and install conveyor solutions, automated storage and retrieval systems (AS/RS), automated guided vehicle (AGV) systems, advanced order picking solutions and much more.
Mezzanine Design
Leveraging the vertical space in your facility using a mezzanine solution can be a smart and inexpensive option versus moving or building out new space. Raymond's consulting group can design an assortment of mezzanine systems, catwalks, landings, stairs, platforms and lifts. In addition, we provide installation and fabrication services for all types of mezzanines.
Warehouse Moves
Organizing and completing an industrial move can be an enormous and nerve-wracking undertaking. If you're planning a relocation, sit down with Raymond's warehouse consulting group to map out timing, logistics and project management.
Warehouse Racking Installation and Removal
When you add racking, Raymond's installation team can guarantee that the job is done correctly, on-time and in accordance with all local requirements. If you're removing or replacing racks, we can also help with disassembly and disposal or sale of your old racking system.
Racking Inspection
According to the Rack Manufacturers Institute, all racks need to be thoroughly examined on an annual basis at a minimum. Quarterly or semi-annual inspections are highly recommended, and are a requirement in the event of a lift truck impact or other event that could impair the structural integrity of your racking system. Raymond West can conduct one time or periodic inspections, supply documentation and provide guidance on remediation and repair.
Riverside Warehouse Consultants Near Me
To meet with a warehouse consultant, call Raymond West today at (951) 384-2444.
Raymond West
Riverside County Service Area:
Redlands, Colton, Rialto, Bloomington, Moreno Valley, Hemet, Perris, Lake Elsinore, Menifee, Coachella Valley
Phone: (951) 384-2444