Forklift Attachments | Sacramento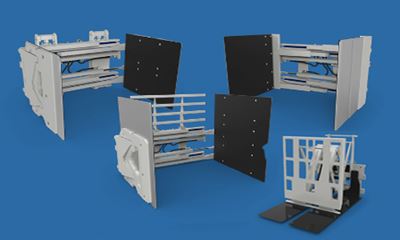 Raymond West is a Sacramento supplier of forklift attachments and accessories.

We are backed by one of the largest service and parts operations in California.

Call us today at (800) 675-2500
Forklifts can be used for purposes beyond transporting and lifting pallets. With the proper attachments, forklifts can be safely used for a number of other applications throughout your enterprise.
There are also material-specific attachments for difficult to manage items like carpet rolls, 55 gallon drums, steel coil and other bulky products. While quite a few attachments are widely used and well known, others are not. Here are descriptions of a few of the more typical attachments on the market:
Forklift Clamp Attachment
Several varieties of clamp attachments exist, and they are each designed for a specific purpose. Here are some common types of clamp equipment:
Carton Clamp:
Carton clamps are often used to transport large rectangular or square items that aren't set on a pallet like large electronics or appliances. They are also a good option for handling fragile goods when equipped with an automatic pressure sensing system.
Paper Roll Clamp:
Paper roll clamps are frequently used in industries such as newpaper presses, paper manufacturing and tissue manufacturing. They can be used for all different dimensions of paper rolls, and can be equipped with automatic pressure controls and varying gripper pads that help avoid damage to the paper.
Forklift Jib Attachment
Lift jibs enable adaptable lifting of bulky, long loads, such as pipes, tubes, and bar stock. There are even lift jibs for extremely unwieldy and heavy items like stone slabs. The forklift lift jib slides over both forks and is fastened to the lift truck with a safety chain. Adjustable hooks are fastened along the jib, allowing the operator to move loads of assorted sizes and lengths.
Forklift Attachments To Move Trailers
Trailer mover attachments are a convenient way of ferrying towable trailers around an operation without hooking up a tow vehicle. The attachment has a common ball trailer hitch and a safety chain. Once the trailer is hitched, it can be moved readily and in tighter spaces than with average tow vehicles.
Forklift Drum Attachment
Drum handlers are designed to grab the outside of a drum cylinder and make short work of handling heavy plastic, steel or fiber drums. Most are set up to manage one or two drums simultaneously.
Forklift Extensions
Extensions permit you to manage oddly shaped or large loads with improved stability. The operator simply positions the forks inside the extensions and secures them in place, giving the truck elongated forks to handle hard to handle loads.
Fork Positioners
These attachments are very common. They allow forks to be moved closer or further away from each other hydraulically. This permits rapid and more effective management of variably sized object and pallets.
Push Pull Forklift Attachment
Push / pull attachments (often referred to as Slipsheet Forklift Attachments) are used for handling loads that use slip sheets in place of pallets. They are commonly used for bagged products like grains or cement, and food items like dairy, fruit and packaged food. Slipsheets are used in place of pallets, conserving space and eliminating the cost of pallets.
Forklift Attachments Near Me
Many businesses employ attachments that are unique to their specific requirements. For more information on what attachments are available for your particular forklift, talk to a material handling expert at Raymond West today!
Raymond West's Fremont facility serves all of the Bay Area, including San Francisco, Oakland, San Leandro, Hayward, Union City, Fremont, San Jose, Santa Clara, Mountain View, Palo Alto, Redwood City, San Mateo, South San Francisco, Richmond, Vallejo, Concord, Pleasanton, Livermore and all surrounding areas.
Raymond West | Sacramento Forklift Dealer
900 National Dr
Sacramento, CA 95834
(800) 675-2500