Forklift Battery Supplier | Sacramento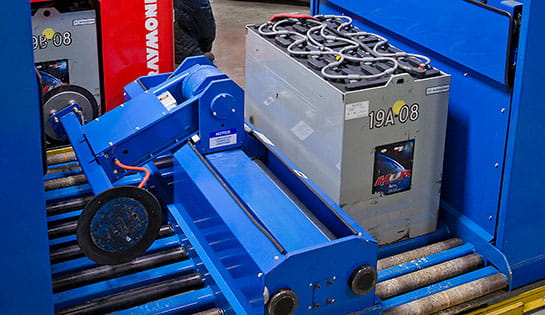 Raymond West is a Sacramento supplier of new and used forklift batteries, chargers and handling equipment.

We are backed by one of the largest service and parts operations in California.

Call us today at (800) 675-2500.
Power economy guidelines and "green" solutions adoption are propelling unparalleled interest in the global battery market place.
Though this increase in demand is inspiring new development and research in energy storage innovation, lead acid technology is still the go-to technology for the majority of industrial uses, including forklifts.
Although lead acid battery varieties possess a bit less power density than some of the newer kinds of batteries, they are able to sustain a consistent voltage as they run down, they can function through a large range of temperature levels and they may be dependably charged/ emptied over countless cycles.
The boost in global battery demand has also caused marked cost growth over the last several years. Greater battery expenses suggest that maximizing your lift truck battery longevity can easily have a consequential effect on your profitability.
Service and cleaning of batteries has a clear effect on their useful hours of service, so a small investment in top quality battery handling tools can deliver material cost reductions in the long term.
Raymond West offers a complete collection of battery handling accessories from leading manufacturers:
Battery Chargers
Raymond supplies both new and previously owned industrial battery chargers for all kinds of operations from single shift, light duty warehouses to 24 hour, intensive use enterprises. Ask us about our charger and battery rental and lease programs.
Battery Carts & Carriages
Fork truck battery transfer carriages permit workers to properly remove and change out lift truck batteries that are designed for lateral extraction. We provide powered solutions for frequent use operations and manual control options for less use-intensive applications.
Battery Extractors
Fork lift battery extractors are required tools for any material handling operation that involves constant battery extraction and replacement.
Battery Stands
Save space and protect your battery stock with battery stands and charger stands. Raymond provides a full assortment of choices and can individualize systems for your specific requirements.
Battery Hoist
Raymond offers a number of battery hoist products depending on battery dimensions, frequentness of use and facility setup.
Battery Beam
Raymond offers battery lifting beams using non-conductive construction and flexible hook positions. Beams offer an productive andtime-saving way to handle weighty industrial forklift batteries.
Battery Crane
Raymond's gantry crane solutions are ideal for vertical battery extrication uses. We supply a assortment of beam lengths, capacities and heights.
Battery Wash Equipment
Battery cleansing facilities cut down on terminal and conductor oxidation, extend the use of batteries, reduce forklift electrical complications, and aid in compliance with environmental requlations.
Battery Watering Systems
We provide complete battery watering solutions in addition to individual components, from storage tanks and deionizers to watering valves and guns.
Battery Room
Battery areas should be installed with appropriate ventilation, suitable floor covering, wash facilities, basic safety materials and all needed battery handling equipment. Raymond can help to plan your facility and supply all battery handling equipment for your enterprise.
Forklift Battery Near Me
If you'd like to speak with a Raymond representative about lift truck batteries or power systems, please get in touch with Raymond West.
Raymond West's Sacramento facility serves all of the Sacramento region, including Sacramento, Davis, Elk Grove, Woodland, Roseville, Rocklin, Auburn, Folsom, Placerville, Grass Valley, Yuba City and all surrounding areas.
Raymond West | Sacramento Forklift Dealer
900 National Dr
Sacramento, CA 95834
(800) 675-2500