Pallet Jacks | Sacramento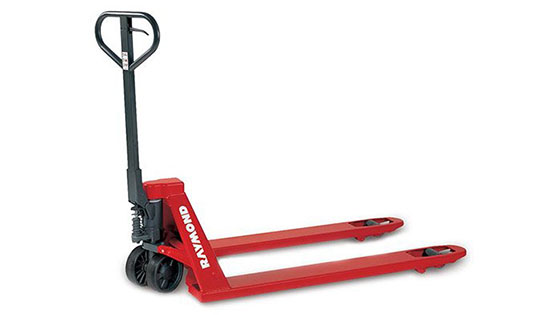 Raymond West is a Sacramento supplier of new and used electric and manual pallet jacks.

We are backed by one of the largest service and parts operations in California.

Call us today at (800) 675-2500
When looking into the purchase of pallet trucks, it's crucial to weigh the positive points and conversely, some of the disadvantages of various styles of pallet equipment.
Naturally, the basic purpose of a pallet truck is to move pallets around a warehouse, loading dock or other enterprise where pallets need to be transported.
That being said, depending upon the scale of your enterprise, the gross weight of pallets being transferred, the consistency of utilization, and various other considerations, you may want to get a deeper understanding of which pallet jacks perform best in which environments.
The following feature is a synopsis of pallet truck styles, qualities, drawbacks and applications.
Manual Pallet Trucks
Non-motorized pallet trucks have existed since 1918 and have never been improved much since then. They are made up of a steel body, a fork and a hydraulic unit that's mobilized by pushing the handle vertically.
The user of a manual pallet truck positions the forks underneath the pallet, raises the pallet away from the floor and transports the pallet to a desired place, directing the equipment with the handle or "tiller".
Situations where lift elevation is not crucial are a suitable use for a manual pallet truck, including stock room aisles, warehouse short runs and similar. In contrast to a forklift, manual pallet jacks are also more or less transportable and will fit in the back of a vehicle for deliveries. The load limit of the majority of manual pallet trucks is around 5500 pounds.
Manual pallet trucks are suitable for intermittent use scenarios across short lengths. Hand pallet jacks are not the most effective option for transporting pallets over lengthier distances, inclines or rough terrain. Workers need to physically maneuver the device which is quite often physically exhausting after a short period.
Walkie Pallet Trucks
Regardless of the fact that they're roughly double the size of non-motorized pallet jacks, walkies are nonetheless reasonably small in scale and they are exceptionally maneuverable.
Walkie pallet trucks are electrified by on-board battery units. The battery generates a powered assist for travelling and elevating the forks. The user no longer needs to use the tiller to raise the payload, nor do they have to manually propel the pallet throughout the warehouse.
Even so, they're still known as "walkies", because the worker does still have to walk at the rear of or beside them.
A walkie pallet jack's highest speed is low in comparison with rider jacks, since the driver needs to keep up with it as opposed to catching a ride on it. This is in fact a bit of an unintentional "safety feature", since restricted speeds also lessen the significance of collisions.
The weight capability of many walkie pallet trucks is anywhere between 4500-6000 pounds.
Regardless of the fact that they're more accommodating than non-powered pallet trucks, walkies need to be recharged regularly, considering that they're battery based. In addition, they demand more care than non-powered pallet trucks considering that there are far more moving pieces and points of failure.
The principal uses for walkie pallet trucks are dock plates, trailers and brief to mid-length runs.
Rider Pallet Jacks
Rider pallet jacks are similar to walkies, apart from the fact that they feature a standing platform for the user. There are minimal controls on rider pallet trucks so they are fairly straightforward to control and necessitate comparatively little training.
Controllers can step on the platform as opposed to just walking behind or beside the jack. This means that rider jacks are a much faster choice for transporting payloads over greater ranges vs manual or walkie pallet jacks. They are appropriate for frequent movement over greater distances and they are used frequently in large distribution centers and manufacturing operations.
The travelling platform is suited for short distances, but not recommended for operators that use them throughout the day because they're relatively minimal and force the user to stand in an unnatural stance.
Rider jacks are heavier than walkie or manual pallet jacks, so collisions can trigger fairly severe trauma and property harm. Rider pallet jacks offer minimal shielding for the user vs other choices such as center riders.
Center Riders
Center riders are similar to rider pallet jacks, but they're more protected for the operator and feature a more ergonomic drive. The driver can stand completely to the back or to the front rather than solely sideways.
Additionally, there is lower exposure for the user considering they are insulated by the machine frame on two sides, although they are still vulnerable to the possible danger of the lifting components.
Center riders have a larger turning radius than rider pallet jacks and they are frequently employed for applications where the operator travels mostly in a straight path.
Center riders are quite often put to work in general factory operations, storage facilities and beverage applications.
Pallet Jack Near Me
Speak with a Raymond West material handling expert about your application today. We stock all types of pallet trucks for a variety of uses.
Raymond West's Sacramento facility serves all of the Sacramento region, including Sacramento, Davis, Elk Grove, Woodland, Roseville, Rocklin, Auburn, Folsom, Placerville, Grass Valley, Yuba City and all surrounding areas.
Raymond West | Sacramento Forklift Dealer
900 National Dr
Sacramento, CA 95834
(800) 675-2500