Forklift Repair | Sacramento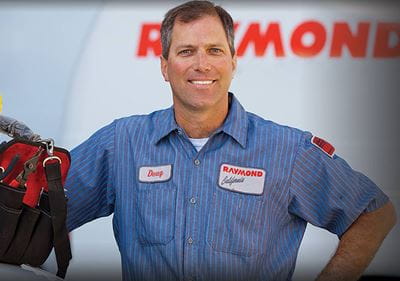 Raymond West is a Sacramento forklift repair provider that services all makes and models of lift trucks.

We are backed by one of the largest parts departments in California.

Call us today at (800) 675-2500.
If you maintain a high volume storage facility, losing just a single forklift in the course of a shift because of mechanical problems can mean substantial losses in productivity. Disabled equipment can also incur latent costs. As an example, you may have an inactive or underused operator while your truck is being repaired, you may suffer damage to your credibility because of late shipments, and you may have to pay overtime to catch up once your equipment is restored to duty.
Despite routine maintenance, even the most well kept forklift fleets experience periodic breakdowns, it's just a reality of the business.
In situations where you need a lift truck back in service as soon as possible, you don't have the luxury to wait a day, or even more than four hours. Raymond West has an on-site time of approximately two hours and we maintain the fastest average response time of any service provider in many areas of the Western U.S.. We can dispatch a technician at a moment's notice from any of our branches throughout the West. Our team of highly trained, certified specialists are each equipped with service trucks that have all the components and tools they may require to get the job done right the first time. Our technicians can frequently show up at your facility, pinpoint a mechanical failure and fix a vehicle inside of just a few hours of your first call, in contrast to twenty-four hours or more for a lot of other service operations.
Raymond West has an inventory of over 4,000 parts in stock and access to more than 100,000 part numbers for all makes and models of trucks. We supply parts for most major brands and feature one of the most comprehensive parts departments in the region.
Scheduled Forklift Service
Routine maintenance of your lift trucks is essential when you want to boost your uptime and productivity. With our planned maintenance coverage, we examine and service your trucks at set intervals and help you avoid mechanical problems before they happen. You receive all of the essential inspections and service required for your forklifts from our crew of highly trained experts . For your convenience, you can keep your fork trucks working during busier periods and plan service during off-peak periods according to your own schedule.
Comprehensive Forklift Maintenance
For one set monthly charge, our comprehensive forklift service agreement incorporates all scheduled maintenance, parts and labor. You get the uptime advantages of our proactive planned service plan, but if you do happen to have a mechanical failure, all labor and parts are covered as well. The fixed recurring cost makes budgeting simple and predictable, and it is often considerably less expensive than using trained maintenance personnel. For multi-shift operations, high velocity distribution centers and highly utilized truck fleets, comprehensive terms are often a sensible economic decision.
Forklift Repair Near Me
Phone Raymond West today to find out about our lift truck service or maintenance contracts, or to request equipment repair service.
Raymond West's Sacramento facility serves the greater Sacramento area and other parts of Northern California, including Sacramento, Elk Grove, Auburn, Placerville, Vacaville, Fairfield, Sausalito, Napa, Santa Rosa, Redding, Eureka and all surrounding areas.
Raymond West | Sacramento Forklift Dealer
900 National Dr
Sacramento, CA 95834
(800) 675-2500