Forklift Certification | Sacramento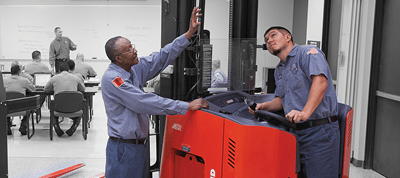 Having highly trained forklift operators increases your productivity and reduces accidents and facility/product damage.

For the best corporate training programs in the business, call Raymond West at (800) 675-2500.
Raymond offers a comprehensive range of forklift training options for your enterprise, including operator, pedestrian and technician trainings. We feature one of the most comprehensive training programs in Sacramento and can provide both onsite and online classes.
OSHA Forklift Certification
As stated in section 1910.178(i)(6) of OSHA's Powered Industrial Trucks standard, any worker that operates a lift truck or motorized pallet jack should be completely trained, tested and certified as a requirement to operate that specific equipment. Moreover, those workers must be recertified every 3 years, or in the event of an accident, job deficiency or equipment change.
Forklift Operator Training
Procuring and training a good team can be difficult, especially in the material handling industry which has dealt with a limited number of qualified workers for the last several years. Offering top notch training can significantly impact retention, recruitment and employee satisfaction. Safety on the Move®, Raymond's next generation lift truck operator training program, has helped many companies to protect their workers, trucks, and materials since its debut.
When you coach your forklift operators in the correct manner you can amplify your productivity and efficiency throughout every shift. Operators that are highly knowledgeable about their equipment generally take more interest in proper maintenance. Highly skilled teams also have fewer accidents, resulting in less damage to your equipment, facilities, racking and product.
Pedestrian Training
In any warehouse environment, all team members should be vigilant all the time, not just the lift truck operators. With that objective, Raymond has designed a forklift pedestrian training that will ensure your workers are highly conscious of their surroundings. Raymond's Steps To Safety™: Pedestrian Safety in a Material Handling Environment course allows organizations to teach all warehouse workers how to be accountable in active equipment zones and create safety conscious and productive environments. In this training, pedestrians learn to be aware of their surroundings, visual signaling, and best practices to prevent injuries and safety incidents.
The Steps To Safety program was developed based on requests for assistance from Raymond customers for a corporate training package that dealt specifically with pedestrians. Steps To Safety encourages employees to apply the concepts explained in the course to specific business environments and material handling processes.
The program can be used as a complement to Raymond's lift truck operator training program, Safety On The Move or as a standalone training. The coursework may be facilitated by a local Raymond Sales and Service Center expert or by a qualified trainer within your organization.
Virtual Reality Forklift Simulator
In addition to courses, Raymond offers a highly innovative Virtual Reality Simulator, featuring industry leading VR technology to help you develop more competent, efficient forklift operators.
The simulator puts users on an actual Raymond lift truck in a very convincing virtual warehouse. With virtual reality training, operators can get instant responses while dealing with lifelike "real world" challenges.
Forklift Technician Training
In addition to pedestrian and operator courses, Raymond offers continuing education for your in-house technicians. These courses will keep your technical experts current on the latest tools, technologies, and techniques for maintenance and repair. Customer Technician Courses can be arranged at your location, your local Raymond Sales and Service Center or Raymond HQ in Greene, NY.
Forklift Training Near Me
To get more information about forklift training options for your organization, contact a local Raymond West expert today.
Raymond West's Sacramento facility serves the greater Sacramento area and other parts of Northern California, including Sacramento, Elk Grove, Auburn, Placerville, Vacaville, Fairfield, Sausalito, Napa, Santa Rosa, Redding, Eureka and all surrounding areas.
Raymond West | Sacramento Forklift Dealer
900 National Dr
Sacramento, CA 95834
(800) 675-2500