Pallet Rack Installation | Sacramento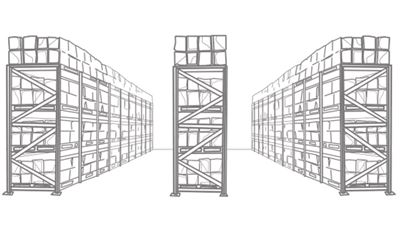 Raymond West is a Sacramento supplier of new and used pallet racking.

We offer installation, tear down and relocation services.

Call us today at (800) 675-2500
Pallet racking makes full use of valuable warehouse capacity, and a well-designed racking plan is a basic requirement for warehouse profitability. Racking systems need to be engineered and installed by competent professionals who are knowledgeable about seismic design, fire suppression, permit processes, local codes and ordinances, and warehouse safety.
Raymond West is a premiere supplier of warehouse storage systems and material handling solutions, and rack and shelving installation is just one of the services we offer to help you maximize your storage system investment. Our warehouse rack installation service eliminates the stress of racking installation and ensures that your system is installed correctly and efficiently.
Pallet Rack Tear Down & Moving
The correct dismantling of racking is just as important as the correct installation. Our clients often tell us that they intend to tear down their racking systems using their own labor, and although this may look like a sound idea at first, it is quite often a misstep. At the point you want to reassemble or sell the material, you may find that if unskilled laborers tore it down, finding the right parts or reassembling damaged material can be very difficult.
If equipment has to be transported and reassembled, our professional technicians will correctly label it. They'll subsequently palletize and store it appropriately to prevent damage. Our crews will load it onto vehicles for secure transportation whether you're relocating to a new facility across town or on the other side of the country. We know how to move your racking and equipment in a secure manner, preventing damage and allowing for straightforward re-installation.
Our team will arrive with all the materials and tools they need, perform the task quickly and efficiently, and leave your facility clean and ready. Raymond West's knowledge and integrated services strategy allow a turnkey teardown and transport service so that you can focus on running your business.
Pallet Rack Inspection
Pallet racking systems are carefully engineered solutions that are made to sustain enormous weight. The integrity of those systems can be compromised through ongoing misuse, improper maintenance, additions, or improper modifications. For that reason it's critical to have your pallet racks checked on a regular basis. Inspections can help prevent rack failure, property destruction, and even potential worker injury or death.
Raymond West maintains a dedicated rack safety and repair team. Our knowledge of safety practices and RMI/ANSI standards allows us to evaluate a rack system, pinpoint possible hazards, and give guidance to help you enhance asset protection and worker safety.
Pallet Rack Repair
Although it's often advisable to replace damaged racks, in many cases they can be repaired and left standing. Simple repair can often be performed swiftly with very little disruption to your daily operations. For common repairs, the bottom section of rack is taken out and replaced with a more robust upright.
Pallet Rack Companies Near Me
Although you may have many choices for pallet racking vendors in the state, Raymond West is one of the biggest and most experienced material handling suppliers in the West. If you need pallet rack installation, tear down, relocation, inspection or repair, give us a call today!
Raymond West's Sacramento facility serves the greater Sacramento area and other parts of Northern California, including Sacramento, Elk Grove, Auburn, Placerville, Vacaville, Fairfield, Sausalito, Napa, Santa Rosa, Redding, Eureka and all surrounding areas.
Raymond West | Sacramento Material Handling Equipment Supplier
900 National Dr
Sacramento, CA 95834
(800) 675-2500