Warehouse Mezzanine Systems | Sacramento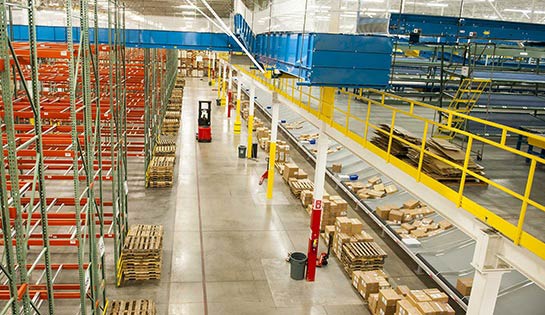 Raymond West is a Sacramento area supplier of new and used warehouse mezzanine systems.

We are backed by one of the largest installation and service operations in California.

Call us today at (800) 675-2500.
Given today's skyrocketing warehouse expenses, leveraging greater use of your current buildings is essential.
Warehouse vacancy is at an all-time low in most of the U.S., and many enterprises are having a hard time finding additional warehouse space, particularly in markets like Sacramento.
Maximizing the use of the vertical space in a facility by installing an elevated steel platform, or mezzanine, can easily boost storage and production capacity. These mezzanines allow you to grow your storage and operations skyward, while still using the space below as you normally would.
Relocating your warehouse space is a costly and inconvenient exercise, and businesses that have outgrown their operations should weigh their options before deciding to relocate. An inexpensive and minimally disruptive alternative is to use industrial mezzanines to maximize the utilization of cubic space.
Warehouse mezzanines can be practical for all kinds of businesses, from modest warehouses to massive distribution centers. Whether you opt for basic, prefabricated mezzanines or custom engineered, multi-story steel mezzanines, the appropriate system can easily enhance performance and produce a rapid ROI.
Prefab Mezzanine Solutions
Mezzanine warehouse installations are a great option for maximizing storage capacity, but they may also serve as an excellent vantage point to track safety practices and warehouse performance.
Industrial platform configurations can take many forms, and common systems serve multiple functions. Quite often systems are designed with mezzanine office modules, allowing offices, breakrooms and conference areas in addition to storage.
Most configurations can be put into place without any structural alteration and they can be quite easy to set up and tear down. As your business evolves, so can your mezzanine system-they are simple to tweak and reconfigure.
Mezzanine storage areas can be accessed using mezzanine stairs, and products can be loaded and unloaded via gates available for forklift access. Some systems also employ vertical reciprocating conveyors (VRC) or mezzanine lift systems to permit product movement on and off the platform.
Industrial Mezzanine Classifications
Freestanding: these systems maximize your ground space and feature uncomplicated assembly, modification and disassembly. They also enable free traffic flow underneath the platform due to their broad span configuration. Part and product storage are an optimal application for these varieties of structural solutions.
Rack Supported: rack supported, or "catwalk" mezzanine alternatives make it possible for extra storage areas above pallet racking configurations. Rack supported choices typically employ multiple gates for loading and unloading pallets within the racking system.
Shelf supported: for augmenting storage of lighter weight products, shelving supported mezzanines are often added above shelving systems. Although shelf supported solutions are quite economical, they are not as versatile as freestanding or rack supported options.
New and Used Mezzanine Systems
Whether you need a new or used mezzanine, we offer options for all sizes and types of businesses. Call a material handling expert at Raymond today!
Raymond West's Sacramento facility serves the greater Sacramento area and other parts of Northern California, including Sacramento, Elk Grove, Auburn, Placerville, Vacaville, Fairfield, Sausalito, Napa, Santa Rosa, Redding, Eureka and all surrounding areas.
Raymond West | Sacramento Material Handling Equipment Supplier
900 National Dr
Sacramento, CA 95834
(800) 675-2500