Push Back Rack | Sacramento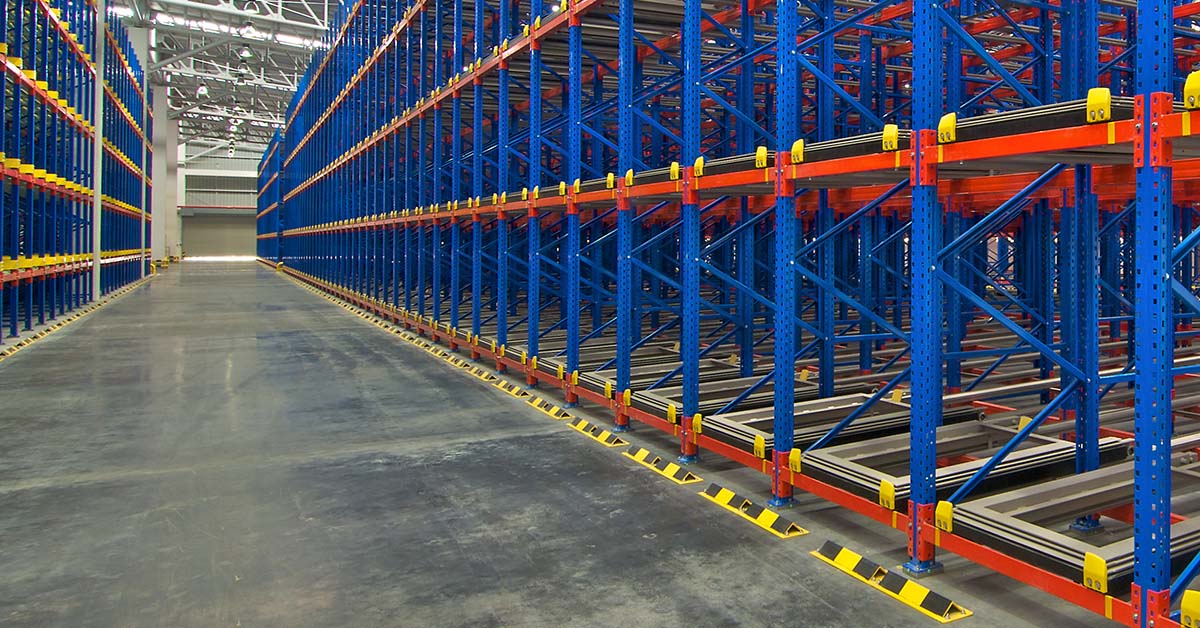 Raymond West offers pushback rack in a variety of styles and capacities.

We are one of the largest industrial racking suppliers in the state.

Call us today at (800) 675-2500
What Is Push Back Racking?
Push back racking (also referred to pushback rack) is a high density pallet storage scheme that configures pallet lanes from 2 to 6 units deep. Pallets rest on nested carts that travel up a gradual gradient as pallets are added, or "pushed back" from the front of the rack.
When pallets are later unloaded, the pallet immediately behind the front pallet glides back down the incline to the nearest position.
Push Back Rack Advantages And Disadvantages
Pushback racking is excellent for some operations, but is not appropriate for every warehouse. Here are some of the advantages and disadvantages to investigate.
Higher Density Storage
Since push back pallet racks can store between 2-6 pallets in any particular lane, they can recover somewhere from 1-5 aisles, which represents an enormous amount of warehouse real estate.
Less Forklift Travel
With a reduction in aisle number, lift trucks don't have to travel as far, increasing efficiency and reducing wear and tear on equipment. Diminished forklift traffic also greatly increases safety within the warehouse. Less travel directly correlates to a lower number of accidents.
Greater Selectivity
Push back rack offers a nearly perfect combination of product selectivity and storage density. In contrast to drive-in rack, where whole rack bays are usually a single SKU, push back offers straightforward access to a much greater number of pallet positions from the face.
LIFO Configuration
Dissimilar to pallet flow rack, which is a First In First Out (FIFO) type of system, push back rack is a Last In First Out (LIFO) type of plan. Last In First Out is not a good option for items that can expire or spoil, because items that are stored first can sit for long stretches of time as inventory is loaded and depleted from the rack face.
How Does Push Back Racking Work?
A pushback rack system includes a pair of tracks pitched toward the rack face and a series of interlinked carts which ride on these rails.
An initial pallet is placed on the uppermost cart by a lift truck. When a second pallet is added, the forklift driver nudges the first pallet back and sets the second pallet on the next cart. The final pallet loaded in the lane sits on the tracks.
As push back rack is unloaded, shuttles loaded with pallets advance down the rails. Workers pull each pallet sequentially until the lane is exhausted, or supplement additional pallets, replenishing the lane.
Push Back Pallet Racking For Sale
To learn more about push back racking systems, call a material handling professional at Raymond West today. Raymond's system design engineers can help you develop a solution that is ideal for your operation.
Raymond West's Sacramento facility serves the greater Sacramento area and other parts of Northern California, including Sacramento, Elk Grove, Auburn, Placerville, Vacaville, Fairfield, Sausalito, Napa, Santa Rosa, Redding, Eureka and all surrounding areas.
Raymond West | Sacramento Material Handling Equipment Supplier
900 National Dr
Sacramento, CA 95834
(800) 675-2500