Autonomous Mobile Robots | Sacramento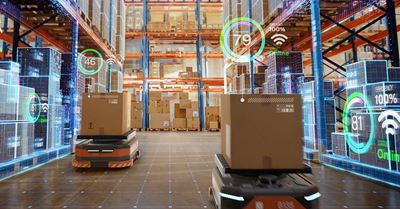 Raymond West supplies warehouse automation equipment such as AMRs.

We are among the largest suppliers of warehouse automation equipment in the state.

Call us today at (800) 675-2500.
Autonomous mobile robots (AMRs) are a vein of technology that is rapidly increasing in popularity within material handling facilities globally. This kind of robot is made to move around a warehouse or distribution center on its own, without necessitating worker intervention. They are equipped with sensors and software that let them move about the premises, track down and grab items, and take them to their destination.
Autonomous Mobile Robot Benefits
One of the greatest advantages to utilizing AMRs in warehouses is the heightened productivity they are able to contribute. By automating duties like material handling and transportation, AMRs can drastically lessen the time and effort required to complete these tasks. This means better order processing and transport times, as well as decreased prices for labor.
A second benefit to AMRs lies in their constant hours of operation, without the need for rest or breaks. This means warehouses can optimize their productivity and throughput, as the AMRs can operate continually without becoming tired.
AMRs can also increase safety in warehouses and distribution centers, because they have installed programming and sensors that enable them to avoid collisions with other people and items. This lessens the possibility of injuries and accidents in the facility, which is especially essential in places where heavy lifting and other physically demanding jobs are common.
Types Of AMRs
There are a selection of assorted types of AMRs currently on the market, each created for specific workspaces and tasks. Some of the most common implementations of AMRs encompass:
Order Picking AMRs: AMRs come in an extensive diversity of styles that strive to reduce picking-related travel time. Using AMRs to bring wares to the picker removes travel time for hourly staff members and can be significant relative to efficiency and cost.
Sortation AMRs: Sortation can benefit greatly from using autonomous mobile robots. Varying kinds of AMRs include a variety of handling technologies. They can be equipped with anything from cross belt systems to tilt trays, and can be useful in returns handling, e-com fulfillment, and high speed parcel sortation.
Inventory AMRs: Contemporary order fulfillment relies on having accurate, transparent inventory visibility—knowing whereabouts the item is within the warehouse, distribution center, and collective supply chain. However, organizing inventory transportation and reconciliation can be demanding and time-consuming for very large and elaborate operations. AMRs that are directly integrated with an inventory system can drastically lessen the time and money necessary to keep at maximum efficiency and order precision.
AMR Implementation
Deploying AMRs in a material handling facility necessitates careful planning and consideration. It is critical to closely examine the duties that the robots will be performing, and make sure that they are equipped with the necessary software and sensors to address these tasks effectively. It is also important to consider the layout of the warehouse or distribution center and the potential effect on other processes and systems, such as the material handling and storage systems.
One of the challenges of deploying AMRs is the need for integration them with present processes and systems. AMRs frequently need to be connected to warehouse management systems (WMS) and other software systems in order to work effectively. This sometimes needs significant time and materials, and could require the implementation of custom software or connection with third-party systems.
Another obstacle is the necessity for continual support and maintenance. AMRs need consistent software updates and maintenance in order to continue functioning properly, and it is necessary to have a plan figured out to guarantee that such duties are done in a timely and successful way.
Talk To A Warehouse Automation Expert
Altogether, autonomous mobile robots will add substantial benefits to distribution centers and warehouses, such as enhanced efficiency, productivity, and safety. If you'd like to find out more about laying out and setting up an AMR project, contact a warehouse automation representative at Raymond West today.
Raymond West's Sacramento facility serves the greater Sacramento area and other parts of Northern California, including Sacramento, Elk Grove, Auburn, Placerville, Vacaville, Fairfield, Sausalito, Napa, Santa Rosa, Redding, Eureka and all surrounding areas.
Raymond West | Sacramento Material Handling Equipment Supplier
900 National Dr
Sacramento, CA 95834
(800) 675-2500