Warehouse Automation | Sacramento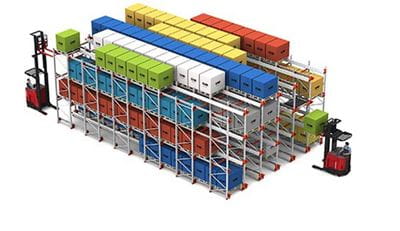 Warehouse costs are skyrocketing. Smart warehouse operators are squeezing every last dollar out of their facilities though increased density and automation technology.

Raymond West is the premiere warehouse automation supplier in Sacramento. To speak with an automation expert, give us a call today at (800) 675-2500.
Up and down the West Coast, warehouse space is priced at a record setting premium. Online E-com operations have put tremendous pressure on inventory and as a result, leasing costs throughout the region have gone through the roof in recent years.
As facility costs accelerate, it's crucial to make certain that you're using space as efficiently as possible. For smart warehouse operations, that means increasing density and automating processes wherever possible.
Luckily, high performance material handling technology has advanced swiftly in the last few years, allowing you the opportunity to increase your efficiency and density at unprecedented levels. Automation technology is swiftly altering the very nature of warehouse storage solutions.
Warehouse Automation
Automated storage and retrieval systems (AS/RS) are revolutionizing the warehouse. Here are the main reasons for investing in AS/RS systems:
Monumental leaps in efficiency. AS/RS systems cut human resource costs, recover floor space, reduce accidental inventory breakage, and increase productivity.
Increased Capacity. Gains in efficiency mean that businesses can increase the number of stock items and increase the throughput of their operations for an improved bottom line.
Forklift savings. An automated warehouse system cuts lift truck travel distance and hours.
Improved Facilitation. Automated solutions allow for complex sequencing and buffering alternatives that can be coordinated with shipping hours and route options.
Quality assurance. AS/RS systems are simply more accurate and are better at handling detail oriented functions than humans.
Enhanced safety. Fewer humans means fewer safety mishaps.
Adaptability. When it comes to order aggregation, assembly/enrichment, storage, replenishment and put-away, AS/RS systems are increasingly flexible solutions that can automate almost any warehouse process.
Automated Storage and Retrieval System
What is AS/RS? There are many different technologies that are considered to be AS/RS systems, including the following:
Vertical lift modules
Horizontal carousels
Vertical carousels
Fixed aisle systems
Vertical Lift Modules
Similar to a vertical carousel, VLMs are vertically positioned systems that store trays in an upright metal casing. However, a VLM has a puller mechanism that travels upward and downward in the center of the module, retrieves specific bins and hands them to the operator.
Horizontal Carousels
Horizontal carousels are in some ways like that rack your drycleaner uses to locate and access your clothing items. They are typically employed for less bulky products and they are a series of trays suspended from a rasied rail. Many times they are paired with pick-to-light systems or voice picking systems.
Vertical Carousels
As the name suggests, vertical carousels are vertically driven, and are a bit like a Ferris wheel with trays mounted to a rotating mechanism that spins on a perpendicular horizontal axis. These carousels are generally contained in a tall metal casing.
Fixed Aisle AS/RS
Fixed aisle systems are typically designed with two columns of racking with a narrow aisle separating the two. In the center of the aisle is an elevated steel rail with an upright mast that maneuvers its length. Fastened to the upright is a vertically moving carrier fitted with a load handling device.
This upright and carriage is known as as the crane or SRM. Almost all systems use a single crane per corridor, but more sophisticated systems may have multiple.
In general, there are two varieties of fixed aisle systems. Unit-load systems are designed to deal with large loads on pallets. Mini-load systems (often called a case-handling machine or tote stacker) are smaller implementations that can manage cartons and smaller items.
Warehouse Automation Systems Near Me
Talk to an expert! If you need assistance in reviewing warehouse automation options for your material handling operation, contact a specialist at Raymond West.
Our engineering group will work with you to evaluate on-site equipment design for your warehouse or distribution center. We will help you build a business case including process, conditions, future requirements, training and combined cost.
We provide service and support from our locations throughout the West. Whether you need new or used equipment, maintenance, parts, service or training, we provide a comprehensive selection of material handling products and services.
Raymond West's Sacramento facility serves the greater Sacramento area and other parts of Northern California, including Sacramento, Elk Grove, Auburn, Placerville, Vacaville, Fairfield, Sausalito, Napa, Santa Rosa, Redding, Eureka and all surrounding areas.
Raymond West | Sacramento Material Handling Equipment Supplier
900 National Dr
Sacramento, CA 95834
(800) 675-2500