Used Forklifts | San Diego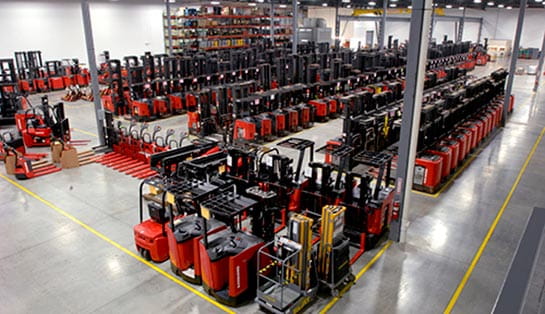 Raymond West is a San Diego supplier of used forklifts.

We are backed by one of the largest service and parts operations in California.

Call us today at 858-679-1800
Are you about to buy used forklifts? There are hundreds of preowned forklifts for sale in San Diego and throughout the State of California. Purchasing previously owned lift trucks can be a great decision and it may save you quite a bit of cash. If you are not quite sure about acquiring pre-owned lift trucks, consider some of the benefits:
Used Forklifts in San Diego
When you buy new lift trucks, terms negotiation and truck delivery is not immediate. The benefit of used forklift sales is that they are generally local, often close quickly and you can take delivery sooner.
Pre-Owned Forklift Pricing
Similar to buying a pre-owned vehicle, you will often pay less when you purchase used forklifts. Pre-owned lift truck pricing discounts depend greatly on the truck type and brand of forklift, but you will usually pay substantially less for pre-owned trucks. Whenever you locate a used forklift for sale, the best practice is to check pricing on a couple of comparable lift trucks in your market area to confirm you're being offered a fair deal.
Used Forklift Values
Your budget may limit what you can afford to buy new, but buying used may allow you to buy a better lift truck than you could otherwise afford. Used forklift prices for recent models that are very similar to the newest on the showroom floor can be highly discounted, which means you can purchase the latest technology for far less than the price of buying new.
Used Forklift Dealers
When purchasing from a preowned lift truck dealer that is also a distributor, you can get dealer certified, preowned forklifts that are nearly on par with buying brand new. These previously owned lift trucks are fully examined, refreshed and mechanically restored by factory trained technicians and they frequently come with a warranty.
Purchasing from a distributor can also provide you access to their financing, service contracts, parts program and other benefits that you won't get with a private purchase.
Other Considerations
Given that you're now mindful of some of the benefits of buying previously owned lift trucks, you should consider a few additional variables to see if a used lift truck strategy is suitable for your business:
Forklift Hours of Use: how much do you plan to utilize your trucks? If your new forklifts will be used throughout multiple shifts, seven days a week, it may actually be a better option to lease your forklifts or purchase them new, despite the fact you'll pay more up front. Intensive utilization scenarios are more appropriate for new forklifts, or lift trucks that you're not ultimately responsible for maintaining.
Maintenance Capability: are you employing mechanics that can service your preowned lift trucks? In cases where you have a technician on payroll that can fix and service previously owned lift trucks, it makes sense to buy used equipment. In cases where you don't have qualified employees, you should consider a maintenance contract.
Reputable Preowned Forklift Dealers: buying from a reputable, experienced dealer is always sensible. Dealerships will many times sell off-lease equipment that has been consistently and appropriately maintained. Private sales, in contrast, are generally a gamble—you typically can't verify the true history of the forklifts or the manner in which they were serviced.
Lift Truck Safety: any time you're buying a used forklift, you should always consider safety as your leading concern. Always request a used forklift inspection from an authorized technician.
Used Forklift Buyer Protection: used lift trucks purchased from dealerships often have a short term warranty. In the event you can buy an additional warranty or service agreement, you may want to evaluate the additional charge vs the cost of procuring brand new forklifts.
Used Forklifts For Sale in San Diego
If you'd like to buy a preowned forklift or get information on preowned lift trucks for sale in San Diego or anywhere in Southern California or Las Vegas, you can speak with a professional at Raymond West by calling 858-679-1800.