Aerial Lifts | San Diego, CA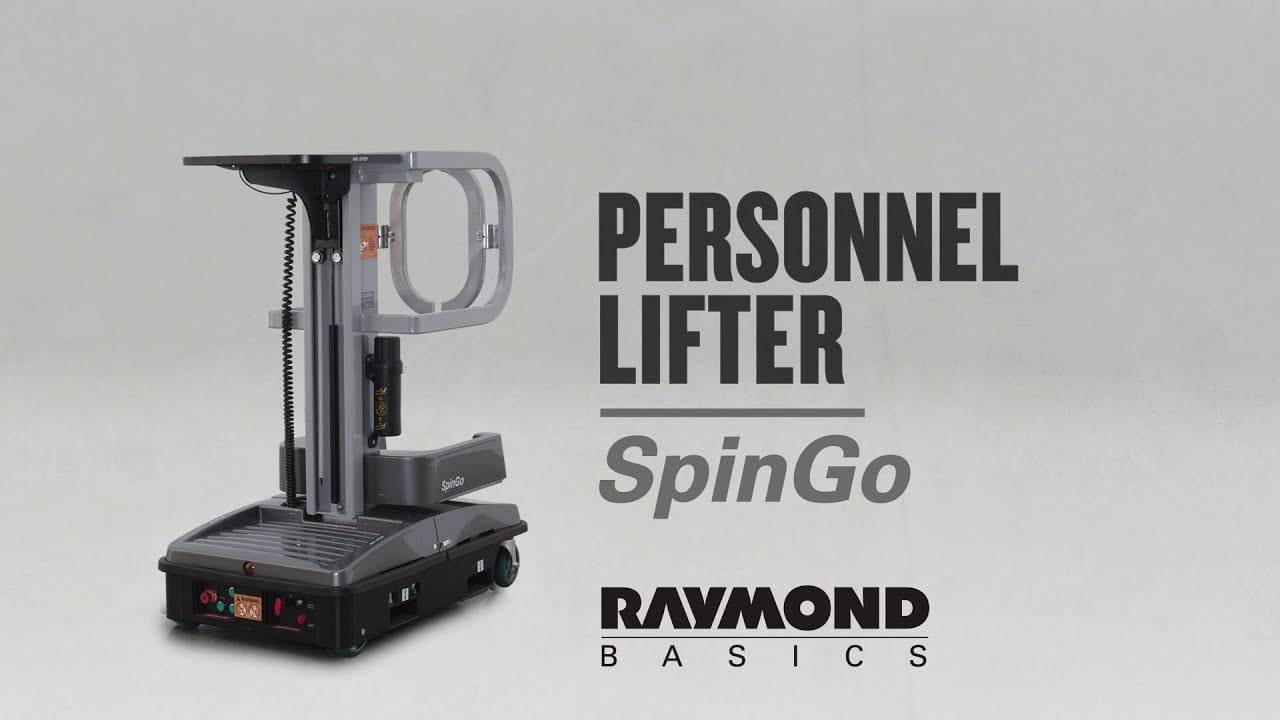 Raymond West offers a full line of aerial lifts for industrial applications.

To rent, lease or buy a lift, give us a call today at (858) 679-1800.
If you are in the market to buy, rent or lease an aerial lift, Raymond West has you covered. When you're weighing your options for an aerial lift, you should address task conditions, lift capacity, operator safety, OSHA fall protection regulations, worker comfort and user friendliness.
Raymond West offers a wide range of standard man-lift types from scissor lifts to boom lifts, as well as our electric warehouse personnel lift options: the Raymond SpinGo and the Raymond Sprint.
Raymond SpinGo Elevated Platform
When you have daily activities like orderpicking, restocking, or site maintenance that are out of reach, Raymond's SpinGo push-around vertical platform is a fantastic alternative to ladders and podiums.
The SpinGo is a stowable, lightweight, manual push aerial lift that features precise maneuvering. The electric lift function allows pushbutton ease-of-use and keeps your team happy and productive. This work platform is sized to allow use in almost any place where you would typically use a ladder, but offers extraordinary employee comfort and safety.
At a weight of 728 lbs, the SpinGo can tolerate an occupant weight of up to 286 lbs and can be elevated to a total height of 13.5 feet. Its cargo shelf and load deck areas permit weights of up to 198 lbs.
Raymond Sprint Elevated Work Platform
The Raymond Sprint aerial lift is the heavier duty counterpart to the SpinGo and it can be driven to a work location rather than being moved manually. Its zero maintenance hydraulic mast has no wear-prone chains or components, requires no greasing and extends to a working height of 17.5'.
The Sprint can sustain an occupant weight of up to 286 lbs, while carrying to 249 lbs platform capacity and 198 lbs tray capacity. Its 24 volt power supply allows the Sprint to be used for close to 9 hours on a single battery charge.
Scissor Lift Rental
During cyclical fluctuations or high demand situations, many operations need additional lifts for orderpicking and stock replenishment. Raymond West features a variety of aerial lift rental and lease options ideal for almost any material handling operation.
Used Aerial Lifts
Under our Raymond ReNewed program, we refurbish gently used lease return equipment to our exacting standards, permitting you to rent or buy previously owned equipment at a heavily discounted rate from new.
When it comes to service, our service organization provides aerial lift repair and maintenance for all equipment manufacturers, handled by certified technicians. In addition, our parts department has a full line of aerial lift parts available.
Aerial Lift Near Me
If you're looking for any type of aerial lift, whether it's a scissor lift, boom lift or any other class of personnel lift, speak with a professional at Raymond West today! We are among the largest sellers of material handling equipment in the West, offering new and used aerial lifts, along with service, repair and parts.
Raymond West's San Diego facility serves all of San Diego County, including Carlsbad, Chula Vista, Downtown, El Cajon, Escondido, Fenton Carroll Canyon, Grantville, Kearney Mesa, Levanto, Morena, National City, Oceanside, Otay, Otay Mesa, Poway, San Marcos, Santee, Sorrento Mesa, Spring Valley, Vista and all surrounding areas.
Raymond West | San Diego Material Handling Equipment Supplier
12310 World Trade Dr #111
San Diego, CA 92128
(858) 679-1800