Horizontal Carousel Systems | San Diego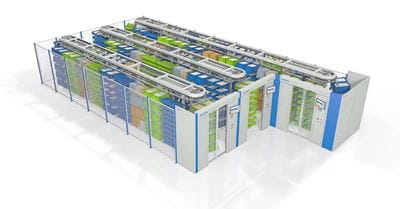 Raymond West supplies warehouse automation equipment such as horizontal carousels.

We are among the largest suppliers of warehouse automation equipment in the state.

Call us today at (800) 675-2500.
A horizontal carousel system is a type of automated storage and retrieval system (ASRS) used in distribution centers and warehouses to store and retrieve items effectively. It is comprised of a sequence of trays or bins affixed to a spinning carousel, and pick materials are moved to the location of the operator, in a "good-to-person" manner.
The Advantages Of Horizontal Carousels
A primary benefit of a horizontal carousel system is its capacity to utilize free space. Because it has a rotating platform, this ASRS is able to store a vast quantity of items in a smaller floor plan, allowing material handling facilities to put their space to use more effectively. This can be especially advantageous in cases in which floor space is restricted or expensive.
A second positive of horizontal carousel systems is their precision and quickness. Seeing as the picking instrument can quickly and simply select the required tray or bin, the carousel can collect articles more quickly than a worker. This helps material handling facilities limit the time required to meet orders, which can lead to enhanced performance and customer gratification.
Beyond these benefits, horizontal carousels are able, also, to help material handling facilities lighten their employment expenditures. Seeing as the system is automatic, it can run 24/7 without a need for shifts or breaks. This can help reduce the demand for laborers, which can be especially useful for warehouses and distribution centers that need to output orders on a constant timeframe.
Horizontal Carousel Types
There are a few differing styles of horizontal carousel systems available, each including a few unique benefits and attributes. A few of the more common types include:
Standard Horizontal Carousel: These "typical" horizontal conveyors are commonly clustered alongside each other into a pod or workstation and used for batch picking needs. The number of systems needed for each workstation varies depending on capacity expectations. Wares can be retrieved either by a human worker or a robotic arm.
Put Horizontal Carousel: This kind of carousel operates on the same principle as a put wall, but rather than a wall it consists of a carousel of bins or trays. It is frequently implemented for consolidation or within an operation.
Robotic Horizontal Carousel: Fully robotic carousels rotate the requested bin or tray to an insertion/extraction point, which selects the appropriate tote on demand. A conveyor routes the tray to the next step within the system.
When deciding on a horizontal carousel system for a material handling facility, it's crucial to closely evaluate the specific requirements of the operation. Some factors to consider include the layout and size of the material handling facility, the types of items being stored, and the amount of orders needing fulfillment.
In addition to the initial cost of the system, warehouse administrators also have to evaluate ongoing maintenance and repair costs. It's critical to decide on a system that is durable and reliable, as interruptions can be pricey when it comes to lost productivity and patron satisfaction.
Contact A Warehouse Automation Expert
Overall, horizontal carousel systems can be a worthwhile acquisition for material handling facilities trying to improve productivity and lessen spending. By automating the retrieval and storage of goods, such storage modules will help businesses improve supply, reduce labor costs, and boost customer satisfaction.
Raymond West's San Diego facility serves all of San Diego County, including Carlsbad, Chula Vista, Downtown, El Cajon, Escondido, Fenton Carroll Canyon, Grantville, Kearney Mesa, Levanto, Morena, National City, Oceanside, Otay, Otay Mesa, Poway, San Marcos, Santee, Sorrento Mesa, Spring Valley, Vista and all surrounding areas.
Raymond West | San Diego Material Handling Equipment Supplier
8221 Arjons Dr # B2
San Diego, CA 92126
(858) 679-1800