Forklift Repair | Santa Barbara, CA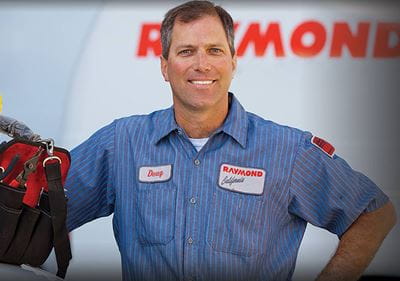 Raymond West is a Santa Barbara forklift repair service for all makes and models of lift trucks.

We are backed by one of the largest parts departments in California.

Call us today at (805) 749-2777
If you have a high volume storage facility, losing just a single forklift during a shift due to mechanical issues can mean considerable losses in productivity. Disabled trucks may also incur latent costs. To illustrate, you may have an idle or underutilized employee while your equipment is out-of-service, you may suffer damage to your credibility as a result of late shipments, and you might incur overtime costs to make up for lost time as soon as your equipment is restored to duty.
In spite of routine maintenance, even the most well kept truck fleets are subject to occasional downtime, it's simply the nature of the industry.
Twenty-four hours, or even more than four hours is too much time to wait in situations where you need a truck back in service immediately. With a site arrival interval of just over two hours, Raymond West has the speediest dispatch time of any service operation in many parts of California. We have branches throughout the Western U.S. and can dispatch technicians at a moment's notice.
To get the job done right the first time, our teams of highly skilled, authorized specialists are supplied with thoroughly equipped service vehicles that have all the components and tools they need. Other service providers may take a day or more to appear on the job site, troubleshoot an issue and fix a vehicle. Raymond's technicians can often achieve the same inside of just a few hours of your service request.
With over 100,000 part numbers available for all makes and models of lift trucks, in addition to more than 4,000 parts in stock, Raymond West can source all the components you need quickly. We stock parts for all major brands and have one of the largest parts departments in California.
Scheduled Forklift Service
Regular maintenance of your fork trucks is crucial when you want to optimize your uptime and efficiency. To help you avoid equipment issues, our scheduled maintenance agreement incorporates routine examination and maintenance of your lift trucks. Our squad of highly qualified specialists will carry out all the required inspections and service you need for your fork trucks. Every service call is organized around your timetable, so you can keep your trucks operating when you need them and have them maintained in off-peak times.
Comprehensive Forklift Maintenance
Our comprehensive forklift maintenance agreement incorporates all planned service, parts and labor at one fixed monthly rate. You get the uptime advantages of our proactive scheduled maintenance program, but if you do happen to have a truck breakdown, all parts and labor are included in addition. An all inclusive contract is generally less costly than keeping skilled maintenance personnel, and the fixed monthly cost makes budgeting simple and predictable. In spite of the fact that all inclusive contracts are more costly than planned service, they can be a very sound decision for heavily utilized lift truck fleets, particularly for multiple shift operations and high velocity DCs.
Forklift Repair Near Me – Santa Barbara
Contact Raymond West now to find out about our forklift service or maintenance agreements, or to dispatch forklift repair service. You can speak with a Santa Barbara representative by calling (805) 749-2777.
Raymond West Santa Barbara
Serving Buellton, Carpinteria, Goleta, Lompoc, Santa Barbara, Santa Maria
(805) 749-2777