Pallet Jacks | Seattle, WA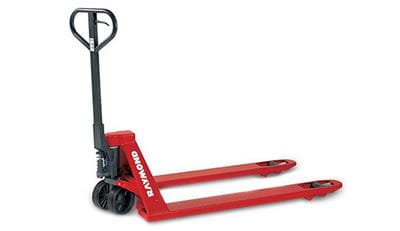 Raymond West is a Seattle area supplier of new and used electric and manual pallet jacks.

We are backed by one of the largest service and parts operations in the Pacific Northwest.

Call us today at (253) 333-2100
If you are looking at the purchase of pallet jacks, it's useful to analyze the benefits and conversely, a few of the disadvantages of various kinds of pallet jacks.
Obviously, the fundamental use of a pallet truck is to move pallets around a storage facility, industrial operation or some other operation where pallets need to be moved.
However, depending upon the size of your facility, the weight of pallets being positioned, the rate of use, and other variables, you will most likely want to get a better awareness of which pallet trucks perform best in which environments.
The following write-up is a review of pallet truck categories, qualities, limits and types of applications.
Hand Pallet Trucks
Hand pallet trucks have been in use since 1918 and have not changed much since then. They are composed of a steel chassis, a fork and a hydraulic unit that's actuated by forcing the handle vertically.
The user of a manual pallet jack places the forks underneath the pallet, boosts the pallet off the ground and pushes the pallet to a chosen location, driving the equipment with the "tiller" or handle.
Any place where lift height is not required may possibly be a good application for a hand pallet jack, including storage room aisles, warehouse back rooms and similar. Unlike a lift truck, manual pallet trucks are also relatively transportable and will fit in the back of a truck or van for deliveries. The load capability of the majority of manual pallet jacks is about 5500 pounds.
Non-powered pallet jacks are suitable for infrequent use conditions across short lengths. They're not the best selection for moving loads across more lengthy ranges, inclines or rough terrain. Operators need to physically maneuver the device which is quite often physically exhausting after a while.
Walkie Pallet Jacks
Regardless of the fact that they're roughly twice the scale of non-powered pallet trucks, walkies are still fairly small in overall size and they are highly maneuverable.
Walkie pallet trucks are propelled by on-board batteries. The battery provides an electrical assist for propelling and raising the forks. The user no longer must activate the tiller to elevate the pallet, nor do they have to manually maneuver the payload across the warehouse.
Nevertheless, they are still called "walkies", due to the fact that the operator does still have to walk at the rear of or next to them.
A walkie pallet jack's highest rate of speed is lower when compared with rider jacks, given that the driver needs to keep up with the jack rather than catching a ride on it. This is effectively a bit of a built in "safety feature", since limited speeds also limit the impact of collisions.
The maximum capacity of many walkie pallet trucks is anywhere between 4500-6000 pounds.
Though they're more user-friendly than manual pallet trucks, walkies need to be recharged frequently, since they're battery based. They also demand more maintenance than hand pallet jacks given that there are a lot more moving components and points of failure.
The major applications for walkie pallet trucks are loading docks, staging areas and short to mid-distance runs.
Rider Pallet Trucks
Rider pallet trucks are like walkies, except that they offer a basic standing platform for the driver. There are minimal controls on rider pallet trucks so they're fairly simple to control and call for minimal training.
Operators can step onto the platform rather than just keeping pace beside or behind the jack. This means that rider pallet jacks are a better option for advancing payloads over greater distances vs manual or walkie pallet jacks. Rider jacks are perfect for constant movement over greater ranges and they are used quite a bit in large distribution centers and industrial facilities.
The travelling platform is suitable for shorter spans, but not great for operators that work with them day in and day out because they are rather minimal and require the controller to position themselves at a sideways angle.
Rider jacks are much heavier than walkie or hand pallet trucks, so accidents can cause relatively serious trauma and property destruction. Rider pallet jacks provide little defense for the driver vs other choices such as center riders.
Center Riders
Center riders resemble rider pallet trucks, but they're safer for the operator and allow a more ergonomic experience. The driver can stand fully to the front or to the back as opposed to solely sideways.
Additionally, there is reduced exposure for the driver since they're insulated by the machine chassis on two sides, although they're still exposed to the somewhat unlikely threat of the lifting machinery.
Center riders have a larger turning radius than rider pallet trucks and they're used mostly for operations where the operator proceeds typically in a direct path.
Center riders are typically put to work in general factory operations, warehouse and beverage applications.
Pallet Jack Near Me
Speak with a Raymond West material handling expert about your application today. We stock all types of pallet trucks for a variety of uses.
Raymond's Seattle service operation includes most of Western Washington, including Seattle, Bellevue, Kirkland, Redmond, Bothell, Woodinville, Lynnwood, Everett, Tukwila, Renton, SeaTac, Burien, Kent, Federal Way, Fife, Sumner, Auburn, Tacoma, Lakewood, Puyallup, Olympia, Lacey and surrounding areas.
Raymond West | Seattle Forklift Dealer
6607 S 287th St
Auburn, WA 98001
(253) 333-2100