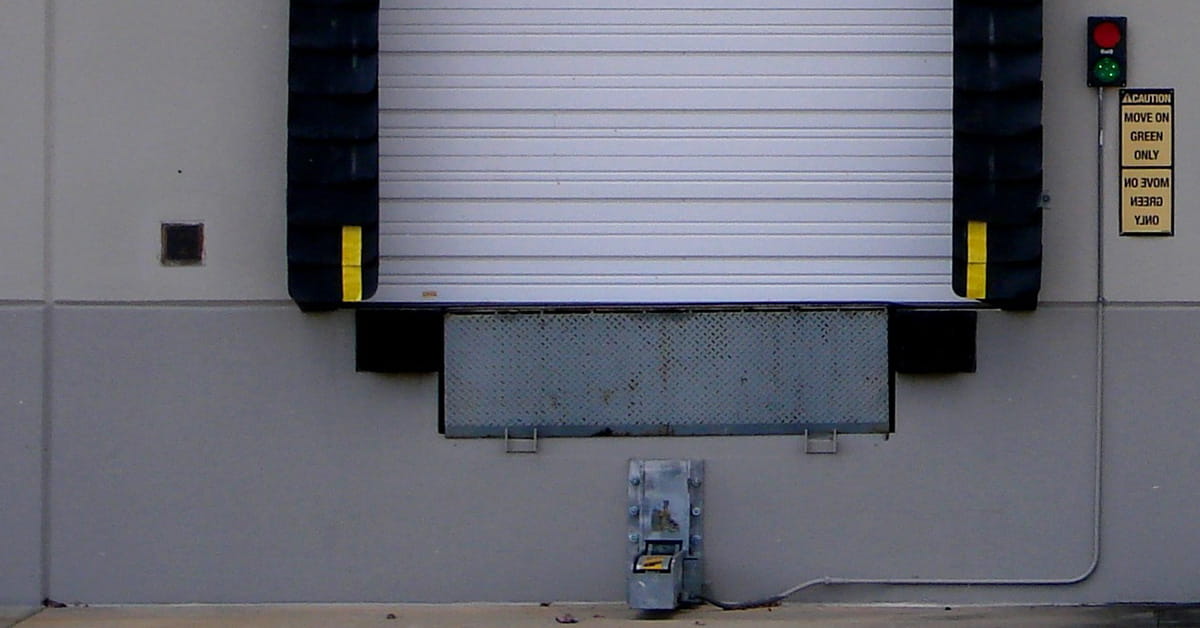 Raymond West supplies dock trailer restraints and interlock systems.

We are among the largest suppliers of loading dock equipment in the state.

Call us today at (800) 675-2500.
Loading docks are busy and congested areas, and implementing a comprehensive safety strategy can ensure that your business minimizes expensive and disruptive mistakes.
Truck Restraints
As trailers enter a dock bay, ensuring that the trailer stays in place is critical to the safety of your workers. As forklifts drive in and out of trailers and pallets are added or removed, significant weight transitions ensue. When trailers are jostled they will shift unless they are securely tethered in place by some kind of restraint system.
When a trailer is unintentionally moved, it is referred to as "trailer creep." This can be extremely unsafe for a forklift driver, as the dock leveler is detached from the trailer. A forklift can easily go over the dock edge, resulting in serious bodily harm or death.
A further consideration is unplanned drive offs. Sometimes drivers will depart from the dock before cargo transfer is completed due to error or miscommunication. If a forklift is on board when a trailer pulls away it can be disastrous.
Truck restraints are made to impede trailers from pulling away from a loading dock until it is safe to do so. Restraints can be as simple as wheel chocks, or they can be as sophisticated as hydraulic hooks that tie into doors and dock levelers through interlock safety mechanisms.
Trailer Restraints (Dock Locks)
Trailer restraint systems are essentially claws that grab the ICC bar on a trailer to secure it tightly in place. These restraints can be basic, manually operated systems or more complex electric or hydraulic configurations.
Oftentimes, restraints are wired directly into the door, signaling lights and dock leveler on a dock bay, so that they can't be disengaged if the door is in the open position, the dock leveler is engaged or the truck driver has not been advised to depart by the dock operator. These safety features are invaluable on any busy loading dock and can improve safety immeasurably.
Wheel Chocks
The most basic way to hold a trailer in place is to chock the wheels. Why not just use chocks instead of fancy restraint systems? Although basic wheel chocks can do the job, there are some additional risks:
Inattentive employees can sometimes neglect to place chocks correctly
A sloped or uneven approach can make chocks fail if they aren't placed correctly
Wheel chocks can get misplaced, and busy workers may forego them instead of falling behind
Placing wheel chocks often requires employees to get low to the ground where drivers can't see them, endangering the worker if the truck moves
Dock Restraints Near Me
To find out more about vehicle restraints or additional dock safety equipment, get in touch with a dock and door professional at Raymond West today.
Raymond's Seattle service operation includes most of Western Washington, including Seattle, Bellevue, Kirkland, Redmond, Bothell, Woodinville, Lynnwood, Everett, Tukwila, Renton, SeaTac, Burien, Kent, Federal Way, Fife, Sumner, Auburn, Tacoma, Lakewood, Puyallup, Olympia, Lacey and surrounding areas.
Raymond West | Seattle Material Handling Equipment Supplier
6607 S 287th St
Auburn, WA 98001
(253) 333-2100