Warehouse Mezzanine Systems | Seattle, WA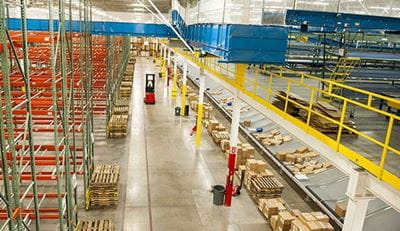 Raymond West is a Seattle area supplier of new and used warehouse mezzanine systems.

We are backed by one of the largest installation and service operations in the Pacific Northwest.

Call us today at (253) 333-2100.
With rising storage facility real estate costs, making use of every bit of current space in your facility is crucial.
In areas like Seattle, some companies are having difficulty finding additional storage facility capacity because vacancies are so minimal.
Smart enterprises are leveraging the vertical space in their operations by using an elevated steel platform, or mezzanine, to augment storage density and productivity. These platforms allow you to expand your operations and storage skyward, while still using the surface beneath as you typically would.
Relocating your warehouse space is an expensive and disruptive process, and companies that have outgrown their facilities should think carefully before making a decision to relocate. A cost effective and minimally disruptive alternative is to employ industrial mezzanines to maximize the utilization of cubic space.
Warehouse mezzanines can be appropriate for most kinds of businesses, from modest warehouses to massive DCs. In a very short time, a mezzanine installation can easily increase your efficiency and deliver a meaningful ROI. There are many options available, from typical prefabricated mezzanines to specially engineered, multi-story steel mezzanines.
Prefab Mezzanine Systems
Mezzanine warehouse systems can be a perfect choice for leveraging greater storage density, but they can also serve as an excellent vantage point to track safety practices and warehouse performance.
Industrial platform configurations can take many forms, and typical designs serve multiple functions. Quite often configurations are engineered with mezzanine office modules, allowing offices, breakrooms and conference areas instead of just storage.
The majority of mezzanine solutions offer easy setup and teardown. In most instances there is no need for structural modification of the warehouse itself. As business requirements change, so can your mezzanine system-they are simple to tweak and reconfigure.
Mezzanine storage areas can be accessed via mezzanine stairs, and products can be loaded and unloaded via gates available for forklift access. In addition, many systems employ mezzanine lift solutions or vertical reciprocating conveyors (VRC) to move products on and off the platform.
Industrial Mezzanine Categories
Freestanding: a structural or freestanding warehouse mezzanine arrangement makes efficient use of ground space and offers easy assembly and disassembly. Part and product storage are an ideal use for these varieties of structural systems.
Rack Supported: "catwalk" or rack supported solutions are installed on pallet racking, allowing additional storage above the racking. Rack supported options usually use several gates for loading and unloading pallets within the racking system.
Shelf supported: for augmenting storage of smaller items, shelving supported platforms are sometimes included above shelving systems. Though not as flexible as rack-supported or freestanding options, shelf supported systems can be less costly and easy to implement.
New and Used Mezzanine Systems
Raymond West is one of the largest industrial racking and mezzanine providers in the West, with operations across 8 states and 19 locations. We offer both new and used mezzanines for all types of applications. Call a material handling expert at Raymond today!
Raymond's Seattle service operation includes most of Western Washington, including Seattle, Bellevue, Kirkland, Redmond, Bothell, Woodinville, Lynnwood, Everett, Tukwila, Renton, SeaTac, Burien, Kent, Federal Way, Fife, Sumner, Auburn, Tacoma, Lakewood, Puyallup, Olympia, Lacey and surrounding areas.
Raymond West | Seattle Material Handling Equipment Supplier
6607 S 287th St
Auburn, WA 98001
(253) 333-2100