Autonomous Mobile Robots | Seattle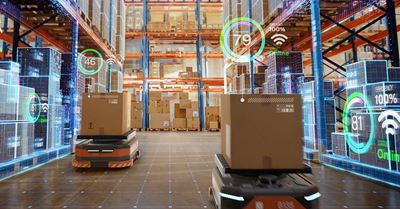 Raymond West supplies warehouse automation equipment such as AMRs.

We are among the largest suppliers of warehouse automation equipment in the state.

Call us today at (800) 675-2500.
Autonomous mobile robots (AMRs) are a vein of technology that is very quickly gaining popularity within warehouses worldwide. This kind of robot is designed to move around a warehouse on its own, without the need for employee supervision. They are equipped with sensors and software that let them move about the premises, track down and grab things, and take them to their destination.
Autonomous Mobile Robot Benefits
One of the primary advantages of utilizing AMRs inside warehouses is the increased productivity they can bring. By automating tasks such as material transportation and handling, AMRs will considerably reduce the time and work required to fulfill these tasks. This can lead to better order processing and distribution times, and reduced fees for labor.
An additional benefit of AMRs is their tireless hours of operation, without any necessity for breaks or rest. This means distribution centers are able to elevate their throughput and efficiency, due to the fact that the AMRs can work all the time without experiencing weariness.
AMRs can also increase safety in storage facilities, because they are equipped with sensors and programming enabling them to avert collisions with different objects and people. This can limit the possibility of injuries and accidents in the workplace, which is especially important in places that include heavy lifting and other physically demanding tasks.
Types Of AMRs
There are a few different sorts of AMRs available for sale, each created for distinct tasks and environments. A few frequent implementations of AMRs encompass:
Order Picking AMRs: AMRs are available in a wide collection of styles that strive to limit picking-related travel time. Using AMRs to bring goods to the picker gets rid of travel time for hourly staff members and can be significant in terms of efficiency and cost.
Sortation AMRs: Sortation can benefit significantly from using autonomous mobile robots. Different types of AMRs possess a range of handling equipment. They can be equipped with anything from cross belt systems to tilt trays, and can be useful in returns handling, e-com fulfillment, and high speed parcel sortation.
Inventory AMRs: Modern order fulfillment relies on having precise, transparent inventory visibility—being aware of whereabouts the item is in your warehouse, distribution center, and collective supply chain. However, arranging inventory movement and reconciliation can be difficult and time-consuming for especially large and complex operations. AMRs that are integrated directly with an inventory structure can exceptionally lessen the time and expenditures necessary to keep at maximum productivity and order precision.
AMR Implementation
Deploying AMRs in a warehouse or distribution center requires careful forethought and consideration. It is important to attentively look at the duties that that robots will need to perform, and ensure that they are outfitted with the correct software and sensors to address these tasks properly. It is likewise necessary to account for the configuration of the warehouse and the possible effect on other systems and processes, such as the material handling and storage systems.
One of the challenges of implementing AMRs is consolidating them with current systems and processes. AMRs usually must be integrated with warehouse management systems (WMS) and other computer systems in order to run effectively. This sometimes takes significant effort and materials, and might necessitate the implementation of unique software or integration with third-party systems.
An additional obstacle is the necessity for ongoing support and maintenance. AMRs must have consistent software updates and maintenance in order to keep running correctly, and it is necessary to develop a plan to make sure that such caretaking is completed in a quick and effective way.
Talk To A Warehouse Automation Expert
Altogether, autonomous mobile robots are able to contribute substantial up sides to material handling facilities, such as enhanced productivity, efficiency, and safety. To ask about configuring and setting up an AMR program, talk to a warehouse automation expert at Raymond West now.
Raymond's Seattle service operation includes most of Western Washington, including Seattle, Bellevue, Kirkland, Redmond, Bothell, Woodinville, Lynnwood, Everett, Tukwila, Renton, SeaTac, Burien, Kent, Federal Way, Fife, Sumner, Auburn, Tacoma, Lakewood, Puyallup, Olympia, Lacey and surrounding areas.
Raymond West | Seattle Material Handling Equipment Supplier
6607 S 287th St
Auburn, WA 98001
(253) 333-2100