Conveyor Repair | Seattle, WA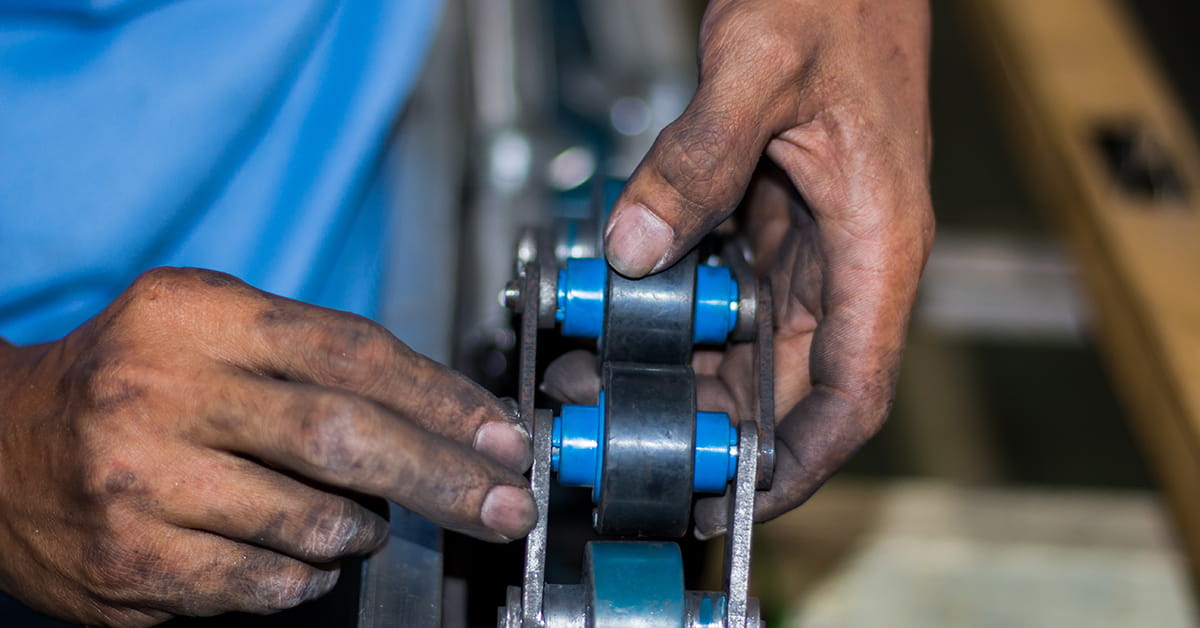 Raymond West is a King County warehouse automation equipment supplier.

We offer repair and service for all types of warehouse conveyor systems.
A prolonged conveyor breakdown can be extremely detrimental when it comes to wasted productivity, lowered customer satisfaction and increased labor expenses. When a line is down, you need expert technicians that can troubleshoot and fix your system quickly. Quite often you also need a parts dealer that can quickly track down hard-to-find items.
Raymond West is one of the biggest material handling solutions vendors in the Western U.S., with operations across 8 states. We maintain a crew of approximately 400 technicians ready to assist you and one of the largest parts operations in the West.
Our standard dispatch time is approximately 2 hours. Emergency repair service is an option around the clock.
Conveyor Belt Repair
When you're having difficulties with your belt conveyors, our technicians can help. Whether you just need tensioning or tracking adjustments, need a belt splice or need an entire belt replacement, we have a team at your service.
Conveyor Installation
If you're installing new conveyors or just restructuring your present layout, Raymond West has a team of equipment specialists that can help you with permitting, engineering and installation. We work with any manufacturer and type of conveyor.
Conveyor Maintenance
Planned maintenance for your conveyor system can save you from costly outages, while lengthening the useful life of your system and enhancing safety practices within your facility. Raymond offers a wide array of maintenance plans designed to eliminate downtime and keep your equipment in top condition. Call one of our conveyor specialists about a plan that's the right fit for your business.
Conveyor Parts
Raymond features one of the most comprehensive material handling parts divisions on the West Coast, and inventories a vast selection of conveyor components and parts. We maintain a national supply network with access to hundreds of thousands of part numbers. For many parts we can offer same or next day delivery anywhere in our territories.
Conveyor Belting
Changing out worn out or damaged belts can preclude conveyor failures and prevent expensive outages. We supply a range of multi-ply conveyor belting to replace your faulty or worn belts. For belt upgrades or application changes, we have a wide variety of belt surfaces for nearly any use.
Conveyor Rollers
Raymond offers replacement conveyor rollers for powered roller conveyors, gravity roller conveyors, and roller-bed belt conveyors. We supply all varieties of rollers from lightweight aluminum to heavy duty steel for just about any frame width, capacity and diameter specifications.
Conveyor Chain
We supply just about every size and configuration of conveyor chain in ANSI, DIN, and ISO certified series products. We also offer stainless steel and hollow-pin options. If you're looking for straight side plate, double pitch or engineer class conveyor roller chains, we supply almost all sizes and weights.
Conveyor Belt Repair Near Me
To request service, schedule maintenance, or inquire about parts, speak with a Raymond technician today.
Raymond's Seattle service operation includes most of Western Washington, including Seattle, Bellevue, Kirkland, Redmond, Bothell, Woodinville, Lynnwood, Everett, Tukwila, Renton, SeaTac, Burien, Kent, Federal Way, Fife, Sumner, Auburn, Tacoma, Lakewood, Puyallup, Olympia, Lacey and surrounding areas.
Raymond West | Seattle Material Handling Equipment Supplier
6607 S 287th St
Auburn, WA 98001
(253) 333-2100