Forklift Repair | Spokane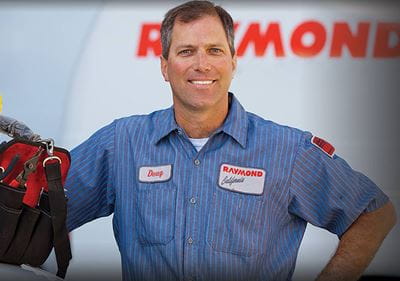 Raymond West is a Spokane forklift repair service for all makes and models of lift trucks.

We are backed by one of the largest parts departments in the Inland Northwest.

Call us today at (509) 728-6000.
For high volume warehouses and distribution centers, having even a single lift truck sidelined can result in substantial losses in productivity. There can also be less obvious expenses for sidelined equipment. For instance, you may have an unoccupied or underused worker while your equipment is out-of-service, you may suffer loss of reputation as a result of late shipments, and you might incur overtime costs to make up for lost time when your fork truck is on the job again.
Though regular truck service scheduling does stop many unforeseen forklift mechanical failures, sometimes they are inescapable.
Twenty-four hours, or even more than four hours is too long to wait in situations where you need a forklift back on the job as soon as possible. With an on-site interval of approximately two hours, we have the speediest dispatch time of any service operation in many parts of the Northwest. We can dispatch a technician at a moment's notice from any of our branches throughout the West.
To get repair jobs done quickly during their first onsite visit, our teams of highly trained, authorized specialists are supplied with fully equipped service vehicles that have all the tools and parts they need. Other service providers can take a day or more to arrive on-site, troubleshoot a mechanical failure and fix a forklift. Our experts can usually do the same job within just a couple of hours of your initial service call.
With access to over 100,000 part numbers for all makes and models of lift trucks, in addition to more than 4,000 parts in inventory, Raymond West can source all the components you need when you need them. We stock parts for most major manufacturers and have one of the best stocked parts departments in the state.
Scheduled Forklift Service
Routine service of your fork trucks is vital when you want to enhance your uptime and productivity. With our scheduled maintenance agreement, we inspect and maintain your fork trucks at set intervals and help you avoid mechanical issues before they arise. Raymond's team of highly qualified experts will complete all the requisite inspections and service you need for your trucks. For your convenience, you can keep your lift trucks working during busier times and plan service during off-peak times based on your own time table.
Comprehensive Forklift Maintenance
For one predetermined monthly charge, our complete lift truck maintenance agreement includes all scheduled service, parts and labor. You get the uptime advantages of our preemptive planned service plan, but if you are hit with a truck breakdown, all labor and parts are included as well. A comprehensive agreement is generally less than employing skilled maintenance workers, and the set recurring expense makes budgeting easy and predictable. For multi-shift facilities, high throughput distribution centers and highly utilized fleets, comprehensive terms are often a smart financial decision.
Forklift Repair Near Me – Spokane
Call Raymond West now to find out about our equipment service or maintenance contracts, or to schedule forklift repair service. You can speak with a Spokane representative by calling (509) 728-6000.
Raymond West's Spokane branch services Spokane, Airway Heights, Spokane Valley, Liberty Lake, Post Falls, Hayden, Rathdrum, Coeur d'Alene, Medical Lake, Cheney, Pullman, Moscow, Moses Lake, Yakima, Wenatchee, Lewiston, Clarkston, Kennewick, Pasco, Richland, Walla Walla and all surrounding areas.
Raymond West | Spokane Forklift Dealer
11002 E Montgomery Dr #100
Spokane, WA 99206
(509) 728-6000