Warehouse Door Repair | Spokane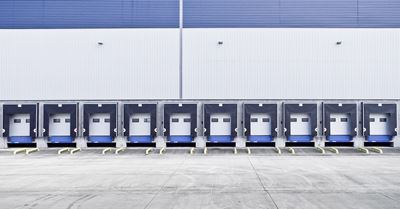 Raymond West offers commercial overhead door service in Spokane.

Give us a call today at (509) 728-6000.
Warehouse doors are put to extensive daily use, and impaired or out of order doors are fairly common on a majority of loading docks. Oftentimes, doors are impacted by lift trucks. The dock is a hectic, high traffic location, and doors are regular casualties of forklifts that must snake through obstacles and pedestrians in a tight space.
Malfunctioning or compromised doors on your loading dock are not just a hassle, they can likewise be extremely expensive to your warehouse operation. When you're not able to operate a door, it can lead to backups and long waits for trucks while a bay is out of service. At a busy distribution center, every minute a door is out of service leads to lost performance. Getting dock positions back online immediately is important.
Poorly sealed doors can also cause significant energy loss, especially in environmentally managed and cold storage buildings. Dock doors that remain open are massive escape routes for conditioned air, and an entry point for moisture, wind and extreme conditions from the outside. When a door is broken or hard to open and close, it has a tendency to stay open when the dock becomes busy.
Unsealed doors can likewise allow mice and various other vermin into your building, resulting in product damage and remediation efforts. Furthermore, damaged doors can pose a considerable safety and security threat, offering intruders easy access to your warehouse after hours.
Call a Qualified Warehouse Technician, Not a Garage Door Company
Raymond West has a crew of over 400 technicians throughout 8 western states that serve the material handling market exclusively. They are highly trained in warehouse safety and security and have easy access to components for all kinds of warehouse doors, from cold storage to high speed roll up doors. They are experts in numerous categories of warehouse and dock systems, and can work on interlock master controls, dock levelers, inflatable seals/shelters and truck restraints.
Emergency Overhead Door Service
If you need immediate service, we can dispatch service technicians quickly, even after normal service hours. With 19 facilities, we provide quick turn-around in Spokane and across the Northwest. Our trucks carry common parts, so in most cases they can finish a job in a single service call.
Door Maintenance Programs
Since dock doors get a great deal of use, maintaining the rollers, roller tracks, cables, panels and seals in good working order is a must for active facilities. We provide periodic door maintenance service and can supply scheduled maintenance programs for your other dock and warehouse equipment so you never miss a day of production. Planned maintenance programs can easily pay for themselves by reducing unplanned service dispatches and protecting against needless downtime.
Warehouse & Dock Door Repair Near Me
If you need immediate assistance in Spokane or would like to talk about a planned maintenance program with a door expert, phone Raymond West now.
Raymond West's Spokane branch services Spokane, Airway Heights, Spokane Valley, Liberty Lake, Post Falls, Hayden, Rathdrum, Coeur d'Alene, Medical Lake, Cheney, Pullman, Moscow, Moses Lake, Yakima, Wenatchee, Lewiston, Clarkston, Kennewick, Pasco, Richland, Walla Walla and all surrounding areas.
Raymond West | Spokane Material Handling Equipment Supplier
11002 E Montgomery Dr #100
Spokane, WA 99206
(509) 728-6000