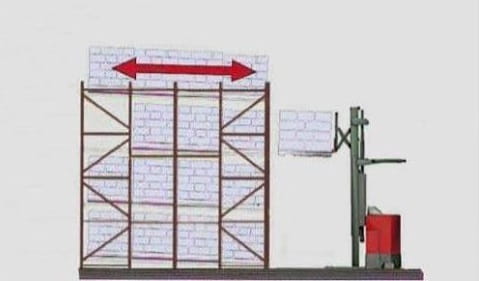 Raymond West is a Spokane supplier of new and used pallet racking.

We are backed by one of the largest service and parts operations in the Inland Northwest.

Call us today at (509) 728-6000
Raymond West provides material handling products and services to all types of customers across the Northwest, including warehouse storage and industrial shelving system design, delivery, installation, service and parts. As one of the largest material handling suppliers in the West, we have the resources and expertise that others do not.
Pallet Racking & Industrial Shelving
Raymond offers a full range of quality industrial shelving, racking and mezzanine alternatives, including both used and new equipment. Raymond offers favorable terms, along with services like installation, engineering, customer safety inspection and project management. If you need a hand with racking or shelving, we can help!
Cantilever Rack
Cantilever racks offer optimal storage for very large or long products (tubing, PVC, carpet, metal products, etc.). Cantilever racking is made up of arms fastened to a beam on one end. These structural arms can be configured to receive individual products and lengths, and the aisle side provides free access to lift trucks.
Carton Flow
Carton flow rack consists of inclined shelving with a roller system, allowing for better product throughput and increased lane flexibility. Cartons are added from the high side access and move down from the high end of the shelves toward the lower side as inventory is depleted. This variety of equipment is frequently used by food and beverage operations to consolidate lower selling SKUs.
Drive In Rack
Drive-in racking is often utilized for high density industrial operations where large volumes of the same items are grouped and stored together. Drive-in pallet racking is perfect for operations where whole bays of pallets get relocated at the same time.
Bays are most often a column four pallets high and four pallets deep. Drive-in racks are constructed with overhead beams so that lift trucks can be maneuvered into and out of the columns. Pallets are seated on parallel rails stationed on the uprights on each side of the bay.
These racking designs allow the forklift handler to travel as many as four pallet lengths into the bay, set the product in the correct place and then back out.
Because these types of pallet racks are filled from the front, management of goods is in a "first-in/last-out" order.
Pallet Flow Rack
Pallet flow racks are equipment with slanting platforms, faced with skate-wheels or roller conveyors. Pallets are loaded from an aisle in the rear of the racking structure and they travel down the incline as previously added pallets are unloaded from the face.
This category of storage rack is a "first in / first out" method and is perfect for a large stock of heavy products and inconsistent sizes of pallets. They are commonly utilized in the beverage industry.
Push Back Rack
Push back storage configurations are loaded from a front aisle, and pallets proceed up inclined steel tracks on specially designed carts. As new pallets are added from the front, they propel the pallets behind them up the slope.
Unlike flow racks, push back rack configurations do not require a filling lane behind them and can be designed for a higher capacity warehouse. Nevertheless, because all pallets are loaded from the front, pallet treatment must be handled on a "last in/first out" principle which isn't acceptable for operations with perishable merchandise. Similar to pallet flow racks, push back racks are the best option for high volumes of identical goods.
Selective Rack
Selective racks are the most widely used pallet racks available today, and they come in a wide range of gauges, sizes and types. They are made with either roll-formed or structural steel beams and uprights that are attached with teardrop connectors or bolts. Raymond offers both standard single deep and double deep selective pallet racks.
You can also select different styles of pallet rack decking and accessories depending on your use case and load capacity. Choose from standard wire decking, solid steel or slotted/perforated steel depending on your specific use.
Boltless Shelving
Along with pallet racking, we offer a complete line of boltless shelving in light, medium and heavy duty options. This style of shelves is perfect for light industrial or shop use, shipping operations, paper records, parts and many other uses that need less weight support.
You can order decks as standard particle board, solid metal or wire decking. No nuts, bolts or additional small parts are needed for setup of this product, so installation is a simple project. Add accessories like side panels, work tables, post caps, footplates or tie plates.
Request a Quote For Pallet Racking or Shelving
Contact us for a quote today! A customer service team member will call you and work with you to find the best pallet racks, services or accessories based on your request.
When it comes to quality, service, selection and safety, there is no better choice than Raymond.
Raymond West's Spokane branch services Spokane, Airway Heights, Spokane Valley, Liberty Lake, Post Falls, Hayden, Rathdrum, Coeur d'Alene, Medical Lake, Cheney, Pullman, Moscow, Moses Lake, Yakima, Wenatchee, Lewiston, Clarkston, Kennewick, Pasco, Richland, Walla Walla and all surrounding areas.
Raymond West | Spokane Material Handling Equipment Supplier
2324 E Euclid Ave Suite 208
Spokane, WA 99207
(509) 728-6000