Warehouse Robotics | Spokane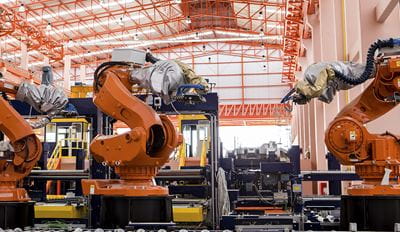 Warehouse Robotics can change the economics of your warehouse. Raymond West is among the top warehouse automation suppliers in the Inland Northwest.

To speak with an automation expert, give us a call today at (509) 728-6000.
Imagine slashing your warehouse human resource expenses by nearly half, adding around the clock shifts that squeeze even more production out of your facility and having access to troves of real-time metrics on all aspects of your material handling operation. Warehouse robotics systems can help you reshape your business, slashing expenses, boosting production and amplifying profitability.
Types of Warehouse Robots
Although a handful of warehouse robotics systems have been around for decades, others are cutting-edge technologies that may bring about major changes the warehousing and distribution business as we know it. The principal types of robotics system are:
Articulated Robotic Arms: Robotic arms with multiple joints can lift and move products in a warehouse. They're typically used for receiving functions, such as relocating products from pallets to racks, or in production scenarios, for picking and packing.
Unmanned Aerial Vehicles: Unmanned aerial vehicles, more frequently referred to as drones, can provide real-time inventory visibility within warehouses by leveraging RFID technology.
Automated Storage and Retrieval Systems (AS/RS) : AS/RS can pick up products from racks and return items to their correct storage locations. Examples of AS/RS solutions are pallet shuttle systems, unit load cranes and horizontal or vertical carousel systems.
Goods-to-Person technology (G2P): Rather than using people to pick items from storage locations, G2P technology uses robots to supply items to picking stations, where operators are positioned to complete orders as goods are delivered.
Automated Guided Vehicles (AGVs) : AGVs, like self-driving carts, pallet jacks or forklifts, transport products from one area to another within a warehouse. Cart based AGVs are often called Automatic Guided Carts, or AGCs.
Autonomous Mobile Robots (AMRs) : Similar to AGCs and AGVs, AMRs can transport products throughout a facility autonomously. In contrast to AGCs and AGVs, which travel set routes often controlled by wire tracks or magnetic strips, AMRs rely on maps, cameras and sensors to maneuver frequently changing routes by evaluating their surroundings.
Applications For Warehouse Robots
In the past, robotic applications in warehouses were restricted to a handful of jobs. As technology has improved, robotic capabilities have flourished and they can now be applied to almost any function in a warehouse:
Loading and unloading: Although full automation of loading and unloading trailers is not yet a reality, automated systems like AGVs and conveyors can be employed to optimize your loading dock speed.
Palletizing and de-palletizing: Robotic systems are ideal for tedious, repetitive functions like palletizing. These types of robots normally make use of a specific End-of-Arm Tool to pick up products and place them on a pallet. They're commonly coupled with conveyors that transport items to the palletizing area.
Sorting: Robotic sortation systems must be able to select objects, ID them and deposit them in an appropriate storage slot or bin. As goods advance along a conveyor, these systems use cameras to track individual items and pick them out.
Picking: Most of the labor expenses in a warehouse are a result of picking functions, and robotic picking tehnologies have been around for many years to help resolve this issue. Nevertheless, today's robotic picking systems offer increased speed, improved accuracy, enhanced efficiency and far better value as compared to systems of just a few years ago.
Packaging: Robotic solutions are ideal for recurrent and monotonous jobs like packaging. They can also be used for more advanced tasks like dimensioning, weighing and cartonizing.
Transportation: Robotic transportation systems have wide-scale use in warehouses, from simple AGVs / AGCs to AMRs and conveyor systems that are integrated with AS/RS.
Storage: AS/RS systems incorporate many types of warehouse robots, including mini-load systems, cranes and pallet shuttles. AS/RS is also sometimes used together with mobile racking systems to optimize storage density.
Delivery: Leading e-com companies are conducting research on self-driving trucks, autonomous delivery drones and other emerging tech that will revolutionize last mile delivery options in the next decade.
Replenishment: Leveraging RFID to keep track of inventory, warehouse drones can scan barcode labels up to 50% faster than manual scanning and send stock data back to the warehouse management system instantaneously.
Industrial Robotics Companies Near Me
To find out more about industrial robotic solutions for your business, talk to an automation expert at Raymond West today!
Raymond West's Spokane branch services Spokane, Airway Heights, Spokane Valley, Liberty Lake, Post Falls, Hayden, Rathdrum, Coeur d'Alene, Medical Lake, Cheney, Pullman, Moscow, Moses Lake, Yakima, Wenatchee, Lewiston, Clarkston, Kennewick, Pasco, Richland, Walla Walla and all surrounding areas.
Raymond West | Spokane Material Handling Equipment Supplier
11002 E Montgomery Dr #100
Spokane, WA 99206
(509) 728-6000