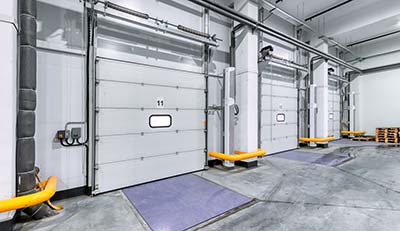 Raymond West Inc supplies and services dock doors in Tucson, AZ.

We are backed by one of the largest service and parts operations in Arizona.

Call us today at (520) 729-4222
Warehouse dock doors receive quite a lot more daily use than your average overhead door. In a high throughput dock environment, many doors may open and close more than a dozen times a day, causing extra stress on rollers, tracks, panels, springs, cables and other overhead door parts. As a result of this unrelenting use, warehouse overhead doors need to be serviced regularly.
Forklifts and pallet trucks are often in close proximity to dock doors, and doors are occasionally damaged by errant equipment. Even a superficial forklift impact may bump a door off its tracks or even damage it beyond repair.
A damaged or jammed door can threaten your building security if the door is jammed open or cannot be properly locked up. An unsecured door can also waste energy and subject products to rodent and weather damage.
Door work should be left to trained technicians, because compromised doors can be a real safety issue in your warehouse. Heavy doors and rollers can quickly break or chop off fingers, and high tension torsion springs can cause critical bodily harm or even fatality. It's also advisable to clear the area under a broken door of workers and products, as doors that go off their tracks can fall suddenly.
Dock and Door Experts
Loading dock door sales and service is Raymond West Inc's specialty. We sell, install, repair and maintain all types of commercial overhead doors.
With 19 locations and more than 400 technicians, we serve all of Arizona and have a specialist near you.
Our specialists are familiar with all dock equipment, interlock systems, and other warehouse systems that many other repair businesses don't have experience with.
Raymond West's trucks carry an inventory of frequently used parts and all the equipment necessary for the vast majority of dock and door repairs.
Raymond West Inc is among the largest parts suppliers in Arizona, and we carry components for all brands of warehouse doors and other loading dock systems.
High Speed Door
For high volume, temperature controlled or energy saving buildings, we offer a variety of high speed roll up doors in several different substrates for applications ranging from clean room to industrial use. Whether you're looking for interior or outdoor configuration, we offer high performance doors made of rubber, high strength fabric or metal for many different types of applications.
Our streamlined door control systems minimize air exchange, reduce open/close cycle times and offer easy, intuitive operatbility for your employees. With safeguards like LED forklift proximity signals and emergency egress options, we supply some of the most innovative high speed door solutions on the market.
Tucson Warehouse Door Repair
Raymond West Inc is not a "garage door" business. We specialize in DC, warehouse and industrial doors, and all of our door experts are trained to repair many different categories of material handling equipment and systems.
Raymond West offers one of the most knowledgeable squads of warehouse technicians in the industry.
24 hour emergency service is available.
Average on-site time is about 2 hours from first call.
If you need door maintenance, repair, installation or advice, give Raymond West a call today!
Raymond West Inc Tucson
Service Area: Tucson, Oro Valley, Marana, Sahuarita, South Tucson, Green Valley
(520) 729-4222