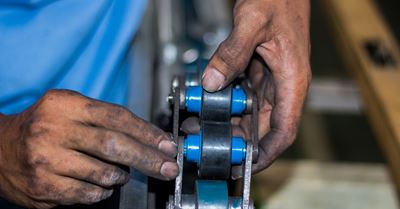 Raymond West is a Tucson warehouse automation equipment supplier.

We offer repair and service for many types of conveyor systems.

Call us today at (520) 729-4222.
Conveyor outages can be very costly when you consider wasted productivity, negative customer experience and increased labor cost. When a line is down, you need experienced professionals in Tucson that can diagnose and restore your system quickly. In many cases you also need a parts vendor that can rapidly procure hard-to-find components.
Raymond West Inc is among the largest material handling service vendors in the Western U.S., with branches throughout Arizona and 7 other states. We have a unit of over 400 technicians ready to assist you and one of the best stocked parts divisions in the West.
Our typical dispatch time is just under 2 hours. After hours maintenance service is offered 24 x 7 x 365.
Conveyor Belt Repair
When you're having difficulties with your belt conveyors, our technical experts can help. Whether you just need tensioning or tracking adjustments, need a belt splice or require a full belt replacement, we have an elite unit at your service.
Conveyor Installation
In the event you're setting up brand new conveyors or just modifying your existing system, Raymond West Inc has a group of highly trained specialists that can help you with permitting, engineering and installation. We are qualified to install nearly any conveyor category and manufacturer.
Conveyor Maintenance
Scheduled maintenance for your conveyor equipment can save you from expensive outages, while lengthening the service life of your equipment and enhancing safety practices throughout your facility. Raymond West Inc offers a complete line of maintenance options designed to eliminate downtime and keep your equipment in top condition. Call one of our equipment specialists about a plan that's right for your facility.
Conveyor Parts
Raymond West Inc features one of the best stocked material handling parts divisions on the West Coast, and stocks a full range of conveyor parts and components. We have a direct connection to a nationwide supply network with access to hundreds of thousands of part numbers. For many parts we can offer same or next day delivery anywhere in our territories.
Conveyor Belting
Refreshing worn out or damaged belts can preclude conveyor failures and help you eliminate expensive downtime. We supply a variety of multi-ply conveyor belting to renew your worn or faulty belts. For belt upgrades or application changes, we offer a full range of belt surfaces for almost any application.
Conveyor Rollers
Raymond West Inc supplies replacement conveyor rollers for gravity roller conveyors, powered roller conveyors, and roller-bed belt conveyors. We provide all kinds of rollers from lightweight aluminum to heavy duty steel for almost any frame width, capacity and diameter requirement.
Conveyor Chain
We supply nearly every size and type of conveyor chain in ANSI, DIN, and ISO certified series varieties. We also supply stainless steel and hollow-pin options. If you're looking for straight side plate, double pitch or engineer class conveyor roller chains, we provide almost all weigths and sizes.
Conveyor Belt Repair Near Me
To request service, schedule maintenance, or inquire about parts, contact a Raymond West Inc specialist at (520) 729-4222 today.
Raymond West Inc
Tucson Service Area:
Tucson, Oro Valley, Marana, Sahuarita, South Tucson, Green Valley
(520) 729-4222