Forklift Battery Supply | Valencia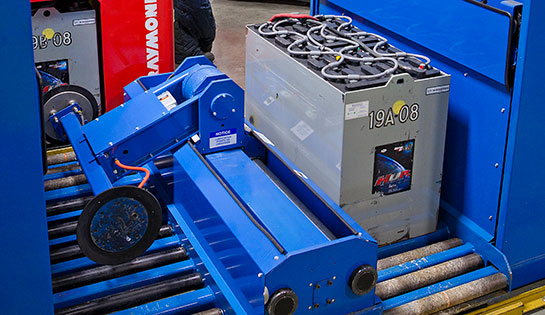 Raymond West is a Valencia / Santa Clarita supplier of new and used forklift batteries, chargers and handling equipment.

We are backed by one of the largest service and parts operations in Southern California.

Call us today at (661) 206-0462
Power economy guidelines and "green" solutions endorsement are propelling unparalleled interest in the international electric battery business.
Though this rise in interest is fostering new development and research in power storage innovation, lead acid battery tech is still the go-to technology for the majority of commercial uses, including lift trucks.
Even though lead acid battery types possess somewhat less power density than several of the more advanced kinds of batteries, they have the ability to keep a steady voltage as they are depleted, they can function across a vast range of thermal levels and they may be faithfully recharged/ emptied over hundreds of cycles.
The boost in world wide battery orders has also initiated sharp cost growth over the last decade. Much higher battery prices suggest that maximizing your fork lift battery life expectancy can certainly have a considerable effect on your profitability.
Management and upkeep of batteries has a clear influence on their life expectancy, so a minimal expenditure for reliable battery handling tools can deliver material cost savings in the long run.
Raymond West supplies a comprehensive array of battery handling materials from first-class brand names:
Battery Extractors
Fork lift battery extractors are vital devices for any material handling business that involves constant battery extraction and replacement.
Battery Stands
Conserve space and preserve your battery stock with charger and battery stands. We provide a complete array of choices and can tailor systems for your individual requirements.
Battery Hoist
We provide a selection of battery hoist alternatives according to battery measurements, regularity of utilization and facility setup.
Battery Wash Equipment
Battery cleansing facilities minimize terminal and conductor oxidation, stretch the lifespan of batteries, minimize fork lift power complications, and assist in compliance with environmental requlations.
Battery Chargers
Raymond supplies both new and pre-owned commercial battery chargers for all sorts of operations from single shift, standard use facilities to 24 x 7 x 365, maximum use businesses. Inquire about our charger and battery lease and rental plans.
Battery Carriages & Carts
Lift truck battery transfer carts permit workers to securely extract and switch out fork lift batteries that are set up for side-removal. Raymond offers power controlled systems for frequent use programs and non-powered choices for smaller volume applications.
Battery Watering Systems
Raymond supplies complete battery watering solutions together with individual components, from storage tanks and deionization appliances to watering valves and guns.
Battery Room
Battery areas must be installed with adequate ventilation systems, suitable floor surfaces, wash facilities, basic safety resources plus all essential battery handling products. Our team can help to plan your facility and furnish all battery handling resources for your company.
Battery Beam
Raymond supplies battery hoisting beams using insulated design and flexible hook points. Beams offer an effective and practical way to deal with hefty industrial fork lift batteries.
Battery Crane
Raymond's gantry crane choices are perfect for upward battery removal uses. We supply a wide range of beam lengths, capacities and heights.
Forklift Batteries in Valencia, California
If you'd like to speak with a Raymond representative about lift truck batteries or power systems, please get in touch with Raymond West, a Valencia forklift dealer serving Valencia, Santa Clarita & the San Fernando Valley, including: Alhambra, Burbank, Canoga Park, Chatsworth, Glendale, North Hollywood, Northridge, Pasadena, San Fernando, Simi Valley, Sun Valley, Sylmar, Thousand Oaks and Van Nuys
28303 Industry Dr.
Valencia, CA 91355
(661) 206-0462
7:00 AM - 5:00 PM
Monday - Friday